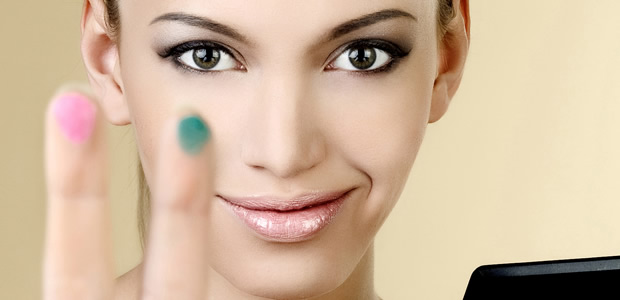 [By Anni Latson]
As we swap out flirty skirts and micro shorts for ponchos and boots, it's also time to consider changing out our make-up palette to redefine our look with some key trends as the temperature dips. For make-up tips from brows to lips, here's a road map for you to draw some inspiration from so that you can create your own fall beauty image and make it your own.
It's important to choose shades that match appropriately with the season. Certain colours simply look better in autumn and winter than they do in spring or summer. The colder months are not necessary all about dark colours. This season is also a great time to learn how to take ca/re of your skin to bring out the beauty in you. Along with changing out your wardrobe, changing out your cosmetics for autumn and winter is a great way to fit right in with the season. Always updated, never outdated.
"No make-up" make-up look
Carrying over from the look books of Spring/Summer, the "no-make-up" make-up is big again this season and it's all about creating your perfect base. Make-up artists working backstage for all the major shows are now spending five times as long on the skin as they are for the rest of the make-up to create that clear, flawless look.
"For the perfect blank canvas for us to work on, it should be mandatory for all models to get a chemical peel a week or two before fashion week," muses Karen Lucinda, a freelance make-up consultant and beauty blogger based in New York. "Not only do they help to reduce oil and control shine, chemical peels are great at erasing fine lines and brown spots, revealing baby soft skin for a fresh, dewy look that's simply divine as a make-up base for any look the designers want to create for their runway."
Bold brows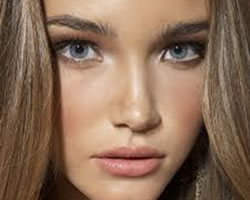 If you haven't started growing out your eyebrows, now is the time! This is another beauty trend that had gone round the block for the last few seasons and seem poised to not go anywhere, anytime soon. To blend in with the fashion brat pack, make sure your brows are thick, lush and perfectly shaped. Draw emphasis to your pair of strong brows by daring to go nude on the lids and lips.
"For ladies who are follicularly challenged and have a hard time growing out their sparse brows, you might want to try out Latisse, an FDA approved medicine marketed by Allergan for eyelash rejuvenation," dishes Karen. "Although there are no trials conducted on the efficacy of Latisse on eyebrows, it's an insider's tip that whoever tired has reported positive results with it!"
Statement eye shadow
Up your glam quotient with statement eye make-up for this cold season. Green, blue and purple eye shadows preferably with a metallic sheen will be your go to look come party season. If you got nifty fingers, work out an ombre palette on your lids and highlight with a tinge of matte gold to make your peepers pop. Add on a pair of amazing, ultra-long feathered lashes to spell out drama with a capital letter 'D'!
Daring dark lips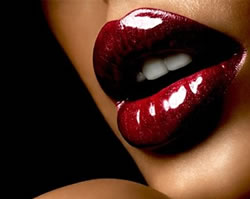 One of the biggest fall trend that's hard to ignore from the runway of Louis Vuitton to YSL is owning a pair of luscious dark lips. Dark lipstick is this season must-have or must-try, depending on where you are on your beauty journey. From Victoria steampunk inspired purple and burgundy to vampire goth pitch black, there's a wide variety of statement lip colours to choose from to amp up your fall wardrobe to suit your every whim and fancy. Do take note that darker lip colours tend to highlight every little crack and flakiness on your lips. To allow your lipstick to glide on with a satiny smooth finish, prep them with a lip treat such as Sloane Inc's Lip Fabulosity Scrub available online from sloaneshop.com. This lightly perfumed and sweet tasting product contains finely granulated sweet sugar and fine almond shells that gently buffs away dry flakes while jojoba & olive oils, shea and cocoa butters nourish and condition your puckers, setting a clean slate to paint on your berry tones and plum coloured delights.
"It's difficult to bring out the intended dramatic effect of dark hues if your lips are thin or severely lined," says make-up maestro Karen. "You should consider going for injectables such as Natural Hyaluronic Acid Fillers which plump up lips to a perfect pout for a more polished look with longer lasting effects."
Read more: 5 Easy Ways to Rock Bright Lipstick
Pink or peach cheeks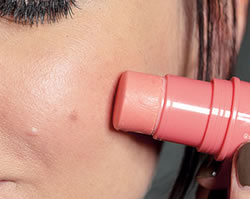 To balance up the strong eye and lip works, go easy on the rouge. A hint of barely there colour on the cheeks is an excellent choice for this cold season to brighten up your face without going overboard. Peach is definitely one of the hottest makeup shades for fall and hugely popular in the fashion industry right now.
"The key to wearing peach or pink blush is not to over-do it," advises Karen as a special tip for our RSB readers. "My personal favourite at the moment got to be the limited edition Sloane Inc. Cheek & Lip Tints available exclusively from The Sloane Clinic.  These little timesaving beauty gems offer just a flush of colour for the cheeks and can be used on you lips too, on days you want to switch out your wine coloured kissies."
Read more: How to look stunning bare-faced
You might also like: