[By Tania Hui]
Now unless you are a black and white native from the Sichuan province and weigh 200 pounds, no one is going to look good with dark eye circles. Dark circles tend to add years, making one tired and sickly looking. Our undereyes are riddled with a web of tiny capillaries which can lead to dark circles when they become leaky. As red blood cells leak from these capillaries into the surrounding skin, a dark discoloration is formed when the haemoglobin in them are being broken down.
Furthermore, thinning of the overlying skin and hollowing of the undereyes worsen the look of this darkened hue. Some may be inflicted with inherent skin pigmentation while others may be predisposed with exacerbating factors such as eczema and chronic sinusitis that lead to constant or habitual rubbing of eyes.
From camouflaging with clever make-up tips to real time skin resurfacing, here's RSB top 5 picks to help you bid goodbye to your panda eyes. 
Conceal
Despite the cause, if you don't have time to treat those dark circles before an important event or big date, you will need to find a way to conceal them properly. To start off with, apply and blend in your foundation without paying any special attention to the undereye areas. Once your foundation is in place, you should be able to clearly see the darkened areas that require more work to conceal. Choose a lightweight creamy concealer that glides on smoothly without excessive rubbing. A yellow tinted concealer hides dark purple circles, an orange base hides bluish ones while the commonest tan concealers hide brownish discoloration. Pay close attention to the areas where your eyes meet the bridge of your nose as these nooks and crannies tend to have the darkest circles that may require a tad more attention.
Remember to take a selfie with your smartphone in natural lighting before you step out. Make sure you didn't overdo it and appear ghostly with undereye halos because poorly concealed dark circles are fashion road kills way worse than the panda eyes themselves!
Nourish
The skin below our eyes are thinner to begin with and therefore bear the brunt of aging much earlier than the rest of the face. Although it might not be Houdini's magic, a dab of eye cream goes a long way if the correct type is chosen and used consistently to nourish the undereyes. Some of the tried and tested vitamins, antioxidants and skin plumping substances that are useful to refresh and rejuvenate tired undereyes are listed below.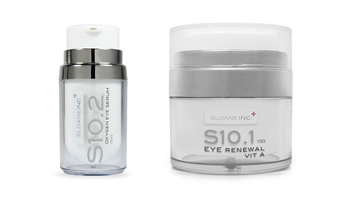 Vitamin A (Retinol) – Known for its anti-oxidant and anti-aging prowess and often found in anti-wrinkle formulations, Vitamin A increases cellular turnover and encourages the production of neo-collagen, making skin supple and youthful looking. Try Sloane Inc. Vitamin A Eye Renewal Cream,a power-packed eye cream formulated with Vitamin A and skin soothing microspheres that instantly revitalizes and hydrates eyes that are subjected to the woes of aging, constant irritation and fatigue. As with all photosensitive retinol products, use this eye cream sparingly and only at night before bedtime.
Hyaluronic Acid and Ceramides are powerful hydrating agents because of their excellent moisture-retaining qualities, a prime example being Sloane Inc. Oxygen Eye Serum, a lightweight delight containing hyaluronic acid, soy peptides and hexapeptides that attract and hold on to moisture to hydrate and plump up crepey undereye skin to render dark circles less visible.
Revitalise
Scrutinise yourself with a magnifying mirror and an overhead light. Are there hollowing under your eyes that are casting unflattering shadows that resemble dark eye circles? If that's the case, what you need will be replacement of the volume deficit with microinjections of Natural Hyaluronic Acid Fillers. Made of hyaluronic acid gel that closely resembles our body's own hyaluronic acid, careful placement of small quantities of HA fillers restore volume, create smoothness and help revitalise undereyes hollowing in a New York minute.
"The use of fillers for the undereyes is a tricky procedure that require both steady hands and a sound knowledge of the peri-orbital anatomy," explains Dr. Kenneth Lee, medical director of The Sloane Clinic. "It is always better to 'under-correct' the volume deficit and improve it step-wisely with repeated sessions rather than to 'over-fill', converting the undereyes hollowing to undesirable sausage-liked 'eye bags' deformity."
Firming
Laser Toning for the undereye areas is a gentle treatment whereby laser waves are utilized to break down and reduce excessive dermal pigmentation that led to dark eye circles while stimulating the deep layers of the skin to produce collagen; thereby thickening the fragile and thinned out skin of the treated areas to reduce the visibility of the discoloration underneath from showing through. The beauty of this simple procedure is the lack of downtime despite its effectiveness, with optimal results seen after 6 to 8 sessions done regularly at 3 to 4 weekly interval.
Re-surfacing
If you are zooming in for an overhaul to totally rejuvenate your undereyes and is totally cool with having a downtime that lasts a couple of days, consider Mixto MicroResurfacing a revolutionary fractionated CO2 laser treatment that confers a myriad of benefits ranging from improving skin texture and banishing discoloration to boosting dermal elasticity and erasing pesky fine lines. Post therapy, the treated areas will appear slightly swollen and reddish for the first 12 to 24 hours and gradually subside over the next day.
From day 3 to 5, there's browning of the overlying skin, drying and flakiness. During this period, one should exercise good sun protection and adequate moisturising as these steps will affect the eventual outcome of your treatment. When the last of the brown flakes has dropped off on its own (wear mittens if you have a tendency to peel them with your nails!), one will notice better skin texture, quality and colour. The improvement experienced will continue over the next 2 to 4 weeks and the effects will be accumulative if resurfacing is repeated at 4 to 6 weekly interval.
By the end of the 5th or 6th session, you would have probably bade a long farewell to your 'panda eyes'.
You might also like: