[By Tania Hui]
It could be the stress from all the last minute Christmas shopping, the dietary indiscretions during Thanksgiving or the Almighty Law of Murphy working against The Law of Attraction. Zit breakouts tend to be common in the last two week leading up to the all-important year end parties, possibly the only highlight in your social calendar ever since you made that rude transition (and awakening) from varsity to society.
Instead of trying to hide your blemishes with a ton of concealer or turning up at every party covered with a mask under the "mistaken impression" that the dress code is 'masquerade', keep these tips handy in your little black beauty book. From mild whiteheads to impending eruptions that's nothing short of a beauty catastrophe, here are 4 foolproof zit-busting ways you won't want to miss.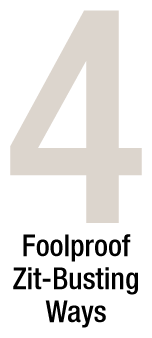 Tip #1: Get a detoxifying facial
If you skin is lackluster and your pores are all clogged up, chances are they will erupt into angry bumps anytime soon. The best way to nip the problem at its bud is to get a detoxifying facial for deep pore cleansing and skin rejuvenation. A store brought scrub and clay mint mask might do the trick but with time not on your side of the game, it's best to leave any last minute treatment in the hands of qualified professionals. "I would strongly recommend our in-house Clear-fection Facial, a skin clearing facial that is ideal for tackling oiliness and clogged pores for the perfect holiday glow for party season," says Ms. Noelle Tan, senior therapist with The Sloane Spa @ The Shoppes. Marina Bay Sands. "This detoxifying luxe spa treat combines dead cell exfoliation and deep purging with our signature Ultrasonic Deep Cleansing treatment, followed by PPx vacuum and i-clear light therapy."
One of the main causes of acne is an abnormally high amount of bacteria colonization, mainly Propionibacterium Acnes (P.acnes), of the sebaceous follicles. I-clear is an FDA approved, painless, non-invasive treatment that utilizes innovative Photo Dynamic Therapy to deliver a unique 408 nm wavelength of blue light to create a highly toxic environment for the targeted P acnes bacteria, resulting in bacterial death and clearing the skin from any potential acne breakouts that threaten to create havoc to your pre-party preparation.
Tip #2: Refine your skin with a Laser Peel
If you skin is plagued by  zits of varying age, with some new ones rearing their heads while old healing ones are leaving behind footprints of unsightly dark marks, ask your aesthetic physician for a Laser Peel. This revolutionary approach to skin rejuvenation resurfaces and replenishes the skin at the same time with the use of gentle yet deep penetrating laser energy to exfoliate the rough and damaged outer layer of dead skin cells to reveal younger, softer, and fairer skin underneath. Without the use of harsh chemicals, it is able to control sebum production and thus reduce oiliness, shrink down pores and lighten dark acne pigmentation to even out skin tone and restore glow and youthfulness to your tired looking skin.
The best thing is there's absolutely minimum to no downtime with this awesome treatment, making this tops on my 'must-do' beauty list to tame my skin and let it shine bright like a diamond!
Tip#3: Intralesional corticosteroid/antibiotic injection
The solitary angry 'red ruby' that rears its head and threatens to rupture at the eleventh hour is not only an eyesore but may result in unsightly scarring eventually. The treatment of choice for these angry bumps is to ask your doctor for an injection of a diluted corticosteroid and antibiotic concoction to lower the inflammation, nips the infection and speed up healing, thereby reducing the chances of scars forming.
"Intralesional acne injection is a seemingly simple procedure that is not without its risks," warns Dr. Toby Hui, medical consultation with The Sloane Clinic. "The technique employed is just as crucial as the amount and dilution of the medications used as there's always a risk of fat atrophy with steroid injection(s) that can result in dimpling or atrophic scarring of the area(s) treated if not done properly."
Tip#4: SmoothBeam Laser
If unfortunately, your skin is riddled with bumps like a minefield that's brighter than the fairy lights on the Christmas tree, the treatment of choice besides oral medications will be the Smoothbeam Laser. Often hailed as the gold standard of laser therapy for active acne eruption, the Smoothbeam 1450nm diode laser is the first FDA-approved laser for acne treatment.
The intense but gentle burst of light emitted from this laser generates heat in and around the sebaceous glands, altering the structure and thereby reducing the over-production of acne-causing sebum; stamping out the roots of evil, so as to speak.  The epidermis is protected during the treatment with the Dynamic Cooling Device which sprays a cooling cryogen mist onto the skin with each laser pulse, increasing the comfort of the procedure and preventing any surface burn and heat injury during treatment. With your skin clear of zits threat, you can now concentrate on your hair and make-up and that perfect party dress.
You might also like: