[By Tania hui]
With the holiday season barely a fortnight away, it's natural that every girl would want to look her absolute best, be it at a traditional family get-together or a snazzy Christmas party where you are all ready to mingle. Although make-up is beautiful, nothing beats the natural beauty that shines through. Make-up should be used to enhance your beauty rather than create it. When it comes to war painting, more often than not, less is actually more. It takes more than just a huge dose of confidence to wear less make-up but there are several ways to make yourself feel more comfortable in your own skin. If you put in a little effort to look effortless, you too can achieve natural beauty that sparkles and glows under fairy lights and mistletoes.
Cleanse & Exfoliate
One of the most basic steps to achieve natural beauty is to cleanse daily and exfoliate regularly. Choosing the correct cleanser to match your skin type and removing all traces of make-up before hitting the snooze button should be religiously committed as part of your daily regime. Exfoliate your skin once to twice a week but less frequently if you can feel it drying up to prevent excessive loss of moisture. Strike a balance so as not to strip your skin of its protective layer of essential oils. If the year-end deadlines and never-ending Christmas shopping list is holding you back from your 'beautification', have your therapist's number on speed-dial and let the professionals take care of your skin.
"One of the most popular signature treatment for the busy urbanite looking for some major cleansing and skin polishing to spruce up the skin for party season is our Deep Deep Clean Facial," says Ms. Lynn Tan, senior beauty trainer/ therapist with The Sloane Spa @ CitySphere. "This is the ultimate pampering in deep-cleansing, combining Microdermabrasion with a fruit acid wash, followed by 5-10 minutes of Ultrasonic Deep Cleansing to purge out pores that are clogged with whiteheads and blackheads."
Getting an acid peel is another great way to prep your skin to a clean slate for nude, barely there make-up. The Glamour Peel specially concocted and available exclusively at The Sloane Clinic is true to its namesake and is a fuss-free weekend peel that brings forth a red carpet difference. Using not one but a combination of 3 different types of professional chemical peels that have been carefully selected for you to deliver a quick all-round complexion improvement, this star-worthy treatment addresses 6 key skin concerns simultaneously; skin brightening, spot fading, line smoothening, pore reduction, sebum balance and hydration boost. Quite the bang for the buck as a Christmas treat for yourself, isn't it?
Tone & Moisturize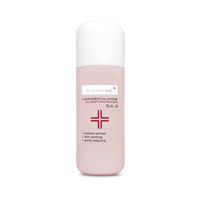 The next step to gorgeous flawless skin is to tone and moisturize. A good toner such as Sloane Inc Lavender Calamine Clarifying Water will help restore your skin's pH balance and remove any remaining traces of make-up. Bolstered by an all-natural, skin-soothing blend of lavender, calamine, botanicals and soy extracts, this gentle toner will rebalance stressed, inflamed or sensitive skins, coaxing  them into a relaxed, sublimely radiant state with the subtle glow of youth.
Faced with the constant attack of everyday aggressors such as climacteric elements and air pollutants, it is important to keep our skin well moisturized at all times. There's a moisturizer suited for every skin type and problem so do your homework and look out for active ingredients such as antioxidants and age defying goodies like peptides and hyaluronic acid. For those in search of a much needed boost of hydration for severely dehydrated and lackluster complexion, consider Revitalift, a revolutionary skin rejuvenating technique whereby small particle natural fillers of hyaluronic acid is introduced in miniscule amounts via virtually painless microinjections under the skin. Revitalift resuscitates tired, dehydrated and aging skin by restoring its physiological function and optimizing cellular activity. The most popular areas to be treated are the undereye areas to revitalize lined crepey skin and lighten dark eye rings. Other popular areas include a full face treatment for total luminesce, to let your inner glow shine through this holiday season.
Pore & Pigment Minimizer
Unsightly open pores, uneven skin tone and skin pigmentation rank high as the top beauty banes that forced women to hide behind a thick, unbreathable mask of primer, foundation and concealer. While traditional skin re-surfacing techniques are both tedious and painful with a protracted period of downtime, beauty prayers are being answered in the form of Mixto Light, a complexion-transforming carbon dioxide laser that comes in a fractionated airbrush microspray set to deliver deep dermal, skin-transforming benefits but without the dreaded tell-tale downtime. This state of the art skin resurfacing treatment with the stamp of approval from FDA causes immediate stimulation of skin's natural cell renewal cycle, enhances skin texture and elasticity as well as erases mild skin imperfections and fine lines. There's improvement with every single session but consecutive treatments of 4 to 6 sessions will bring forth an accumulative effect, resulting in a flawless mien of angelic proportions, the epitome of 'effortless' natural beauty!
You might also like: