[By Erin Lee]
Gone are the days of 'Cleanse, tone and moisturize'. As skincare becomes more sophisticated, aesthetic standards of what constitutes a flawless complexion have also risen.
We spoke to doctors and other skincare experts to uncover some of the industry's best hidden secrets to attaining an enviable complexion pronto.
EXFOLIATE
The old adage about exfoliation is true. Removal of dead cells and built-up skin debris is key to a clear complexion. Topicals penetrate better when your skin is not laden down with extra layers of dead skin cells. Comedones, precursors to dastardly pimple are also kept at bay by this simple spring cleaning exercise.
How: Try a finely granulated scrub like Sloane Inc microdermabrasion scrub. You can also opt for a DIY face peel system like Philosophy's Microdelivery triple acid peel.
Caveat: Do not be overzealous when it comes to scrubbing. If your skin is red and raw after, then you are overdoing it. Treat your skin like a piece of precious silk, not the bathroom floor.
BRIGHTEN
Chase dull visages away by erasing unwanted discolourations such as age spots and sun spots. A repertoire of complexion-brightening procedures are at hand to help you achieve your goal.
How: Try a photofacial using IPL, which balances out skin discolourations with minimal downtime. "For all over skin brightening, consider an oral supplement such as Crystal Tomato, rich in lycopene to give your skin the radiance from within" suggests Dr Tan Wang Theng from The Sloane Clinic.  "A combination of the two gives quickest skin brightening effects n my experience".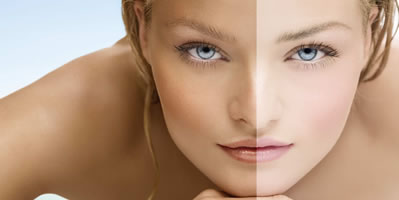 Caveat: Do not undergo lasers when your skin is suntanned as there is a risk of hyperpigmentation.
SMOOTHEN
If craters are obstructing your skin's path to absolute smoothness, then pave the way for a better future with a skin resurfacing laser. These lasers stimulate skin renewal so that your complexion looks smoother sans unwanted depressions.
How: Fraxel restore is a skin resurfacing laser that utilizes a specialized fractionated technology to ensure that downtime is kept to a minimum of 5 days. "Fraxel Restore is the weapon of choice for acne scars" says Dr Toby Hui, also from The Sloane Clinic.
Caveat: If you are taking oral medications such as isotretinoin or using topical retinoids, stop them before embarking on such lasers.
You might also like: