[By Tara King]
With Christmas just behind us as we gear up to welcome Chinese New Year in barely 3 weeks' time, it's hard to ignore the colour RED. For those who shun this bright shade of Pantone for its mainstream association with the festivities, think again. From the runway of Alexander McQueen to Jenny Packham, red seems poised to usurp the position as #1 IT colour for Spring/Summer 2014.
For all you fashionistas out there, this is a great time for you to embrace this bold colour if you have been hesitant with it. Besides being auspicious, this fiery colour signifies boldness, confidence and even sex appeal. While it might not turn you magically into a Victoria's Secret angel overnight, there are some pretty awesome ways to don this cheery shade to bring out the Venus in you. Check out some of my favourite ways to add a pop of red to your wardrobe and you too can be Red, Hot & Fabulous. Have fun!
Cherry Red Heels
"Let's dance put on your red shoes and dance the blues"— David Bowie.
One of the hottest runway trends right now is to strap on a skinny pair of cherry red stilettos. If they happened to be red-soled Loubies, they are guaranteed to be doubly devilish! Following my mantra that "no girl can be too rich, too thin or has too many pair of shoes", any excuse to buy them is music to my ears.
Pair your red heels with a neutral coloured outfit or dare to make a statement with attention grabbing, clashing primary colours. It's a great way to show off your gazelle legs too!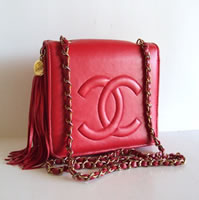 Cranberry Red Bag
Another classic staple that that will give you plenty of mileage for your fashion dollar is a red handbag.
Go with a deeper shade, like cranberry red which has proven to be steadfastly fashionable, season after season.
A matching red scarf can channel French Riviera chic but steer clear of matching red shoes or belt.
This is one red hot investment that can be passed down as a family heirloom from one fashion-savvy generation to the next!
Juicy Red Lips
Any girl can pull off red lipstick as long as she wears it with the right attitude and the correct dose of panache. From Monroe to Miley, bright red lips are the quintessential sexy look favoured by Hollywood starlets both past and present. Any shade of red is a great way to add a bold appeal to your cosmetics routine.
With a predominantly monochromatic palette of black, grey and tan, Helmut Lang sent his models down the S/S 14 runway with bright red lips and flushed cheeks. The pop of primary colour broke the minimalistic monotony of the collection and heralds in the warmth of spring.
"Bright red lipstick is less forgiving as it tends to highlight every little crack or flake on your lips," says Jolie Hwang, a freelance make-up artiste currently relocated back to Shanghai from Los Angeles. "My trick is to prime them with Sloane Inc. Lip Fabulosity Scrub which exfoliates your puckers to a smooth finish, allowing any bold coloured lipstick to glide on and stay on like a dream."
Ruby Red Skirt
Pencil skirts are a great way to show off red and can take you from the office to the party quicker than Dorothy's red ruby shoes.
Pair it with a form fitting white or black top and a great pair of pumps and you are all ready to make a stand-out fashion statement that's still professional at the same time.
Keep it classy by pulling on the reins when it comes to accessorising.
A charm bracelet or a tiny pendant on a thin chain works far better than piles of chunky bangles and ropes of beaded necklaces.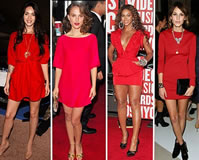 The Little Red Dress
The "Little Black Dress" may be the timeless classic, but it's the "Little Red Dress" that's bursting with uniqueness and character. From Stepford Wives demure to va-va-vroom sultry, there's a style in rouge for everybody.
The great thing about red is that it highlights what you like and disguises what you don't about your body, working its magic on women of all shapes and sizes. Red spells simple elegance when paired with black but update it with a modern day twist by pairing it with nude. Hair and make-up should be kept simple to avoid up staging your statement dress.
With these simple tips in mind, every girl can truly be red, hot & fabulous and ready to paint the town red!
You might also like: