[By Tania Hui]
Apart from the mythical Dragon, the Horse is probably the most well groomed animal out of the twelve that made up the Chinese Zodiac Horoscopes. As we prepare to usher in the Year of the Horse this Lunar New Year, let us look no further and draw inspiration from this magnificent creature to create a look that will see us through the year that's forecasted to be blessed with vigor and vitality.
Mane of envy
One of the most notable features of the horse got to be its majestic mane. Ombre hair returns big this season but instead of Katy Perry-ish candy pop hues, a blend of natural tones reminiscent of sun-kissed tresses are preferred. Slick it back into a high ponytail for a clean, modelesque look that will allow you to glide seamlessly from boardroom meetings to evening soirees. Symbolizing feminity and sexuality across cultural diversities, a woman's head of hair is not called her 'crowning glory' for nothing. The modern fashionista wouldn't think twice about subjecting her mane to the constant onslaught of hair products, colouring and styling; all in the name of Vanity. Factoring in normal aging, hereditary traits and hormonal imbalance, it is little wonder that we are seeing a steady rise in hair loss amongst otherwise healthy adult females over the years. As hair growth and loss is cyclical, it is often relatively late by the time we notice actual thinning. It is therefore crucial for us to pay closer attention to everyday hair and scalp care to avoid future repercussions.
"Our Revitascalp treatment uses a special painless delivery system to introduce scientifically selected nutrients to nourish the scalp which in turn support healthy hair poliferation," explains Dr. Chua Han Boon, senior medical consultant and hair transplant specialist with The Sloane Clinic. "These nutrients include vitamin B12, folic acid, protein-building amino acids and Minoxidil, an effective topical medication approved by FDA for encouraging hair growth." For moderate to severe cases of hair thinning in women, Revitascalp is best combined with Revage 670, a Rotational PhotoTherapy (RPT) system that utilizes low level laser energy to stimulate blood flow to hair follicles just beneath areas of thinning or balding scalp. The enhanced blood flow pushes dormant hair follicles into the active growth phase and helps to thicken weak, miniaturized hair simultaneously to help restore your locks to its former glory.
Eyes that sparkle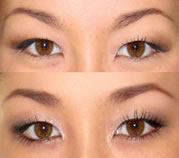 If you ever have the chance to look straight into a horse's eyes, you will be amazed by the depth of emotions staring right back at you. Aptly nicknamed "the windows of your soul", a pair of sparkling peepers especially when enhanced by a pair of great eyelashes, can  take you anywhere from coy to seductive.
If you have serious eyelash envy, instead of exaggerated, over-the-top flashies and eyelash extensions, consider Latisse, the little eyelash 'stimulator' brought to you by Allergan, the same maker who gave us Botox. The active ingredient, Bimatoprost, is nothing short of magical for any eyelash-challenged beauty. This savior has been proven to prolong the life span of your natural lashes from the usual three- to four-month cycle to one of nearly eight months! When used according to instructions, Latisse can give longer, thicker and fuller lashes in a completely safe and natural way.
Tone and sculpted legs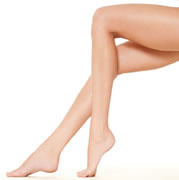 To run those million dollar races, horses are blessed with sinewy, muscular legs that go on forever. Mirroring such equinus aesthetics, a pair of toned and sculpted legs is the epitome of healthy sex appeal. Combine fat busting cardiovascular exercises with weight bearing squats and lunges to help shape your gams into runway quality that will give any Naomi or Kate a run for their money. Pockets of stubborn fats lurking around the inner portion and back of the thighs can also be effectively treated with CoolSculpting, a cutting-edge, non-invasive body shaping treatment that effectively addresses spot reduction of unwanted fat deposits sans the downtime of liposuction.
The frozen fat is then gradually eliminated through the urine over 2 to 3 months with recognised scientific papers showing results of up to 22% of fat loss. When that is achieved, you will be ready to strap on a pair of stilettos and 'trot' all over town in your new found confidence….
You might also like: