[By Larissa Mabel Ong]
When I was tasked with attending The Hair & Skin Forum held by The Sloane Clinic on Thursday 23 Jan, I wasn't all that thrilled. After all, what could I possibly learn about hair when I am not a balding 50 something year old man. However, I was proved wrong!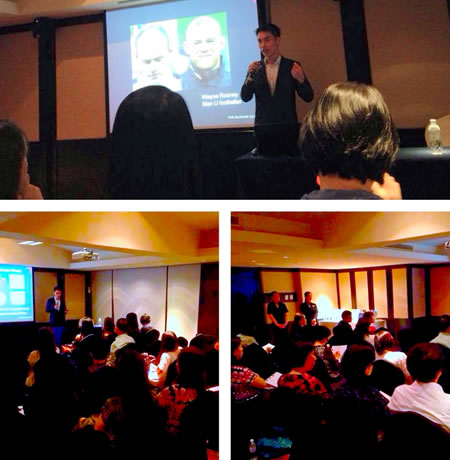 Photo courtesy of The Sloane Clinic
The Hair & Skin Forum consisted on a series of informative talks by The Sloane Clinic doctors. A female doctor Dr Tan Wang Theng gave an interesting expose on the causes of female hair loss. I thought I had nothing to learn but was surprised to find myself completely immersed in her talk. For instance, did you know that a woman's hair follicle actually becomes smaller with age? This explains why even for women who are not losing hair, our hair feels thinner or flatter with age.  Best of all, the solutions offered were scientific and provided real answers for individuals with all sorts of hair woes— from mild thinning of hair to partial male pattern balding. For example, the Revage670 is a low energy laser that can rejuvenate weakened scalps—- this painless 20 minute light therapy is something that even chicken-hearted people like me are willing to try.
Dr Chua Han Boon and Dr Tan Ying Chien also touched on the latest ARTAS robotic hair transplantation technology which offered balding scalps a permanent solution. If I was a man with thinning hair, this would certainly e my one-stop solution.
Finally, the talk ended with the much anticipated round up of the most innovative aesthetic treatments for 2013 and 2014.  I was most interested in natural fillers for the face as well as mild complexion renewal lasers such as the Brilliant Skin Program.
Overall, the forum was very well-organized. The room was almost completely filled and I understand that there were some walk-in participants that had to be turned away due to the full turnout. My only gripe was that the room at Mandarin Orchard Hotel was a little too cold for me, and I wished I brought my shawl from the office, but I warmed myself throughout the event with their generous selection of snacks and hot tea.
The event lasted way beyond the expected time as the crowd swarmed around the doctors after the talks with further questions. A good 30 minutes after the event was supposed to have ended, the room was still filled with people mingling with the doctors. I waited patiently to pose a few questions to the female doctor but after quite a wait of 30 minutes, I still hadn't gotten my opportunity. In the end, I made for the door and left with my goodie bag of Epicuren treats and informative brochures. All I can say was that this was one of the most enthusiastic crowd of people I had seen at any talk I had attended.
One take home message was that looking good is an achievable goal for everyone, and that using science and not fiction to help one attain their beauty aims is the most effective and safe way forward.
The writer is a freelance blogger specializing in beauty topics.
You might also like: