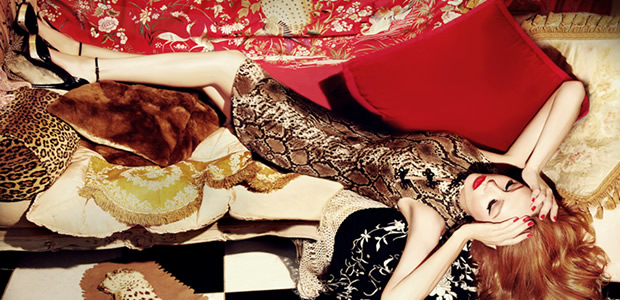 [By Lavin Thomas]
From the House of Chanel to Saint Laurent, fashion designers both past and present have always been entralled and inspired by the opulence and mystic of the Orient. Louis Vuitton, Rodarte, Marni and Oscar de la Rente had all at some point in time, send models down the runway complete with Chinese fans and parasols to match jackets, cigarette pants, frocks and gowns heavily influenced by elements borrowed from the Far East. With Lunar New Year just round the corner, there is no better time to spice up your wardrobe with a dose of ingenious Chinoiserie chic. If you are unsure of how to rock this trend, read on for some fabulous tips on how to bring on the look while keeping the whole ensemble pulled together and current. Whether you are embracing your heritage or crossing cultural boundaries, be adventurous and have fun; the way that fashion is meant to be….
Chinoiserie Accessories
(Clockwise from L: Serpente minaudière from Bulgari, Red Deco box from Ralph Lauren, Jade necklace from Soigne K and Dragon bracelet from David Webb)
Oriental-inspired accessories are undoubtly the easiest way to introduce a touch of Chinoiserie glamour to your look. Brooches, necklaces, bangles and minaudières, the choices are only limited by your imagination.  Be it a family heirloom or a thrift store find, the right accessory can stand out as the focal point of your whole outfit and often interesting enough to start conversations flowing. Jade, Coral, Cloisonné or Filigree works are just some of the scrumptiously decadent options unique to the Far East that you can choose from. Go off the beaten track with some of the lesser known auspicious Chinese motifs such as butterflies, dragonflies and bats while you trawl auction houses and flea markets to uncover those hidden Chinoiserie treasures of yore.
Style Tip: Too much of a good thing can often be suffocating. It is better to choose one standout item to anchor your look while riding the Orient Express to the top rungs of the fashion ladder.
(L: Floral motif cheongsum from Shanghai Tang. R: Black patent leather belt with silver horsebit buckle from Gucci)
The Little Bright Cheongsum
The one piece cheongsum or qipao is agreeably, the undisputed pièce de résistance of any Chinese-influenced wardrobe. Unbeknownst to many, this traditional Chinese garment is a much closer cousin to "The Little Black Dress" than one can imagine, working equally well for both formal and casual occasions. If it's cut to measure and well tailored, the cheongsum can accentuate one's assets and hide one's flaws, making it a suitable dress for all body types. Instead of a mid-thigh mini that screams 'slut-alert', pick a modest length that grazes above the knee for a more polished look— think Gong Li, not Bai Ling.
Keep things current by switching out the usual pumps for a pair of edgy looking ankle boots. Add a dash of pizazz with an obi or a wide statement belt such as the classic Gucci horsebit featured here, which incidentally, is totally appropriate considering the fact that we are ushering in the Year of the Horse!
Style Tip: Instead of traditional Chinese motifs of dragons and phoenixes, dare to experiment with fabric choice and go for batik, ikat, cotton floral prints or gingham checks for an unconventional, quirky update.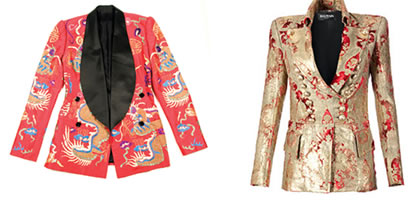 (L: Smoking blazer in Shantung embroidered silk from Ralph Lauren. R: Military style brocade jacket from Pierre Balmain)
The Brocade Jacket
Show off the exquisite craftsmanship of Chinoiserie art with a jacket heavily decorated with intricate embroidery and overloaded with embellishments. To modernise it, opt for a fitted style that's cut close to the torso and nips in at the waist. To avoid looking like a Chinese matriarch, the rest of your whole attire should be kept clean and streamlined. Layer your ornate jacket with an unbuttoned organza blouse or a peek-a-boo silk camisole. Pair these with tailored shorts or snug fitting, capri-style dark denims and throw on ropes of freshwater pearls to channel the look of Marlene Dietrich in the Hollywood classic, "Shanghai Express"— circa 1932.
Style Tip: Instead of wearing your hair in a severe, pulled back topknot, balance the look with a trendy half-down, half-up do that lends a nonchalant air of 'je ne sais quoi' to the whole ensemble.
(Black & Gold metallic print pants from TopShop)
The Printed Cigarette pants
This is perhaps one of the safest way to wear Chinoiserie without the risk of looking clownish or costumey. A heavier set material such as brocade and jacquard silk works best in a length just above the ankle to avoid distracting ruching and cat whiskers around the groin area. Go for casual chic with a white Henley tee or dress it up with a fitted silk blouse tucked under a smart, cropped jacket. Strap on your favourite heels or wedgies and you are definitely ready to mingle and party!
Style Tip: Slim down your silhouette with darker colours such as burgundy, charcoal or moss green but work in a pop of brighter hue to the rest of your outfit in line with the festivities.
You might also like: