[By Wu Pei-Ni]
Make-up trend for 2014 is all about innovation, rich colours and luscious texture. As we gear up for the approaching Lunar New Year with some major housecleaning, it's about time for you to go through your make-up box too. Check out the expiry dates, clean up your old make-up and replenish your collection with some new styles and colours.
There are plenty of exciting choices and here are my top five picks for a trendsetting look that every girl can pull off while house visiting this Lunar New Year. Why choose to blend in when you can stand out?
#1: Sloane Inc Skin Superfood Pumpkin Purifying Peel
I'm a huge fan of Sloane Inc Skin Superfood Red Algae so you could just imagine my excitement when I found out that they have finally launched their second offering for their Skin Superfood series, Sloane Inc Skin Superfood Pumpkin Purifying Peel. Touting the rib-tickling slogan of a 'Pumpkin' a day keeps dull skin at bay, I couldn't wait to rush home to try out the sample they send me. (Yay, yay, the perks of a beauty writer!). Bursting with powerful antioxidants, this pumpkin enzyme treatment unlike your traditional face scrub tackle clogged complexions by 'melting down' the dead skin cells to help reduce the appearance of fine lines, minimise pore size, improve texture and control oil. With so much goodness packed in an auspicious Mandarin orange coloured tub, this is definitely the latest 'must-have' for your make-up kit to exfoliate your skin regularly to an unbeatable glow, setting the perfect blank canvas for you to work on some trendy new colours to usher in spring.
#2: Illusion D'ombre de Chanel long wear luminous eyeshadow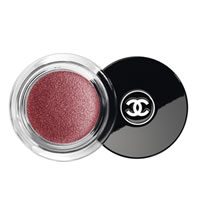 Eyeshadows are no longer just divided into plain old powder or cream form.  Enlivened with gold, bronze and platinum reflections, the iridescent and luminous shades of ILLUSION D'OMBRE DE CHANEL are extremely versatile, and can be used to create anything from a dramatic, runway look to a simple, soft, natural hue that caresses the eyes like an illuminating sheen of mother-of-pearl on a moonlit night. Encased gorgeously in glass embossed with the coveted double C logo, the cushion-like consistency of this make-up gem allows it to double up as an eyeliner that's easy to work on with unique brushes specially designed and included with the set. For a festive look, go for #86 Ebloui, an edgy red number with bronze overtone or #92 Diapason, a shimmering plum with hints of brown. There's never a better time to pop your peepers and let them shine on!
#3 Yves Saint Laurent volume effect faux clis waterproof mascara
Encapsulated in a classy, slim gold casing, this awarding winner mascara is one of the best that I've worked with as long as I can remember. Its unique formulation allows you to volumize, lengthen and define your lashes with just a few simple strokes. The results are dramatic and long lasting and do not cause your lashes to clump or stick together like cheaper alternatives on the market. Apart from your usual black, lash out in its unique offering of deep purple or deep burgundy for a stunning, glamorous look that's hard to ignore.
#4: Guerlain Météorites Powder
An all-time classic that never goes out of style, Guerlain Météorites Pearls employ the technology of white light, which is used in photography and film to erase imperfections and soften features. Composed of a constellation of 6 multi-coloured pearls, this illuminating brush on powder blend together to give a flawless complexion that radiates with youth and vitality. Reinvented in 3 colour harmonies, there's one suitable for each major skin tone. To top it all, it really doesn't hurt that this sweet confection comes in one of the prettiest packaging of all time.
#5: Tom Ford Beauty Lip Colour
Blessed with a Midas touch, anything that Tom Ford dabbles in is nothing short of amazing. From his days of yore at Gucci to his bespoke gowns and tuxedo suits today, just about anything with his name attached immediately attract Hollywood A-listers and fashionistas all over like bees to honey. His highly sought after beauty products expectedly follow suit, garnering rave reviews for their selection of gorgeous shades, moisturising formula and stunning pigmented colours. Boasting a blend of exotic ingredients such as soja seed extract, Brazilian murumuru butter and chamomilla flower oil, dress up your lips this Lunar New Year in a delicious shade of cherry red or fuchsia pink to bring out the diva in you!
You might also like: