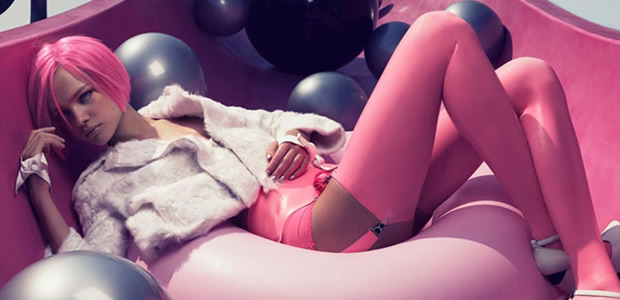 [By Kendall Gan]
Kendall is our overseas correspondent currently doing a course on Textile Design in Parsons, The New School for Design, NYC. As she braved the cold and trudged along 12th Street, her mind is dreaming of open toe, strappy heels and pink grapefruit martinis!
For the longest time ever, Pink is a colour that only appear in gowns meant for storybook princesses and little girls' dresses of lace and frills. Then along came style maestro Tom Ford in the late 90s, sending models down the Gucci runway in every shade of pink imaginable. All of a sudden, we began to see this blushing shade of Pantone in a different light. From coy and flirty to sultry and sexy, Pink left the domain of childhood paraphernalia and became the IT colour that Spring/Summer and the fashion world have never looked back since. For this Spring, be part of the rose parade and embrace this colour that's synonymous with ultra-femininity. Suck on a lolly, have fun and think PINK!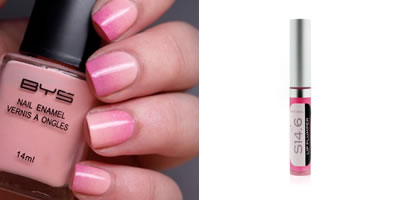 Peony ombre nails & strawberry daiquiri kisses
For the faint hearted damsel, the easiest and best way to introduce something new into your wardrobe is to play with make-up colours. With so many different shades from the family to choose from, you'll definitely not go wrong with a pink-hued polish. Just make sure that the pink pigment complements your skin tone. Gals with dark hair and warm complexions often look stunning in hot pink. Light blondes with fair complexions look sassy with paler hues, whereas corals work best for ladies with dark blonde hair and warm, olive complexions.
"To look more put together, pair pretty pink nail polish with pink lips but it's not necessary to choose the exact shade and be over the top 'matchy-matchy'," suggests freelance make-up artist and beauty blogger, Ms. Lucille Lancaster. "You can go light on the rest of your make-up as your lips and nails are already shouting for attention. Enriched with a natural, patented tripeptide, Maxi-LipT, to volumize and smooth away fine surface lines of lacklustre lips, my personal favourite this season got to be  Sloane Inc. Lip Plumper available online from www.sloaneshop.com. This is a gentle hypoallergenic restorative lip treatment that enhances contours visibly to deliver long-lasting lushness with four easy to wear pinkish hues to choose from."
Raspberry IT bag & whimsical heels
There's always a reason for a new bag every season, but make sure it's not another one in black or tan! Designers are putting out bags in a myriad of rainbow colours for S/S 14 and pink is definitely a strong contender. A deliciously decadent raspberry coloured Chanel boy bag cut in luxurious crushed velvet no less will surely earn the look of envy from those in the know. I can only imagine the nod of approval from fashionista Dorothy Wang of RKOBH (aka Rich Kids Of Beverly Hills) fame, who herself sported a similar arm candy in marigold in an early episode of the reality tv hit. #Fabuluxe— a self-coined term which the dazzling socialite often peppered her endless Instagram posts with.
Nobody does whimsical better than Miuccia Prada as shown in this pair of delightful embellished, sparrow kitty heels from the archives of Miu Miu, circa 2010. They were an instant hit and a complete sold out which spurned a thousand blackmarket copies. If you had missed your chance to grab a pair, make sure you keep your eyes peeled on ebay re-sale and high street re-interpretations of this spot on trend.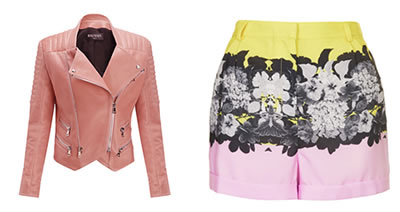 Structured salmon jacket & billowy floral shorts
An innovative way to par down the saccharine sweetness of pink is to pick a style and fabric that's traditionally associated with sheer masculinity. Balmain hits all the right notes here, with a spunky salmon coloured lambskin leather jacket cut in a non-conformist biker style. Show off your softer side without losing your edge and identity by juxtaposing it with a pair of floral patterned shorts, giving a wicked twist to being pretty in pink!
Cotton candy wedding confectionery
Gwen Stefani had one and so did Jessica Biel and Reese Witherspoon. If you are walking down the aisle and saying "I do" this Spring, why not do so in an alluring shade of cotton candy pink? Pink seems to be the new ivory for 2014, at least according to what the models where showcasing in Vera Wang's Fall 2014 Wedding Dress Collection. "Pink as sensual, pink as seductive, pink as dreamy, pink as sophisticated, pink as strong, pink as cool," were the words that this fashion forward wedding gown couturier to the stars used to describe her creations as they floated dreamily down the runway. Definitely a cut above the rest, a stunning pink gown without a doubt gives new meaning to the saying, "Sweet Dreams Are Made of These"….
You might also like: