[By Jessie Gillman]
At the recently concluded 86th Academy Awards, the stakes were high not just for the Oscars win but also in the style and beauty department for each acting thespian that had the chance to walk the red carpet. As we sat glued to our telly and computer monitor yesterday, we singled out some of our favourite picks for that one moment of glitz and glamour. Take reference and channel what these stars had to offer for your own look this coming Spring/Summer. As winner of Best Actress in a Supporting Role, Lupita N'yong O succinctly put in words, "No matter where you are from, your dreams are valid."
Tone on tone
Best Actress winner, Cate Blanchett was no doubt the undisputed winner both on and off the Oscars podium. She went tone on tone in a heavily embellished monochromatic nude coloured couture gown by Armani Privé that was pure perfection against her flawless, alabaster skin. Make-up was kept minimal and classic, focusing on nude lips with a hint of blush and a flick of black eyeliner. To top it all, she wore her glossy blonde locks parted on the side in soft, cascading waves reminiscent of old time Hollywood glamour girl, Veronica Lake. Simply stunning.
Beauty Tip:
The right hairstyle can often make or break the look. In this case, Cate's healthy and perfectly coiffed mane pulled her whole look together, giving her ensemble a polish finish much like the cherry on top of a lip smacking sundae. The FDA approved Revage 670 Laser with its special rotational phototherapy that involves a total of 30 laser diodes no less is widely recognised as the gold standard for rejuvenating thinning hair or as a preventive measure for premature hair loss in women. This state of the art system provides critical coherent beams as a direct source of laser light in a hood that goes over the scalp to ensure maximum laser energy contact over the areas to be treated, with maximal stimulation of each hair follicle at a much higher level that sets its reliability and efficacy way above that of traditional hand-held lasers.
For best results, combine this with Revitascalp, a unique 'hair-cial" that pushes a blend of nourishing nutrients via a special delivery system into your scalp to provide round-the-clock hair stimulating goodies essential for maintaining a lush and healthy crowning glory.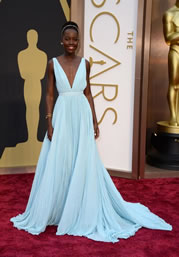 Contrasting elements
Can this girl possibly do no wrong? Kenyan actress, Lupita N'yong O besides scoring big by winning an Oscar for her very first featured film, had the whole fashion world at her feet by hitting all the right notes on the red carpet throughout the whole awards season. For her Oscars outing, Lupita took a rare and daring departure from her usual form-fitted style which paid off big time. This young fashionista was a breath of fresh air in a billowing custom gown by Prada, cut in an ultra-feminine style that drapes perfectly on her strong, athletic frame. The pale icy shade was a strong but pleasant contrast against her velvety chocolate skin, playfully christened by her as "Nairobi Blue" and now seems poised to become the IT colour for S/S 14!  We couldn't help but swoon over that gold and diamond Fred Leighton headband, making its second appearance later in the evening at the all-important Vanity's Fair post-Oscars party; paired seamlessly with a white and mint green Miu Miu gown with a delightful beaded fringe.
Beauty Tip:
Besides an obviously svelte figure, Lupita had us drooling over her well-toned arms. A well-balanced diet, regular cardiovascular training and weight bearing exercises are all crucial to whip those flabby arms into an enviable shape. For those having difficulty banishing those last bits of fatty deposits to Siberia, consider CoolSculpting, a non-surgical fat busting technique that literally "freezes" the unwanted fats away. With the introduction of a 6.2 or CoolFit suction cup that is suitable for placement on narrower body parts such as the inner thighs and arms, this device is applied precisely to such target areas before it starts reducing the temperature to attain the right coldness to selectively target the fat cells here. The frozen fat cells are eventually metabolised and removed from your body naturally, with actual loss in centimetres measured after 8 to 10 weeks.
Take the plunge
It is probably not easy if your mum is often consider one of the most beautiful women in Hollywood. For that, Kate Hudson seems to be doing just fine, holding her own court in both the talent and style department. Not for the faint hearted, Kate rocked the red carpet in a molten metallic Atelier Versace number which had a liquid-like fit and worn like a second skin. A plunging neckline and knot right above the belly button kept things sexy, while structured shoulders draped all the way around like a cowl-neck in the back, exuding an exquisite air of old Hollywood glamour reminiscent of the 1940s and showing the world what she has to be considered pure Hollywood royalty.
Beauty Tip:
It takes more than guts and sheer confidence to adopt a neckline that dips so low and leaves so little to the imagination. To carry off this daring style with panache, one of the pre-requisite is to have a blemish free neck and décolletage.
The Fraxel Restore Laser is a revolutionary treament that brings about a total skin rebirth to stubborn dark spots and skin damaged by years of unprotected sun exposure. It improves your complexion by affecting only a fraction of your skin at any one time in a pixelated way, with way less downtime compared to traditional laser resurfacing techniques. Overall skin rejuvenation is expected after a series of 5 to 6 sessions done at monthly interval, with nu-skin looking smoother, younger and more supple.
You might also like: