[By Wu Pei-Ni]
As the first of the daffodils bloom and herald the coming of spring, images of rose tinted lips, peachy cheeks and shimmering eyes immediately jump to mind. Allow yourself to reconsider my dear, for as fickle as dandelions floating in the wind, fashion dictates a rare departure in S/S 14. This season, things are getting bolder, brighter and sexier; interspersed with a touch of edge and glamour. So brace yourself, think out of the box and dare to experiment. Check out what's trending in the make-up world for S/S 14 and make it your own!
Bright tangerine lips
2013 was all about bold lips— red ruby lips, deep burgundy kissies, wine stained puckers, and even Goth black ones. But that was so last season.
For S/S 14, there's no denying that orange is THE colour to be seen in. Not just any shade of tangerine, but blindingly bright, Day-Glo neon orange. Totally unconventional, this bold hue is surprisingly easy to pull off as models of every skin tone and hair colour were sent down the runway by Dean & Dan Caten sporting bright tangerine lips and looking ridiculously amazing.  From street cred label Rags & Bone to couturiers the likes of Galliano and Prabal Gurung, this pop of colour is best paired with springtime pastels and crisp summer whites. Be daring and give amber the green light. You never know how amazing and fashion forward you can be until you step outside of your comfort zone!
Au naturale skin
Even though the models strutting for Chloe, Balmain and Isabel Marant seemed like they were wearing next nothing on their faces, there's still an art to getting this right. The au naturale look is a huge trend that's going nowhere, demanding nothing short of clear, flawless skin. To perfect this look, good skin is a prerequisite.
If you wonder why some complexions have that fresh and dewy appearance, the answer is really skin hydration. When your skin cells are well replenished, your complexion will naturally appear dewy with a youthful glow. However, we are talking about the hydration deep in your skin's dermis, not just surface hydration that one can achieve with moisturisers.
To boost your skin's dewiness, try Revitalift, a series of microinjections that target the entire face to replenish the natural store of hyaluronic acid of the skin.  "Hyaluronic acid is your skin's natural water binder," explains Dr. Chua Han Boon, senior medical consultant from The Sloane Clinic. "Only skin with healthy levels of hyaluronic acid will appear well hydrated all the time and radiates with an unbeatable luminosity. "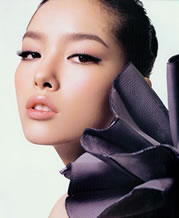 Inky geometric eyeliner
Black eyeliner is nothing new but this season, instead of the familiar soft, smoky eyes, it goes all way out for a bold, statement making graphic look much like an updated version of 60s French bombshell, Bridgette Bardot.
Use a black liquid eyeliner to outline the lash-line on your top eyelid with a really gentle flick right at the end so that your eyes look sexier but not more aggressive. It probably takes more than a few tries to get it just right but once you perfect it, the look is simply the epitome of effortless chic.
The trend is to wear them neat and super-sexy sans eye make-up but if you must have some colour, get powder eye shadows and blush them ever so lightly for a washed-out effect. Don't overthink about definition and blending, just a few quick strokes and top it off with smudgy black mascara for a gorgeous retro pin up girl meets futuristic biker chick look.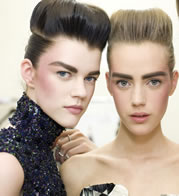 Bold schoolboy brows
Blame it on Brit supermodel, 21 year old IT girl, Cara Delevingne, blessed with eyebrows that rival in fame to those sported by Brooke Shields in the early 80s. The arch is making no sign of a comeback from what we saw from Paris to Milan, with blunt, boyish brows dominating catwalks everywhere from Vuitton to Armani. Even at Michael Kors where he had them bleached for his outing at Bryant Park for NYFS aka New York Fashion Week, models were sprouting full feral brows with a strong look of defiant.
The key to wearing this controversial trend is to have them thick but well-groomed and nicely shaped. You definitely don't want to see haphazard hair all over the place!
So what do you think of these make-up trends for spring 2014? Yay or Nay? I don't know about you, but I'm all ready to grab an orange lippie, super-size my brows and pamper my mien to a smooth finish today!
You might also like: