[By Tania Hui]
While THE dress is definitely crucial in the making of your dream wedding, your bridal make-up ranks close as a second if not on equal footing. Not only will everyone be scrutinising every single expression on the bride's face from her smiles to tears, pictures are being instagrammed and tweeted way before you reach the part of saying, "I do". To look as close to perfection for inconsiderate guests who don't photo-edit before uploading, steer clear of bridal beauty blunders that are at times hard to fix. With these tips from RSB up your French lace sleeves, you can handle any wedding crasher and paparazzi anytime, anyday…
It's so not you!
One of the biggest bridal beauty blunder of all times is looking like someone else on your big day. This is especially true for ladies who normally wear little to no make-up in their everyday life. Your trendy make-up artist might get carried away with his latest online research, giving you cutting edge trends which do not translate well nor reflect your own true self and personality. "This isn't the time to experiment with makeup," warns celebrity makeup artist Kimberley Sharpell. "If  you have never wear smoky eyes all your life, you can save that for any other day, just not your wedding day."
Your bridal make-up should really be done in a way that aims to accentuate your features to present the best version of you on your big day. Discuss it beforehand with your make-up artist and always book a trial make-up session before the actual day to iron out any discrepancies. It would be a real disaster if the groom doesn't recognize you when you are walking down the aisle of the supposedly happiest day of your life.
Make-up does not create miracles
You can have the Monique Lhuillier couture gown, the Harry Winston bling and the best make-up artist in town but all these do not add up to a ravishing bride if you got bad skin to start off with. Trying to hide your skin flaws with overly strong make-up only serve to highlight rather than hide what you do not wish to show.
"If you have pre-existing blemishes such as acne scars and pigmentation that you wish to address, I would suggest seeking professional help at least six months prior to your actual wedding," says Dr. Tan Wang Theng, senior medical consultant with The Sloane Clinic. "Any form of laser treatment does not treat your skin woes directly per se. What it does is to create controlled, 'micro-injuries' to one's skin and jumpstart your skin's own repair mechanism for skin rejuvenation and renewal. Results do not happen overnight and instead are accumulative over a period of time."
Waterproof your make-up
On your wedding day, you're going to hear heart warming speeches, openly declare your love, give hugs and kisses and make steps towards a new chapter of your life. Basically, be prepared to be engulfed in a myriad of emotions, laughing like a hyena one moment and crying your ass off the next. It is therefore crucial to make sure that your primer, foundation, powder, blusher, eyeshadow, mascara, lipstick and everything else that's painted on your face is absolutely budgeproof. That way you don't have to worry about your face slipping off and winding up looking like Chucky's bride.
Kimberly recommends going with a lip stain if you want to be doubly sure about not staining the crisp white collar of your hubby's Dolce & Gabbana tuxedo. It is definitely an untimely bridal beauty blunder for you to have red lipstick all over his and your face when you finally seal a kiss as mister and missus for the very first time.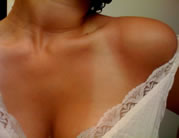 Watch out for tan lines
I can't decide what is worse as a bridal beauty blunder— having tan lines or sporting a fake bake as real as your bejewelled acrylic nails. By the way, unless you are five and playing dress-up, bling bling nails are NOT allowed at any wedding, let alone yours. If you are going under the sun to get some colour for your big day, make sure you take into consideration the style of your wedding dress to avoid showing off unsightly tan lines.
The best way to prevent this is to be aware that they can occur and take every ounce of effort to avoid getting them. Trust me, steering clear of possible tan lines is much easier than trying to fix them later. So watch out where your bathing suit covers months before your wedding or you might need to shell out good money for a whole new gown altogether to avoid an eye-jarring bridal fashion faux pas.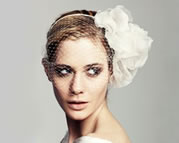 Don't be a bridezilla
The bride should always stand out from the rest of the bridal party but that doesn't mean the rest of your bridal team need to dress or look like trolls.  Makeup-wise, you should look different from the rest but in a complimentary way. Even tweaking your look slightly will make you that much more of the focus.
If you opt for dramatic eye make-up, have your bridesmaids do a softer version of the look so that they won't compete with you for attention. At the same time, they should not be too washed out when standing next to you.
As long as you keep these common bridal beauty blunders away, a fabulous wedding is definitely on it's away!
* Selected as Article of the Month Apr 2014*
You might also like: