[By Elena Thomas]
From the girl next door to the brightest stars in Hollywood, the "selfie" bug has definitely reached pandemic proportions, ranging from an innocent display of self-love to full blown "selfitis"; a suggested psychiatric disorder defined as the obsessive compulsive desire to take photos of one's self to post them on social media sites as a way to make up for a lack of self-esteem and to fill a gap in intimacy. Whatever the reason may be, if you are going to take a selfie, you might as well make it Pinterest worthy. Finding ways to nail a great selfie is serious business if you want your social media presence to be glam and not gawky. Whether you are on a girl's night out or sending something saucy to a significant other, here are some tricks and tips to make that shot worth a thousand hashtags to garner a thousand and one Likes. And one more thing, don't forget to #readysetbeauty!
#Lighting is everything
"Find your light!" screams Tyra in almost every single episode of America's Next Top Model. This got to mean something since the highly addictive talent scouting show is into its 20th cycle this season with no signs of slowing down. In fact, this is by far the best piece of advice one can dish out to anyone standing in front of the camera. When you are snapping a selfie, or any photo for that matter, good lighting IS everything.
You can't show off your make-up, flaunt your killer curves or brag about your new hair and designer's outfit in bad lighting that's both distracting and unflattering. Very few people can look fantastic with overhead lighting glaring down so keep that in mind. Rather than standing directly beneath the nearest light source, make sure that it's directed at an angle towards your best features. Improvise with surrounding lamps if you must and cropped them out while photo-editing. Indulge in natural lighting as it always sets the stage for a good selfie!
#Background check
I know a selfie is supposed to be all about yourself as the subject, but when we see a filthy bedroom littered with piles of clothes, we can't help but feel that you should be spending time tidying your hot mess instead of taking selfies. Bathrooms and gym locker rooms with their full length mirrors and perfect lighting are perennial faves but do remember to watch out for unwanted reflections of naked butts and other obscenities.
An important element of a good selfie is to pick a good and clear background that's lend itself well to an impromptu photo op. Solid colored walls, lush greenery or just about any place without clutter and photo-bombers will do just fine. With your background checked and ascertained, you can now concentrate on your pose and put your best face forward.
#Realistic photo-editing
Before you upload your selfies on to Facebook or Instagram, there's really nothing wrong with a little photo-editing. You got to be kidding me if you really believe those who #nofilter or #noretouch.
Crop out distracting elements (including unwanted "friends" that NEVER let go of a chance to squeeze into every shot. Yes, I'm talking about you, Patsy!) Use a cool filter to give your picture the right mood or create a fun and meaningful collage. Photo-editing doesn't always mean you're trying to hide something or you aren't being yourself. It is supposed to be done subtlety to enhance your natural attributes in a realistic way without obvious tell-tale signs of body size incompatibility or blur out wavy lines of the surroundings.
"My pet peeves are apps which set every image into soft focus and liquefy complexions to a glazed, blemish free finish," says Dr Kenneth Lee, medical consultant from The Sloane Clinic with an avid interest in photography. "Instead of wasting your time creating unbelievable images, think about taking action to improve your appearance via safe and effective ways."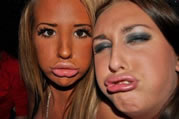 #Stop making faces
Pulling funny expressions in front of the camera is both passé and super annoying. Even if you are Miley Cyrus, sticking out your tongue is not a good look. And don't get me started on the duckface. Selfies always look much cuter when you act natural and don't try too hard. Achieving a natural look can take a couple of attempts but it is well worth the effort to up your social media status. You want to be adored for the right reasons, not the wrong ones!
Very few people can nail a great selfie right away. To get a great one, take a couple before you start looking through and deleting. Deleting as you move along often makes you feel too hypercritical to find one that is great.
Take your time to decide which selfie to upload and restrain yourself from posting one too many version of the same shot. Have fun and don't forget to hashtag readysetbeauty!
You might also like: