[By Anabelle Lim]
Perhaps it's the rising temperature or the time of the month, the occasional angry zit that rears its ugly head is no doubt both annoying and bothersome even if it's far and in between. Fortunately, whether you are heading to your nearest drugstore for a solution or knocking down the door of your aesthetics doctor's office, there are plenty of acne busting skincare products to deal with these unsightly blemishes. What makes product A better than product B? Why do some work for others but not for you? Read on for a list of active ingredients to keep an eye out for and you'll be well on your way to stamp out these pesky spots, leaving your skin glowing and radiant in no time.
Benzoyl Peroxide
Remember your trustworthy Oxy 5 or an upgrade to Oxy 10 for some heavy duty acne busting action on troubled skin during our teenage days? Benzoyl Peroxide is one active ingredient that is right up there as a treasured acne fighter that has stood the test of time. It works by killing bacteria clogging up your pores as well as letting oxygen into them. Bear in mind that although not as common with teens due to the excessive sebum secretion associated with puberty, benzoyl peroxide (especially in higher strength) can cause redness, dryness and flaking of skin when used by adults.
Just like how you had switched out your Bata for Loubies and Jimmy Choos, consider Sloane Inc. Skin Rescue, a potent formulation which contains Azelaic acid, a well-recognised skin lightening agent in addition to Benzoic acid. This serious overnight acne attacker with oil-absorbing, anti-inflammatory and pigment-preventing properties assumes multiple roles; fighting acne, lightening marks and reducing skin redness such as that associated with rosacea all in one go!
Salicylic Acid
Another common ingredient found in anti-acne products especially facial cleansers and exfoliating agents is Salicylic acid. Salicylic acid works by clearing oil, dead skin and bacterial overgrowth from your pores, thus unclogging them to combat comedones (whiteheads and blackheads) and pimples for a blemish free complexion.
In higher concentration such as Salicylic acid 20%, it is commonly used together with a blend of other fruit acids and medical grade cosmeceuticals for Professional Chemical Peeling by certified aesthetic physicians. Chemical peels are designed to improve and smoothen the overall texture of facial skin in a simple and fuss-free way. The naturally occurring "fruit acids" in these treatments will remove dead skin cells from the topmost layer of the skin known as the stratum corneum. This action will allow the healthier skin cells beneath to come through, leading to better complexions that radiate with a youthful glow. Besides oil and acne control, chemical peels target surface blemishes, uneven skin tone, fine lines and wrinkles too.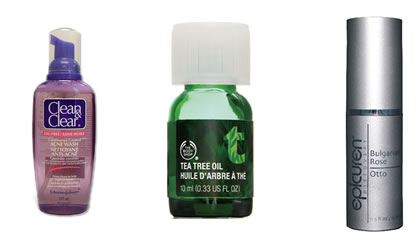 Tea Tree Oil & Rose Oil
You hear me right, certain oils are great acne busters and are great choices especially if you want something more natural than traditional chemical acne fighters. Tea tree oil is well known as an essential oil with strong antiseptic properties and treat breakouts by attacking bacteria that's proliferating in the pores without loading the skin with synthetic chemicals.
A lesser known, well-kept secret amongst holistic and Ayurvedic healers that has both anti-acne and hydrating properties is Rose oil, my personal favourite being Epicuren Bulgarian Rose Otto Oil. This beauty saviour hydrates the skin without clogging pores as it permeates the skin in a unique way that allows it to breathe easily. It is also an excellent antiseptic and acts as a healing tonic to soothe and calm down angry zits while locking in moisture to keep the skin well hydrated and supple.
Topical Retinoids
Topical retinoids are Vitamin A derivatives that can be used effectively to combat both inflammatory (bumps, pus-filled bumps and cysts) and non-inflammatory (blackheads and whiteheads) forms of acne lesions. Some of the common retinoids include adapalene, tretinoin and tazarotene. You may know these medications under their brand names of Differin, Retin-A, and Tazorac. There are several different formulations of each of these potent prescriptive anti-acne agents and they should only be used under proper medical guidance.
Though effective, topical retinoids often exhibit non tolerable side effects. Common ones include skin irritation that lead to peeling, redness and extreme dryness. Some women with darker skin tone complain that their skin is so irritated that it feels and looks "burned" by the retinoids. It is important to discontinue use and seek immediate medical attention for any topical product that irritates or burns the skin.
"For patients who are contraindicated or can't tolerate the side effects of retinoids, a safe and highly effective way to tackle active acne eruption is with the Smoothbeam Laser," explains Dr. Chua Han Boon, senior medical consultant with The Sloane Clinic. "This is a diode laser which generates heat in and around the oil producing sebaceous glands, altering their structures and thereby reducing the over-production of acne-causing sebum without harming surrounding tissue."
Remember that when it comes to applying acne busters, less is usually more and don't forget your sunblock and moisturiser too!
You might also like: