[By Sally Tan]
I have always had a love-hate affair with my hair. More hate than love. I have had it rebonded (big mistake—it became as flat as a pancake), highlighted and finally digitally permed (also a mistake, it looked like char bee hoon after that).
Suffice to say, my hair has been through a lot, and this explains the current frizzy state it is in. My last digital perm was about two months ago, and I really regretted it as my hair became more unmanageable than ever.
A short disclaimer here: I believe that digital perm can work for someone with strong, healthy hair and with at least 30 minutes to spare every morning to blowdry and style into a flattering shape. Unfortunately, my love for my beauty sleep outweighs all else and I am the sort of wash and go sort of gal.
I first heard of the Brazilian Blowout from my friend Annie who was living in the States. I saw some of her photos on facebook and was instantly interested. She had hair like mine and if I know Annie, she is even more low maintenance than I am. I was looking for something that would add shine to my hair and cut frizz. I wasn't looking for jet straight hair though I was sick of my unruly curls—-so somewhere in between with loose waves would be ideal.
I finally found a place off Niven Road called Le Papillon that provides Brazilian Blowout. This is a quaint one-man show where the owner Cedric runs his salon out from the ground floor of his flat. It is strictly by appointment so call ahead.
My hair was washed and toweled dry. Then a cream was applied in sections throughout the entire head. The only downside was the smell which made my eyes tear up. After letting it sit for about 10 minutes, my hair was blown dry (hence the term 'blowout') and then flat ironed. The whole process took less than 2 hours. My hair looked amazing right after, so much so I was disappointed I didn't have a date with the girls to show off my new locks.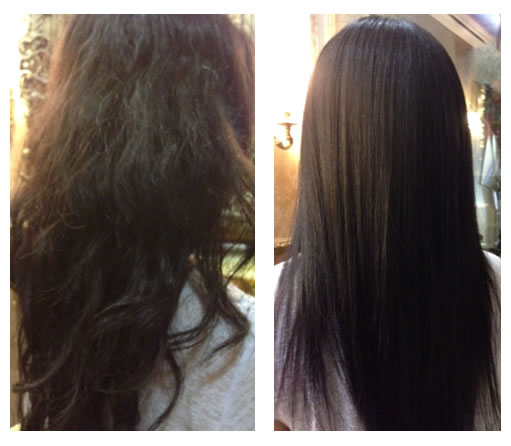 However I was also skeptical about whether the results would last as this took way shorter than my rebonding and perm. I didn't wash my hair for that day, and my hair looked amazingly shiny and straight for the duration.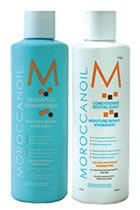 The next day, I washed my hair with the shampoo and conditioner that I bought from the salon. It's Moroccan oil shampoo and conditioner that is apparently sulfate and paraben free. Then I let my hair air-dry. I also applied a penny-size portion of argan oil (also recommended by the stylist) over damp hair, then rushed off to work.
Then I kept my fingers crossed that my hair would settle down into a somewhat more manageable state.
As it dried naturally, my hair was certainly not as straight as the day before which was a slight relief. But to my delight, it wasn't as curly and as frizzy as before either.
Best of all, my hair had a natural shine I hadn't seen since my junior college days. I was very happy with the results.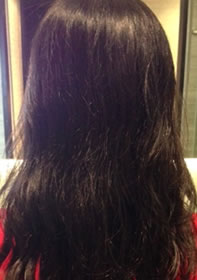 The downside to this treatment: (1) the smell of the treatment made my eyes tear up, and (2) the cost was pretty steep. I paid SGD$500 for the treatment and another $170 for the products. I know the products came up to quite a bit but I was worried that without proper maintenance the results of my treatment would come to naught.
In conclusion, I would say this is a pretty amazing treatment for those who have deep pockets. Would I go for it again? Definitely yes, but in view of the cost, instead of the 4 monthly interval recommended, I am planning to do another one only in 6 months time. I am hoping that if I take really good care of my locks, the results would last till then.
Treatment: Brazilian Blowout
Where: Le Papillon
Cost: $500 (treatment) + Products ($170)
If you have a first-hand experience of a beauty treatment that you have undergone and would like to share it with us here, please send your article with photographs to info@readysetbeauty.com .
Published articles will receive a free skincare hamper worth SGD$100.
You might also like: