(Picture credited to Dsquared2 S/S 2014 runway show— Milan Fashion Week)
[By Kendall Gan]
I'm a retro fan gal at heart so you could almost hear my squeals of delight when many of my favourite designers such as DSquared2 and Prada were showcasing Spring/Summer collections that were heavily influenced by Tiki culture resonating with vintage vibes. Tiki culture is a 20th-century theme used in Polynesian-style restaurants and clubs originally in the United States and then, to a lesser degree, around the world. It reached its height of popularity from the late 50's to early 60's before giving way to the invasion of Pop Art, Mod and Beatles. Although inspired in part by Tiki carvings and mythology, the connection is loose and stylistic; being more of a kitschy American fantasy of an exotic oasis rather than true Polynesian fine art form. This whimsical trend is nonetheless exceedingly delightful and easy to wear, so bring on your mojo this Spring/Summer and let's have a Tiki!
Kitschy arm candy
Anytime you are hesitant to embrace an unfamiliar trend in full force, you won't go wrong by starting conservatively with bags and accessories. Be it the colour or the style, from dainty clutches to gargantuan totes, a unity emerged that was immediately primal, ethnic, and earthbound; composed of natural elements such as straw, rattan, jute or raffia. Like a distant tropical island floating in a far off sea, the overall mood spells exotic Tropicana chic. Make it casual classy, not DIY crafty.
One piece flora dress
Predictably, floral trends in fashion, like their garden counterpart, pop up every Spring/Summer. As every gardener knows, no two blooms are alike, and therefore no two seasons are ever the same. Last year, it was all about delicate pastels in shades of Monet's palette. This time round, shouty blooms that are hard to ignore burst forth in a kaleidoscope of vibrant eye-catching hues against muted backdrops in contrasting shades. Form-fitted shift dresses in a midi length are favoured, reminiscent of high-brow socialites hosting tea parties under the California sun. Keep it elegant with minimal accessorising or pile them on for a truly stand out look.
Chunky statement necklace
Just because more is more and less is boring, strap on the boldest statement necklace you can find, in Tiki-inspired flora and entomology to add pizazz to an otherwise bland outfit. From couture houses to high street retailers, there are plenty of gorgeous offerings to pick from. Pair it with a crisp white shirt with an upturned collar, some indigo denims and a pair of woven wedgies and you are all ready to samba!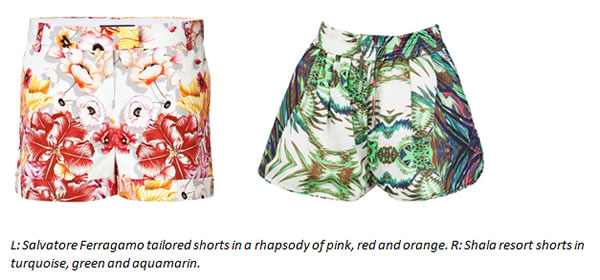 Copacabana shorts
As the temperature soars, keep things cool with a pair of derriere hugging Tikilicious shorts. Go wild with your choice of colour and fabric but keep the lines clean and sleek, not Jersey Shore skanky. You can't go wrong pairing these with tunics, pheasant blouses, or cropped tops. Lace and sheer panelling are two current trends that you can pull off with these eye catching bottoms.
With so many colourful options to choose from, this Spring/Summer will be anything but boring….
You might also like: