(Photo of Asian rising star Angelababy credited to xinhuanet.com)
[By Tania Hui]
With globalization and cross cultural influences between the East and the West, the concept of Asian beauty is no longer dictated by classic standards. In recent years, with China skyrocketing towards its status as the new superpower and Korean pop cultural gearing for world domination especially in South East Asia, there emerge a new kind of pan-Asian beauty, characterised by flawless porcelain skin, a heart shape face, rounded forehead and full cheeks. Wide Bambi-liked eyes, a small delicate sharp nose and a hint of the slightest pout are desirable features that one might not be born with but are nonetheless attainable, making Asia the hub of Plastic Surgery with more procedures performed here than anywhere else in the world. If going under the knife sounds a little extreme, consider non-surgical aesthetics options, whereby small alterations will bring forth significant changes, bringing you one step closer to the benchmark of the new Asian beauty….
Fair flawless skin
Fairness is a beauty commodity highly pride amongst Asian women despite the fact that most areas lie in the tropics and are blessed with sunshine all year round. From no frills household brands to giant cosmetics companies, there's no shortage of whitening products churned out by the dozens in a bid to achieve the coveted alabaster mien. Lotions and potions aside, Light and Laser treatments are fast gaining momentum as effective alternatives with long standing gains.
A revolutionary new approach to skin rejuvenation pioneered by the Koreans is the Laser Peel, a lunchtime treatment that resurfaces and replenishes the skin at the same time with the use of gentle yet deep penetrating laser energy to exfoliate and replace damaged, dead skin cells. By shrinking down the sebaceous (oil) glands, laser peel help to reduce surface grease, minimize pore size and refine skin texture all at one go. So if you are looking for a safe and effective way to slough off dull looking skin, address uneven skin tone and shrink those pores without using harsh chemicals with virtually no downtime; there are more than a few good reasons to schedule a laser peel today for blemish free fairness that glows with youth and vitality.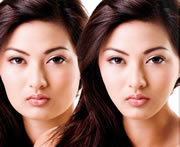 Heart shape or V-line face
With these pictures placed side by side for comparision, it is not hard to tell which is a more attractive and hence desirable face shape.
"To achieve the perfect heart shape face, the V-line is currently the non-disputed #1 trend that's much sought after by any modern Asian lady looking to improve her looks," explains Dr. Chua Han Boon, senior medical consultant with The Sloane Clinic. "This refers to a highly defined V-shaped jawline that ends with a sharp, delicate chin."
BOTOX® Facial Slimming  is a frivolously simple way to pare pounds off a heavy matronly jawline and convert a blunt, squarish profile to a slim, feminine visage. For individuals with jowls and skin laxity, this can be combined with  Ulthera and Thermage, which are FDA approved modalities that utilises Ultrasound and Radiofrequency respectively for collagen regeneration and remodelling to bring about lifting and skin tightening to improve the appearance of the jawline. Chin enhancement with the use of Natural Fillers is the golden ticket to top it all, sculpting the chin to the perfect focal point in the V-zone of modern Asian beauty.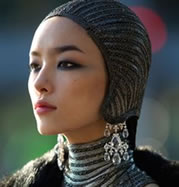 Sleek and smooth contours
From small screen actresses to international catwalk queens, popular Asian beauties of the new millenium are sporting smooth rounded foreheads and luscious full cheeks. Most Asian faces lack anterior projection and this must be corrected in order to achieve the dimensions of a new Asian beauty.
A key facet in achieving the ideal look is a subtle cherubic plumpness in the upper and mid-face that signals good health, femininity, youth and vigor. This can be achieved with Restylane®Hydrolift, a special injectable technique that uses fine particle natural hyaluronic acid both as a skin-lifting treatment and as a complexion booster to plump up youth-draining undereye or cheek hollows while delivering dewy fresh, baby supple skin.
For those looking to improve the aesthetics of a flat forehead, consider Revitalift, a simple, fuss free procedure that works wonders to bring on smooth, enviable contours. Volume deficits or loss in sunken temples can be addressed with the Voluma High Definition Lift, scoring a perfect ten in beautification for any modern day Venus.
You might also like: