[By Kassandra G.]
I always remember my mum as a beautiful woman in her younger days. She always had her hair up in a French twist, had matching lipstick and nail polish and wore heels. Maybe it's the stress of having to care for 3 children, housework and all, the passage of time had definitely taken its toll on her appearance. So for this Mothers' Day, I've decided to put my dream bag on hold to treat her to a much needed aesthetics make-over at The Sloane Clinic helmed by some of the best aesthetic doctors in Singapore. I found plenty of options while researching online and being crowned 'best aesthetic clinic in Singapore 2016' by Tatler magazine with more than 50 awards to boast, I reckon that The Sloane Clinic will offer nothing but the best for the most important woman in my life.
On the day of our visit, both mum and I were impressed with the posh interiors of the spanking new clinic at ION, Orchard. Besides being more spacious, the new premise offers much more privacy as people walking pass won't be able to see who's seated at the waiting area. There goes my chance of celebrity spotting! After registration with a chirpy staff (too much coffee?), we were whisked off to the doctor's room for consultation. (As I'm not paid for this, I'm not going to put down the doc's name so PM me if you're interested)
Mum got a full face analysis and at this point, we all agreed that she needed some kind of lifting to address her saggy jowls to re-define her jawline. The doctor suggested a 3-D facelift with the combination of Ulthera and Thermage but mum wasn't keen due to the pretty hefty price tag. (Phew—sign of relief!) The good thing is the doctor wasn't pushy and switched seamlessly between English and Mandarin to make sure that mum was not lost throughout the whole discussion. In the end, we settled for the option of Voluma High-Definition Lift, a quick way to lift up sagging skin with the use of fillers. Fillers for lifting? Yes, that was my initial reaction too as I thought fillers are only good for giving one fuller cheeks or Angelina Jolie's lips. Apparently, when they are placed correctly, fillers can act as anchor points to "lift" loose skin. How intriguing! Anyway, we were sold as results would be visible immediately and little to no downtime was expected, just what we wanted, to look her best during Mothers' Day brunch this Sunday.
Read More: Restylane Natural Fillers Can Reverse Time "Naturally"
After having some numbing cream applied for 10 to 15 minutes, mum was ready for her make-over! The doctor went on to explain that he would be making tiny 'entry points' through which a blunt instrument known as a cannula would be introduced in order to place the fillers in the required places. This reduced the need to make multiple injections and minimised the risk of bruising as well. Mum's not quite a tough cookie yet she rated the pain level as 1 over 5, mainly from the needle prick which didn't last long. The rest was more of a pressure kind of sensation as the fillers were 'squeezed' in and moulded to shape by the doctor. It was all over in less than 30 minutes!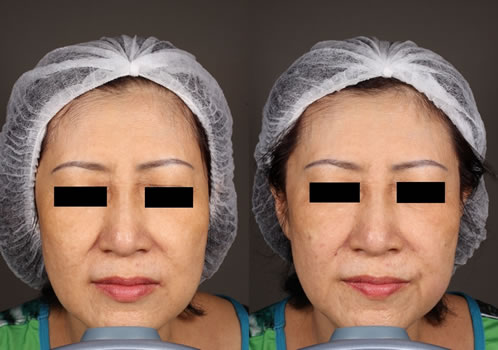 Are the results visible instantaneously as promised? Yes. There were subtle but definite improvement, which is exactly what mum wanted. Very natural, nothing too drastic. If you look at the before and after photos, you can see that her jowls are less 'bulldog looking' with smoother contours of her jawline restored, giving her a slimmer lower face. Her brows also regained a gentle arch with the lift and were not as flat as before —If you scrutinised hard enough, you will vaguely see 4 small red dots— those were the 'entry points' made by the doctor. Another 2 were high up and totally hidden by the hairline.
Read More: The 5 'Au Naturel'Facelifts you need to know
What's the verdict? We were both pleased with the results, a fresher look achieved without the need to undergo elaborate treatments and surgery in less than an hour. The pinprick marks were easily covered with a little concealer and everything is available at the make-up corner to ensure you look your best by the time you leave the clinic!
Treatment done: Voluma High-Definition Lift at The Sloane Clinic (ION branch)
More info: Voluma High-Definition Lift
* Selected as Article of the Month May 2014*
You might also like: