[By Gladys Harper]
Besides fashion, one of the most exciting aspects that come with the change of seasons is the chance to experiment with new make-up trends. Seen on all major catwalks from New York to Rio de Janeiro, the look that is taking the world by storm is all about keeping things casual, with barely there make-up that take you with ease from the beaches of Palm Springs to the opera houses in Venice. A nude look is polished and pretty and because you're simply boosting your skin tone, it'll never appear as if you tried too hard. But try it and you'll soon discover that natural radiance is quite an art form that needs skills to achieve. Dolly Parton once said, "It costs a lot to look this cheap," and this paradox cannot be further from the truth for the trendy nude look for S/S 14. To help you out, follow these 5 easy steps that we have laid out for you and translating those runway tips to everyday look should be as easy as a midsummer's night breeze.
Ace of base
When there's not a lot of colour to your makeup, an even skin tone becomes all the more important. At the same time, heavy base is overkill. For a start, you need to choose your products very carefully as nude should not mean one thing to all people. Picking colours that complement your complexion will prevent you from looking washed-out or unnaturally brown. The sign of a good foundation is one that will appear as if you are wearing next to nothing on your skin with that luminous, fresh, dewy glow. In other words, if you're seeing make-up sitting on the skin and caking up your pores, you're not using the right products.
The newly launched Sloane Inc. BB Powder in two easy shades of 'healthy glow' and 'nude' is a godsend beauty gem to set that perfect base for this season's barely there look. Don't be fooled by the weightless feel of this ultra-light translucent powder as it works its magic by providing adequate coverage while performing extra-heavy skin protection duties at the same time. Built on a patented technology of skin actives including lipo-fullerene, this new kid of the block helps combat the evil forces of aging by rebuilding collagen, combating acne and clogged pores while delivering full-spectrum physical sunscreen protection of SPF50 to fight against photo-damage while maintaining a flawless finish to let your natural beauty shine through. Whether dusted onto bare skin or over a tinted moisturiser, Sloane Inc. BB powder gives both skin flaws and sun damage the 'brush'-off and truly triumphs as the 'ace of base'.
A  Midas touch of shimmer
With minimalistic make-up, keep your face from looking flat with a shimmery eye shadow or blush, just enough to give you that sun-kissed glow reminsecent of Tuscany or St.Topez without overpowering and turning your countenance into a shiny disco ball. When swirled together with a brush, Dior Diorskin Nude Shimmer 001 in Rose gives a fresh, berry pink blush that catches the light with just that glimmer of shine. The finely-milled powder is so soft that it seems powdery at first glance, but on the face it doesn't look that way. In fact, the finish is almost matte with just that smidgen of sparkle that works perfectly to highlight those sleek contours for a modelesque look.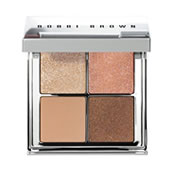 Tone on tone for your eyes
The eye shadows you choose can make or break the true "natural" look. For example, those with fair complexions should avoid anything with too much warmth – such as browns with red, orange or yellow pigments – while nudes that are too grey or ashy can look chalky on warmer, olive complexions. As a rule of thumb, let your skin be your guide and choose eye shadows that are in the same colour family as your skin tone, but a shade or two darker. You can't go wrong with Bobbi Brown Nude Eye Shadow Palette for Spring 2014. With not just one but three different shades selections  to choose from, each palette offers a quad of four eye shadows that best suit your skin tone with a mix of matte and sparkling choices in a cool or warmer variation to flatter different eye colours and catering to women of varying skin tones.
Pop your peepers

We want bright eyes to compliment the nude make-up, not heavy, Kohl lined ones that kill off the weightlessness we tried so hard to achieve. The tri-spherical brush at the end of the Givenchy Noir Couture Mascara wand might look a bit odd but once you tried it, there's no looking back. Lashes are lifted, separated and left clump-free with just a tad of volumisation without going va-va-vroom over the top.
Mrs. Kayne West-to-be might be best pals with Riccardo Tisci, but this product is definitely an anti-reflection of her usual aesthetics! Skip the eyeliner all together but if you must, use a soft pencil instead of liquid ones for a chic au naturale look.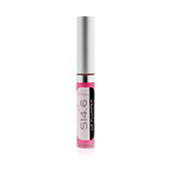 Stained puckers
Lips should be neither overly glossy nor completely matte. My advice is to opt out of nude lips as they tend to get dry and chalky, often giving an alienated, sci-fi look when photographed under natural lighting. Slick on a creamy lipstick or balm that's a shade or two darker than your natural lip colour, then tap your mouth with your fingers to remove excess colour for a stained finish. The easy way out is to use a product like  Sloane Inc. Lip Plumper. Enriched with a natural, patented tripeptide, Maxi-LipT, this handy make-up aid volumize, plump, hydrate, smooth fine surface lines and improve lip contours by stimulating collagen production in the connective tissues of the lips. This sheer hypoallergenic restorative lip treatment enhances contour to visibly volumize lips and deliver long-lasting lushness with just a bare hint of colour to complement the nudity of the rest of the face, simply perfect for S/S 14.
You might also like: