[By Wu Pei-Ni]
As we welcome the warmer months of spring and summer, we will be heading outdoors a lot more with minimal make-up that calls for nothing short of clear, flawless skin. There are plenty of ways to achieve enviable baby soft skin to help us attain that glowing, radiant complexion that's on every woman's wish-list. Our skin is constantly subjected to changes in weather, environmental irritants as well as a myriad of skin care products that sometimes work wonders, yet frustratingly fall short at times when they are needed most! Here are five simple tips that everyone should try, and I'm sure you'll see a noticeable difference in your complexion as the first of the spring fleurs start to bloom!
Say no to sulphates
One of the commonest beauty mistakes made by many women is not to read the labels of their everyday skincare products properly. As useful as it is to zoom in on the active ingredients, it is equally important to learn to seive out the harmful ones. Sulphates are commonly included in facial cleansers and body wash as they are detergents that create bountiful foam. However, being extremely harsh, they can easily dehydrate our skin. Bottomline is, one must realise that more foam certainly does not equate to more thorough cleansing. To have a smooth complexion, it is pertinent not to strip our skin of its protective film of surface oil. Not only does this accentuate crinkles and wrinkles, it can create micro-breaks in the skin barrier system, leading to seeding of surface bacteria with eventual break outs.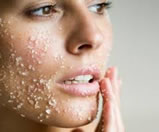 Exfoliate smartly
Exfoliating got to be one of the easiest way to pave the way to flawless spring skin. Unbeknownst to many, exfoliating isn't just about off the counter or DIY scrubs we whipped up with common finds from the fridge and pantry.
"There are actually three types of exfoliant namely scrubs, enzymes and chemical peels," explains Dr Jinly Wong, medical consultant helming the Bangsar branch of The Sloane Clinic. "Scrubs being the most common focus mainly on removing dead surface cells while Enzymes and Chemical Peels are more potent exfoliants that target deeper layers of skin cells to bring about increased cellular turnover and skin renewal, setting solid groundworks for smoother and more radiant skin."
Refresh with brighteners
When it comes to getting a great, glowing complexion we all know it starts with religious use of great skin brighteners. Before you can even consider choosing the perfect foundation or covering up those pesky, dark circles, you need to address how to even out your skin tone.
Putting the science into skin brightening, try using any or a combination of these cosmeceuticals at least 3 times a week on your skin: Glycolic acid, retinal, salicylic acid and Hydroquinone. These are all chemicals that naturally even out skin discoloration to give you the fair mien you desire.  Some of these are over the counter preparations but for more effective formulations, they are usually prescriptive. The lastest darling to join the bandwagon of Snow White's arsenal is topical tranexamic acid, a potent tyrosinase inhibitor that disrupts the chain of pigment formation in the skin.
Optimal for problematic skin with colour woes, Sloane Inc. White Plasma is a high-tech facial serum that is an oil and hydroquinone-free formulation which excels in restoring uniformity to uneven skin tone with a dual-function approach. It starts off with immediate correction of discoloration with vitamin C and tranexamic acid, followed by retaining your newfound radiance with skin illumination factors. Seems like you are all ready to wake up to a "bright" future this spring following your days of winter hibernation!
Pile on the nutrients
The skin being the largest organ of your body will reflect exactly the state of health and nutrition that you are in. If you want a complexion that rivals the white marble sheen of Venus di Milo, load on leafy greens and fresh produce chokeful of essential minerals, vitamins and antioxidants. Some amount of healthy fats is just as important as adequate sources of plant based or lean animal protein.
Besides piling on the good stuff, it is perhaps equally, if not more important, to say no to dietary saboteurs that tend to wreck havoc to one's skin. Refined sugar is the #1 culprit that you must strive to eliminate from your daily diet. Both caffeine and alcohol act as diuretics so having one too many cuppa or knocking back a few drinks can seriously dehydrate our skin. Moderation is always the key word to abide by for keeping these beverages in check while not neglecting your daily intake of good old plain water!
Sleep habits
Besides clocking in adequate amount of snooze time to qualify that as a true "beauty sleep", it's time to cultivate good sleep habits and kick off bad ones that tend to sabotage your skin.
Sleeping with your make-up on is what every beauty aficionado well worth her weight in La Mer will classify as a cardinal skin that should not be committed at all cost. Oil and products from our face and hair can get on our pillowcases which will unwittingly transfer onto our face.  Many people actually reported an improvement in acne control and overall health of their skin following frequent changing of their bedding linens. Having your hair tie loosely back away from your face and getting your bangs pinned back are ways to ensure that any products left in them would not irritate your skin during its much needed rest.
With these awesome tips up your sleeves, be sure to shine bright and illuminate with clear, flawless skin this spring!
You might also like: