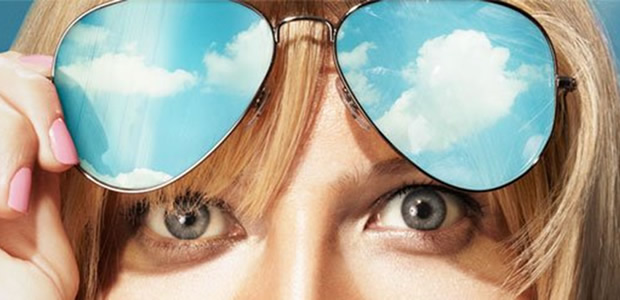 [By Jessie Sanchez]
To hit the bull's eye for summer 14, it's out with the minimal androgynous chic of seasons past and in with the outrageous. Apart from de rigeur summer's must-haves of breezy white tunics and aviator shades, this year bring on some truly quirky trends that challenge even the savviest of the fashion rat pack. There's a thin fine line to tread between class and crass and RSB is here to fill you up on how to rock these looks, to channel trashy chic, not skanky trash.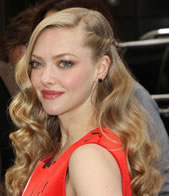 Extreme side part & Voluminous hair
Eighties redux continue to be a huge influence this season and one of the biggest trend from the runway of Milan to the red carpet of Hollywood is the extreme side part. From Oscar winning acting thespian Kate Blanchett to reality tv star Chloe Kardashian, every women in tinseltown is flipping their mane one side or the other. Be it all out glamour with a head full of curls to sleek back avant-garde chic, models and celebrities alike are working the look at every length imaginable, with or without sidewept bangs. For those sizzling hot summer days, this look is best worn with tousled beach hair to create that volume on the fuller side for that extra oomph of va-va-vroom.
Style Tip: To carry off this style, make sure you have a healthy mane to pump up the size of your coiffure. It's time to pamper your crowning glory with some much needed TLC and start investing in some great hair serums or tonics. Containing 5% minoxidil, Gingko Biloba and Vitamin B6, the award winning Sloane Inc. Hair Recovery Serum is a medically proven follicle-stimulating formulation that improves on fine or thinning hair while helping to prevent further loss of it. Confering a sinkful of "hair-raising" benefits, this recovery serum strengthens damaged hair, builds body, increases diameter of hair shafts and encourages new hair growth for a thicker and shinier mane that makes styling easy, breezy and sassy.
Bathing beauty & Tangerine lippy
As far as make-up trends go, the barely there nude look has showed up consistently over the past few seasons with no exception made for summer 14. In fact, it goes another notch higher, demanding not just a flawless visage but one that shimmers every so slightly with a dewy, fresh-out-of-shower glow.
Style tip: Unfortunately, with that little war paint to hide behind, having well rested and healthy skin is a pre-requsite to be a bathing beauty. If there's only one rule of good skin to live by, that will be to moisturise, moisturise, moisturise.
Quench dehydrated skin cells and restore them to youthful suppleness with pure encapsulated water held captive in Sloane Inc. Aqualicious rejuvenator. This dry weather saviour is specially formulated to instantly replenish cellular water without leaving a trace of shine, an oasis not a mirage for all skin types requiring a water-break to look as if you just step out of a rainforest shower at all times.
Orange is definitely the new black this summer, with every imaginable Pantone shade between citrus yellow to tomato red popping up from anywhere to everywhere in the fashion world. Totally unconventional, this bright hue is suprisingly easy to pull off on lips if you choose the correct shade that matches your skin.
Style tip: In a hue so arrestingly bright, orange lipstick will tend to highlight the tinniest of all cracks and flaws on your puckers. "Give you lips a much needed makeover with our signature Lip Fabulosity treatment to give sad, lackluster mouths the kiss-off." Suggests Ms Anna S, senior beauty therapist with The Sloane Spa @ION Orchard. "With a potent blend of pumpkin apple enzymes and other nourishing ingredients, we gently melt away dead cells and erase stubborn stains, leaving your lips clean, healthy and perfectly prepped to make a statement this summer with bold shades from saffron to tangerine."
The nightie dress
When you have not one, but two fashion icons, Victoria Beckham and Kate Moss stepping out in the public eye with the same nightie dress, one can only reckon that this is not a trend to trivialise. There's something incredibly sensuous about bringing the boudoir out onto the streets. Unlike the nineties where layering is the key look on malnutrition, waifish bodies, this season's slinky slip gets full attention on its own, accessorised only with a heavy dose of confidence for the wearer to carry it with panache.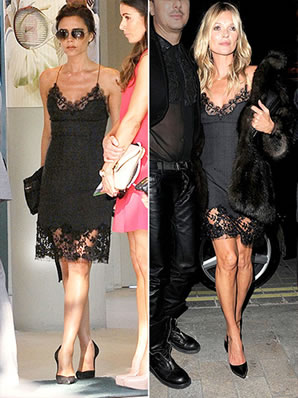 Style tip: With spaghetti straps of shoestring thickness cut in a choice of body skimping fabric, the nightie dress is a straight shout out to use the most of your gym membership. A well-known cheat tip amongst the A-listers is to blast away unsightly bulges and bring on the enviable curves with Coolsculpting. This fantastic FDA approved treatment uses cold temperatures to freeze and break down fat cells effectively without the need of injection, surgery or pill popping. Each session last only 60 minutes and had been documented to reduce up to 22% of fats over the area treated. The broken down fat cells are then eliminated by your body's own metabolism over the next few weeks, just ready for you to flaunt your new found figure with the nightie dress before the 4th of July.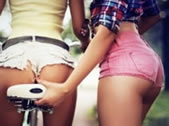 The underbutt shorts
Summer is all about thigh grazing short shorts but this season micro-denims definitely takes the cake, giving in-your-face glimpses of the underbutt in full (rear) view. We know that many celebs are huge fan of this controversial trend, with Ri-Ri and Miley leading the booty baring pack both on and off stage. Maybe it's the convent girl in me speaking, but I seriously find this an overkill; too risque and teetering close to Jersey Shore skanky for comfort. This is  possibly by far the toughest quirky trend to wear it right.
Style Tip: There's no pitter patter about this and to show a peek-a-boo of your derriere, you better have a firm and lifted booty. Touted as a non-surgical form of 'buttocks lift', Body Shape by Thermage employs the use of a unique radiofrequency technology to cause deep volumetric heating of the dermis and subcutaneous tissue while protecting the skin surface simultaneously with a cooling system. Deep tissue heating tightens existing collagen and stimulates skin's natural renewal of new collagen that result in a lifted but not flattened derriere, leaving your worries behind with a behind that's least of your worries….
You might also like: