[By Wu Pei-Ni]
As more couples are opting for fuss free options to say "I do", short wedding dresses are becoming more common by the day. They are fun and sassy when wore with the right dose of panache, often creating a unique and everlasting image that rivals any floor length number. If you are toying with the idea of being different on your special day, here are five tips for mastering a short wedding dress, creating impressions and memories that go well beyond the miles of chiffon, lace and tulle that go into the making a floor grazing gown!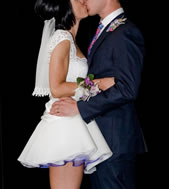 The perfect setting
Think about the setting and the atmostphere you wish to create for your big day. Short wedding frocks are fun and flirty and they are a great choice to reflect and infuse an element of casual fun for an occasion where everyone can really let down their hair and partay!
Planning something outdoors like a beach or garden wedding? A short wedding dress eliminates any worry about dirtying the bottom of your dress and keeps things cool while the temperature soars. Whether you are heading couture with a OOAK design or choosing a number off the rack, there's a myriad of styles from sweet to sophiscated to choose from; and you certainly need not compromise on your dreams and needs.
Most importantly, short should not equate sloppy, keeping hemlines breezy while working on being elegant, chic and classy.
Put your best foot forward
It's kind of like the chicken and egg story— which comes first, the short wedding dress or a great pair of legs?
When it comes to short dresses, it's all about flaunting your gams to up the ante of your game. Don't leave it to the last minute, tone and shape with squats and lunges months ahead. Walk round that extra block and climb that extra flight of stairs if you must, for all eyes will be on those pins when you sashay down the aisle.
Make sure your legs are silky smooth and one cannot emphasize enough on the importance of early and adequate preparation to get them to look their absolute best.  Permanent Laser Hair Removal is only the first step to whip your gams to glowing perfection. Below that coat of fuzz, the skin of your legs have not seen the light of day and trust me, you ain't want no one to notice that, especially the ex-girlfriend you can't purge from the guestlist.
Tackle your hairy woes with the Removal & Restoration Program specially put together by hair specialists from The Sloane Clinic. Besides zapping away all unwanted hair, complete your body transformation by restoring the underlying skin with a series of gentle yet restorative, pigment lightening, skin brightening laser therapies in tandem with dead cell-exfoliating peels, to ensure that your legs are not only fuzz-free, but gorgeously presented when you exchange vows in your gorg short gown.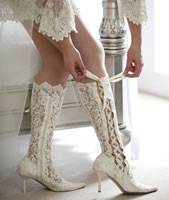 Cinderella's 'shoe-gasm'
With a short wedding dress, your wedding heels will really be on display, so pick a pair of show-stoppers that you truly love. The love of shoes seems to take on a whole new meaning for brides. Of course, it might be all about the dress, but the shoes are right up there in terms of priority, right? The search for that perfect pair to bring on a Cinderella's 'shoe-gasm' can be as fun, if not more… especially if you're anything like Carrie Bradshaw in Sex and the City.
While white is classic and always in style, a daring pop of bright colour can be a whimsical and refreshing departure. Heels are great for lengthing your overall look and the most important thing is to choose a style and height that you can handle confidently.
Practice makes perfect so strap on your towering Blahniks and Jimmy Choos and prance around the house all day and night, making sure you own the aisle with a walk that will make runway diva, Naomi Campbell, proud.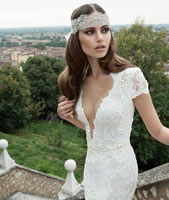 Play up your other assets
While your legs are poised to take centre-stage in a mini dress, play up your other assets in complimenting roles to nail the perfect look for your wedding day.
If you possess a swan neck with a lovely decolletage, flaunt them with a deep V or sweetheart neckline. Slender, toned arms legitimately earn their rights to a strapless (or just about any) design. A short, swingy shift or a structural trapeze can camoflage trouble areas around the middle while a nipped waist and added peplum can accentuate the femininity of a hour-glass figure.
The key to a polished look is all about striking the right balance. If you are showing more legs, opt for a little more coverage on top, and lower the hemline if your dress is more revealing on top. Be mindful of how much leg is exposed, think 5th Avenue chic, not trailer park cheap. Make sure you can comfortably walk, sit and dance without worrying about a wardrobe malfunction that threatens to happen once too often.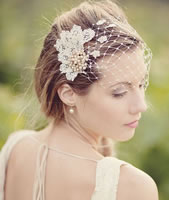 Veil reveal
If you excitedly tried on a ton of headpieces and veils without giving a thought to the hairstyle underneath, you are a veil bride. Purchase your veil of choice first and have your stylist work around it to find an appropriate hairstyle to match.
For some brides, the veil is the ultimate bridal accessory. If this is an absolute must-have to pair with your short wedding dress, opt for a style that hits at your elbow or higher. A short bridal headdress, especially a retrolicious vintage-style birdcage veil, will complement and not compete with your dress. For the modern bride-to–be, you can also skip the veil altogether and add a special hair accessory or some fresh flowers instead.
The ultimate test is when you look at your own  reflection and see no flaws, to be yourself, radiant and beautiful and all ready for your best big day.
* Selected as Article of the Month Jul 2014*
You might also like: