[By Tara Simmons]
There are lots of fun things one can do to create a memorable hen party. While a night of decadence and debauchery complete with free flowing tequila shots and prancing male strippers may be a befitting way to end your bachelorette days, to relieve the past of a sorority girl simply isn't the style of a lot of brides and that is okay. Celebrating your upcoming nuptials should be something that you and your galfrens enjoy and take the path less travelled if that will help make wonderful memories for years to come. The bottom line is to enjoy those special moments of girlish bonding, and don't be too hung up about the process of getting there!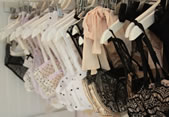 Shop till you drop
That's nothing quite like a spot of good old retail therapy to soothe the nerves and calm those pre-wedding jitters. Especially if you grew up on a diet of chick flicks and Sex & the City's girlhood mantras, a swipe on the card can certainly melt away stress and be tons of fun at the same time.
Every groom will appreciate a little private Victoria's Secret fashion show on his wedding night so you might want a little help for your lingerie shopping. Devious BFFs can help to bolster the confidence of a bashful bride to be a little more daring in her choice of lacey itsy-bitsies. If nothing else, it can be a lot of fun and giggles as everyone take turn to chanel her inner Giselle and Adrianna with the most outrageous pieces in store!
Princesses for a day
If you ask me, a day where beauty rules is definitely a wonderful alternative to an alcohol fuelled bachelorette party. Which girl wouldn't love to be treated like a princess even if it's only for a day? Visiting a spa with your bridal party in tow is a fabulous way to unwind and be pampered, enjoying beauty treatments and mini makeovers while connecting with one another before all the official festivities get underway.
With five comfortable facial suites providing a much needed private sanctuary in the heart of Orchard Road, The Sloane Spa @ ION provides you with the opportunity to  create a bespoke beautifying hen party that allows you to invite four besties along to enjoy skin-pampering and nerve-easing beauty treats with you at the same time. From their deep clarifying Clear-fection to the fatigue-lifting Triple Oxygen Heaven and glow-getting Illumi Facial, The Sloane Spa @ ION provides top notched service and has every tech on its aesthetics spa menu to address all skin types and beauty woes to get you and your entourage picture perfect, and selfie-ready, for your important day.
Glamping
If you love The Great Outdoors and preparing for a hen night in the hotter months of summer, you're in for a treat with "glamping". Glamping is quinessentially camping with Midas touch of glam, having all the perks of camping with the added extras of home comforts and luxuries. With not a single nylon tent and sleeping bag in sight, you can live your Lara Croft dream while sleeping in a full-size double bed and still wake up with a panoramic view of the hills.
Breakfast of fresh local produce on the decking terrace before hiking across the moors, bathe in scented wood-fired bath tubs after a surfing lesson or lounge in canvas easy while awaiting for delicious food prepared al fresco. Round up the day with an open camp fire filled with silly games, coquettish giggles and salacious gossips. Bliss.
Teatime stories
An afternoon tea party set in a gorgeous garden or a posh pinic is a great alternative bachelorette party idea. Make it special with a well thought theme or colour scheme which  serves as a prelude to what's happening on the actual day when you say, "I do".
Bridal shower tea parties are a very traditional, elegant way to celebrate a bride's upcoming exchange of vows. A bridal tea can be cozy and intimate, with just the bridal party attending, or a larger event including other female friends and relatives that will be invited to the wedding. Plan to organize a few bridal shower games for fun and to help break the ice when guests first arrive, and send them home with simple yet thoughtful party favors that will help them remember this special event to herald your best big day.
Slumber party
How does it feel to be 14 all over again? A sleepover may sound juvenile but it can really be loads of fun. What is better than staying up half the night with your besties laughing and eating tons of junk while jamming to cheesy girl band songs with total disregard to the bridesmaid dresses and wedding gown? You can host your bridal slumber party at home, or splurge out on a suite in a staycation for the girls. I've been to one with professionals at hand to do our manis and pedis, while a hot younger brother of the host was cornered to give an impromptu lap dance for the bride! Let your hair down and pump in ideas that are only limited by your own imagination. Best of all, this is a great opportunity for those college days' heart-to-hearts you never seem to have time for anymore! Just be sure to do this activity a few days before the wedding so you and your entourage aren't tired out on the big day itself.
Party planning is never easy but if you can put your own special twist to it, your bachelorette gig will truly be your unique own to keep.
You might also like: