[By Anna Laurie]
Whether it's a nod towards unconventional beauty or a statement made in support of feminist rights, Julia Roberts definitely caused an unforgettable uproar in 1999 when she flashed a glimpse of armpit hair at the red carpet premiere of "Notting Hill."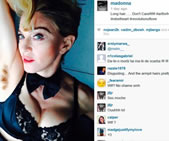 While female armpit hair in public viewing remains largely uncommon today, it seems that the attitude towards it is beginning to change.
A few months back, queen of pop Madonna made headlines with Instagram selfies showing off her unshaven armpit hair, aptly captioned, "Long hair…… Don't Care!" and hash-tagged, #artforfreedom #rebelheart #revolutionoflove.
Joining the bandwagon in April, London-based photographer Ben Hopper asked dozens of models, actresses, designers, and friends to grow out their body hair for his photography project called, "Natural Beauty", showcasing unaltered images that challenge the "brainwashing" Hopper believes the beauty industry has done.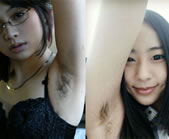 While this is happening sporadically in the West, it's definitely an eye opening first when pictures of women showing off their unshaven armpits flooded Weibo, China's Twitter-like social media platform, in response to a competition, roughly translated as "Girls Not Plucking Their Armpit Hair"; calling for ladies to post their best "hairy armpit selfies" in a largely conservative country dictated by society norms.
The competition page which first started on 17thJuly and scheduled to end on the 22nd has since received thousands of pictures with the trending hashtag, garnered over 28.5 million viewers' hits and still counting when we last checked. What is even more baffling is there's seemingly no actual prize involved, and even talk about the compilation of the top ten best selfies remain largely unconfirmed by the organisers. Are these girls truly embracing the call to ditch "body modifications" in response to natural beauty or are there clamouring for their fifteen minutes of social media fame? This could be anybody's guess at the moment.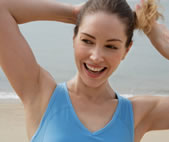 As much as I applaud the bravado to go against mainstream standards of beauty, I myself much preferred pits that are properly groomed.
Banish your hairy woes with the newly minted Removal & Restoration Program specially put together by hair specialists from The Sloane Clinic. Besides zapping away all unwanted hair with the latest permanent laser hair removal techniques, complete your body transformation by restoring the underlying skin with a series of gentle yet restorative, pigment lightening, skin brightening laser therapies in tandem with dead cell-exfoliating peels to ensure that your armpits are not only fuzz-free, but gorgeously smooth and even coloured; all ready to rock those flirty strapless bandeau cropped tops that are all the craze this summer.
You might also like: