[By Jolie Henri]
Lavender, otherwise known as Lavandula angustifolia, is certainly one of the most widely used and versatile herbs with a long, glorious history to boot. Notably, until World War I, lavender was used widely to sterilise equipment and disinfect wounds in hospital setups. For centuries, English farmers working in the fields would place lavender flowers in their hats to prevent headache and sunstroke while Victorian ladies had them in sachets to ward off musky odours with their subtle perfume of sweet aroma. Today, lavender is used in very much the same ways, for many of the same reasons too. Both the flowers of the plant and the essential oils derived can be harvested for therapeutic uses. Here are 5 standout benefits of lavender which intrigued me that you might find interesting!
Purple dreams
You may have heard from folklores that breathing in the smell of lavender makes one drowsy and there may be some truth to this afterall. Researchers found out that the scent they emit lowers heart rate and blood pressure, putting your mind in a relaxed state and hence the accompanied drowsiness.
If you have been craving for some quality eye shut in many a long, sultry night, lull yourself into a midsummer's night stupor with a handful of dried lavender by your nightstand, some scented candles or use a diffuser with a few drops of natural essential oil.
RSB choice: Pamper yourself with some insanely luxe and gorgeously perfumed Feuille de Lavande candles from Diptyque Paris, the go to brand for those in the know. Retailed online @www.diptyqueparis.com for $60usd for the standard size, and $30usd for the travel version, it surprises and soothes with distillation of sweet lavender flowers and refreshing green leaves. Pure decadence, absolute bliss.
Tresses destressed
Lavender is known to fight dandruff, soothe itch and control oil at the same time, making it an answer to problematic scalps that tend to go all oily and flaky during the hotter months of summer. A fuss free hair treatment you can try at home begins with wetting your hair with warm water, followed by a quick towel dry. Next, grab a glass and mix 15 drops of lavender essential oil with 2 tablespoons of organic olive or almond oil. Microwave mixture for about 10 seconds or until it feels warm. Massage the concoction into your scalp, let it sit under a shower cap or cover with cling wrap for an hour before washing it our with your regular shampoo.
RSB choice: L'Occitane Lavender Clarifying Shampoo with the recommended retail price of $17usd is right-on-the-money indulgence for not only your crowning glory, but your senses too. This is a high performance shampoo that is especially good for reducing grease and taming unruly curls into a silky, ad-worthy mane. Apart from bestowing upon you lovely tresses for sure, the real pleasure is in the natural scent of lavender extract— a sealed deal straight from Provence, France which ain't no synthetic lab-prep crap cleverly pretending to be lavender with their no depth, thin or overtly pungent, sickly sweet smell.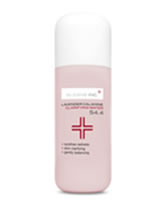 Skin rejuvenator
Although long employed for it's aromatherapeutic property, unbeknownst to many, lavender oil comes with a plethora of skin benefits. This distinctively perfumed botanical was used as far back as the Roman empire, being added to baths to soothe and soften skin. In modern times, lavender's nourishing and therapeutic properties are often harnessed for skin-care solutions.
Often hailed as an au naturel dermatological gem, Lavender plays triple heavy duty actions as  acne avenger, redness reducer and heroic healer. According to "Milady's Skin Care and Cosmetic Ingredients Dictionary," written by Natalia Michalun and M. Varinia Michalun, this wondrous herb inhibits bacteria gowth, works as an astrigent, reduces inflammation, and can help stimulate new cell growth.
RSB choice: One should never undermined the necessity of a good toner in our quest for clear, flawless skin. Test drive Sloane Inc. Lavender Calamine Clarifying Water and you won't be looking any further all too soon. This skincare gem helps restore your skin's pH balance while removing the last traces of any leftover make-up. Bolstered by an all-natural, skin-soothing blend of lavender, calamine, botanicals and soy extracts, this gentle toner will rebalance stressed, inflamed or sensitive skins, coaxing  them into a relaxed, sublimely radiant state with the glow of youth and vitality. Truly a godsend product especially for those with combination skin, it's available over the counter at all branches of The Sloane Clinic and retailed online @ www.sloaneshop.com  for $50 usd.
Caressing hands
Lavender is great for dry hands as it stimulates cell growth and advances cellular turnover, helping to remove dead skin cells while revealing smoother, softer skin that's lying underneath. It is also known to calm frazzled nerves and soothe anxiety making it a superb candidate to replenish moisure to dry, tired looking hands assaulted by environmental or chemical insults.
RSB choice: Lock in moisture with an in-depth finish with Crabtree & Evelyn Verbena and Lavender de Provence Hand Therapy cream. This rich but non-sticky preparation is infused with shea butter, macadamia nut oil, and extracts of French verbena and lavender. An intensive hand treatment that deeply nourishes and leads to noticeably smoother and younger looking paws after each luxurious use. Available online @www.carbtree-evelyn.com in 2 sizes, $8usd for 25g and $20usd for 100g.
Bloat buster
Another common traditional use for lavender is to ingest it as tea, to beat the bloat and troubling rubbles of nervous gut. In addition, the soothing aroma of lavender induces general relaxation and invigorate one's senses.
RSB choice: Blending the finest Egyptian chamomile flowers with lavender, Henry Langdon offers a 2 in 1 beverage that calms the tummy and relaxes the soul . Both chamomile and lavender are well known for their soothing effects as well as gentle flavours. Steep 2 teaspoons of the mildly perfumed loose leaves in boiling water for three minutes and filtered into your favorite cup for a relaxing beverage that you can appreciate at any time, both day or night.
* Selected as Article of the Month Aug 2014*
You might also like: