[By Lydia McGee]
I'm one of those girls that I wouldn't know whether to count myself lucky or unlucky. To begin with, I've got a pretty healthy BMI and might even be borderline underweight. I've got no problem buying clothes straight off the rack and chalked up quite an impressive number of followers on Instagram too. While I have no qualms with sexy selfies tastefully taken to show off a little skin or cleavage, I certainly wouldn't be caught dead with pictures showing my butt in a bikini bottom. Those are suicide shots for sure to hit an all-time low for the number of LIKES garnered.  You would classify me as the "skinny fat" if there's such a term. With a bottom heavy pear-shaped figure, I simply couldn't work off my "banana rolls," the disgusting pouches of fat just below the buttocks on the back of my thighs. I could also do with slimmer inner thighs for my almost non-existent thigh gap… that's not much to ask for, right?
While I've certainly contemplated liposuction, the lack of funds and the luxury to stay home to recover make this a non-viable option. Above all, what if there are tell-tales surgical scars left behind? Then I read with interest that my idol, Christina Aguilera came clean on how she managed to slim down without surgery, admitting to investing $10,000 or so in Fat Freezing Lipo which transformed her from blimp to slim. (Even with a bun in the oven now, X-tina is but a fraction of her previous blimpy self).The procedure is known as CoolSculpting by Zeltiq. When traditional liposuction vacuums out fat through incision sites involving needles and knives, non- invasive fat freezing liposuction contour the body by freezing fat cells which crystallise, shatter and die! How cool is that? (No pun intended)
So thus begin my quest to have my fatty butt freeze off and the journey is by no means smooth. The first clinic quoted me a good price but they told me I won't be seeing a doctor "because the machine does the job and anyone can operate it." This sounds very iffy as I read (from my endless goggle search) somewhere that correct placement of the applicator will affect the outcome of the procedure. The second clinic wasn't encouraging either. The consulting doctor "sized" me up with one gaze and without even examining me, declared that "You're not fat and nothing to suck for CoolSculpting to work". That's really judgemental because I hide my fats well with clothes I'm being penalised? Well you don't expect me to walk into your clinic with all my giggly bits dangling for all to see, right? Infuriating! Undeterred, I decided to go for my last bet, The Sloane Clinic. Though pricey, Sloane is well known for their outstanding service and care and I'm sure they will find a way to fix my needs!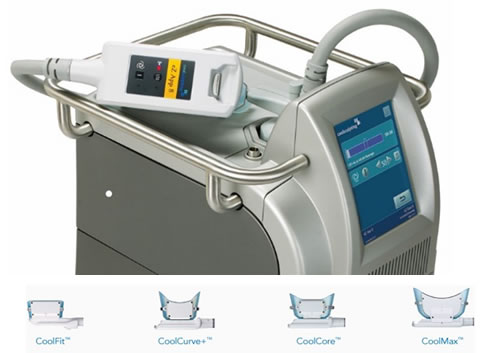 It started off well enough as the doctor was able to empathise with my situation and totally got what I meant by being "skinny fat". Apparently, one must have "enough fat so that the probe can be properly attached via suction to stay in position for CoolSculpting to work". After pinching and probing on my fatty bits here and there, the doctor declared that I'd just about enough fat to give CoolSculpting a go! I never thought I would ever get to say this, but for once I'm glad I'm fat enough! (LOL)
And I was in luck too. While most clinics offer only the standard size applicator, Sloane Clinic carries the full range of different applicators specially designed to target specific areas of the body, catering to different body shapes. This includes the newly launched CoolSmooth applicator which is a flat "cupless" applicator meant for non-pinchable areas and is about the only way that I can have my inner thighs fixed. In addition, the CoolCurve applicator was perfect to zap away my "banana rolls".
After taking pictures and marking out the areas to be treated, I was ready to go! The first 3-4 minutes, it kept getting more and more uncomfortable with the initial "vacuum suction" followed by ice cold water pounding on my skin. It wasn't exactly pain, but maybe on a scale of 1-10, it got a 4 for discomfort? I was worried if it keeps getting more uncomfortable, which would be quite impossible to bare as I need 4 hours for the 4 areas I wanted to freeze! However after the first 4 minutes or so, it started to become more tolerable and at about 12 minutes, my skin became completely numb and the rest of the treatment felt like nothing. The treatment room was HUGE and equipped with a kickass tv with a surround sound system and all these blockbusters that I'd missed to keep me well occupied and suitably entertained. By the time the treatment was finished I didn't even realize where the time went. Overall, other than the first few minutes, it was much more pleasant than I thought.
When the applicator was removed after an hour, the area was completely numb and pink like a hideous slab of salmon which the nurse gently massage down. According to her, some patients might experience some bruising but I was lucky to have none. After about 45 minutes of leaving the office, any redness or numbness experienced were totally gone. There was no interference with my day because of CoolSculpting and I was encouraged to drink plenty of water and stick to a low carbs meal plan for the next 3 days.
The "recovery" period was pretty uneventful for me though I read that some have a few days of soreness not unlike the sensation felt after you've done a hard work out. There can be a lingering tingling sensation in treated areas like pins and needles, which can be a tad sensitive to touch but are nonetheless self-resolving.
Some people (lucky bit*hes!) see results as early as 3 to 4 weeks but most will have the full improvement after 2 to 3 months. What about mine? Well, here are my "before/after" with 10 weeks in between.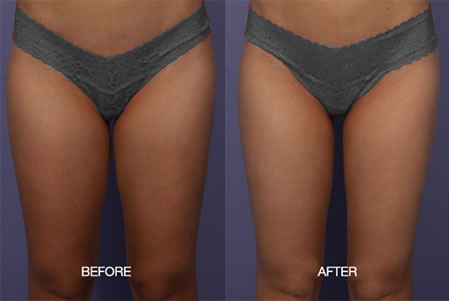 I can see a REAL thigh gap now! Bring on the bikini, galfren!
After just one treatment, my inner thighs appear slimmer and smoother and the "banana rolls" are greatly diminished. I'm completely thrilled with the subtle but noticeable results and further improvement with another estimated fat loss of 20 to 23% can be achieved with a second session! However, doctors cautioned that CoolSculpting is not a "license to eat". If you gain weight, the remaining fat cells left will get larger and lessen the initial results seen. For long lasting results, it's best to maintain a healthy lifestyle with proper healthy diet and exercise regime. You are what you eat and no pain, no gain!
Treatment done: CoolSculpting by Zeltig @ The Sloane Clinic (ION branch)
Cost: $1605 SGD for a single area with a special package deal of $10,272 SGD for 8 areas.
More info: Zeltiq® CoolSculpting, CoolShape
If you have a first-hand experience of a beauty treatment that you have undergone and would like to share it with us here, please send your article with photographs to info@readysetbeauty.com. Published articles will receive a free skincare hamper worth SGD$100.
You might also like: