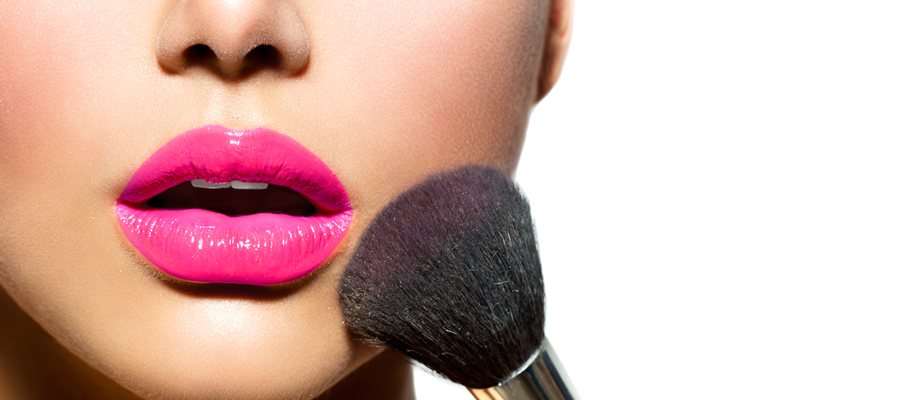 [By Nadia Watson]
Just as well applied blush can be the perfect finishing touch to a flawless mien, wrongly applied blush can ruin your whole look, taking a drastic turn from coy and coquettish to outright clownish. It's easy to apply too much blush or put it in the wrong place especially if you have been doing things the same way for a long time without reviewing your technique! As we approach Fall with rose tinted cheeks being a key make-up trend, leave nothing to chance with our top 5 tips for applying blush, to make sure that you aren't blushing for the wrong reasons…
Shades of love
It is crucial to pick the right shade for your skin, taking into account any tanning or change in your basic skin tone with any recent sun exposure. What we are looking for is a colour that complement your skin, not contrast it. The wrong shade is going to stand out far too much for the wrong reason. A useful guide is to gently pinch your cheeks till they are slightly flushed, and this is exactly how you want your skin to look with your blush on.
If you adore dramatic make-up, play with your eye and lip colour and let them take centre-stage, leaving your cheeks out of the equation without subjecting them to a ton of blush. Less is often more with most cosmetics, and especially so with blusher. Apply a little each time and build up scratch!
Be choosy
Using the correct product will help you to achieve the right look and ensure that your blush stay on throughout the day or right through the night. Cream based blushers work well for mature and dry skin whereas powder options are best suited for oily and combination skin. If you are going for those rudimentary flushed cheeks that are ruling the runways at the ongoing New York Fashion Week, an insider's trick is to use cheek or lip stains. Try on stemcell infused liquid blusher, Hardy & Co Blush Flush, which comes in 3 wicked shades of bliss rouge, love flush and happy cherry to channel that modelesque look and feel. Its unique formulation ensures the skin on your cheeks are rejuvenated and restored all the while staying fresh and flushed anytime of the day, with the tiniest hint of an au naturale shade that keeps those around you second guessing.
Place it right
The classic teaching is to locate the apple your cheeks with a wide Cheshire Cat grin. Instead of doing this, make a fish face by drawing your lips inwards to help you better determine their exact location. The apple of your cheeks is where your natural blush actually forms so that's going to be the focal point of your application. A word of caution for older ladies, with cheeks deflated with age and moving down south with gravity, blush application should be tailored accordingly. The correct way to do so is to start off with as little product as possible. Begin right above the corner of your eyebrow and work your brush to your temple for a light dusting, before sweeping it over your cheek inwards to concentrate on the apple. This technique by far provides you with a more complete overall look with a natural blush that shapes your face. If all else fails, why not choose to repair what we cannot hide?
"Dermal fillers have been rising in popularity over the years to combat the woes of aging, including that of volume depleted cheeks," says Dr. Toby Hui, medical consultant with The Sloane Clinic. "Made from sugar molecules called hyaluronic acid that closely resemble the body's own, these Natural Fillers not only fill sunken areas on your face and plump out lines, they also stimulate your body's own production of collagen, resulting in a complexion-enhancing effect that partly restores some of the coveted youthfulness which time had taken away."
Tools to boot
The tiny make-up brush that comes with the product is alright if you're keeping that in your blinged-out minaudiere for a touch up in between your main and dessert on an evening out and about. Otherwise, it's pretty useless and you are better off investing in a proper blusher brush to serve you at home. If you want your make-up to look good, be prepared to splash out a little on the tools. Get one that's slightly tapered so that the blush isn't applied in a cartoonish, even circle. Make sure the room is either flooded with natural sunlight or lit up well so that you can judge the colouring of your blush clearly. Bronzer and blush go hand in hand like peanut butter and jelly, and a light dusting of shimmer prior to your blush will serve you well, lending a Midas touch that pull your entire look together in a polished and glamorous way!
Get technical
Unless you have good hands, sweeping your blush upwards may leave you with lines that aren't terribly natural or good looking. Instead, use a light circular movement either in the clockwise or anti-clockwise direction, whichever works best for you, to apply your blush for just that hint of colour to make your skin appear fresher and younger. Tap the brush to remove excess colour before starting and apply more until you are happy with the image that's staring right back at you in the mirror. Blend with a clean brush and set every bit of make-up you have on your face thus far with a translucent powder. Voilà! You are all prepped and ready for date night now but first, let me take a selfie…
You might also like: