[By Kendall Gan]
While she might not live up to the classy status of Paris Fashion Week or the commercial aplomb of her Milan counterpart, New York Fashion Week always stands out with her nonchalant nod towards unique trends infused with a huge dose of fun, bordering on fashion irreverence and blasphemy. Here are some stand out shows we singled out this season, with key trends that bound to make waves in S/S 15.
Diane Von Furstenberg
Never one to disappoint, we were wooed once again at DVF not only by the bevy of celebrity status models including Naomi Campbell, Candice Swanepoel and Kendall Jenner, but the clever use of gorgeous colours and vibrant prints left us clinging to the last of summer's rays, in a desperate bid to channel these looks before the September wind blows. Unlike this season's dangerously skimpy butt- grazing offerings, hemlines are lowered with class and modesty, ticking off this summer's obsession with the elusive thigh gap, perhaps to be replaced by calves and knees worship.
When women were asked to rate their own body parts from most to least liked, knees often scraped the bottom of the list. Saggy skin is one of the pet peeve of aging and our knees seem to suffer the brunt of this together with cartilage and bony deterioration. Thermage combined with Mixto MicroResurfacing is the ultimate skin renewal duo that breaths live into saggy knees, stimulating collagen regeneration and remodelling for a much needed lift, leading to skin tightening that irons out unsightly lines and creases. Strap on your favourite pair of Zanottis, and with the right attitude to boot, you are all set to take over downtown Manhattan, marching to your own tune on your everyday runway!
L.A.M.B
Boasting one of the best celebrity bodies ever despite having 3 previous pregnancies with a 3 year hiatus at NYFW, it came as no surprise that clothing send out by L.A.M.B mirrors the body conscious style of sassy rock chick/mommy, Gwen Stefani. The No Doubt singer christened her refreshing new collection "New Nomad", and described it as a mashup of tribal and graphic prints meet the Orange County girl, with a Jamaican vibe thrown in. Simple in execution perhaps but big on attitude no doubt, bandeau tops and cropped blouses are aplenty; proof that this season's ab-baring trend isn't going anywhere in 2015. While the trio of a sound diet, cardiovascular workout and weight training form the foundation of a taut tummy, get round this with the popular celeb cheat trick of body contouring procedures. Leading the pack is CoolSculpting by Zeltiq, an FDA-approved treatment that utilises cold temperatures to literally freeze away your trouble blubber. Say "Adios!" to muffin top and love handles, and you are all ready for a salsalicious season of figure flaunting L.A.M.B togs come S/S 15.
Reem Acra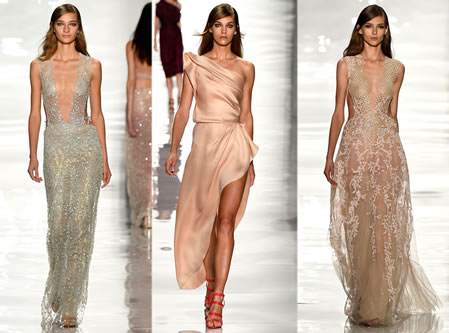 Ever since red carpet darling Lupita Nyong'O showed up at the Oscars earlier this year clad in her Nairobi blue custom Prada gown with a deep 'V' neckline cut to the waist, a glimpse of décolletage on evening wear is the surest way to earn you nods of approval from the likes of Anna Wintour and Dello Russo. Presenting what is perhaps her sexiest works to date, couturier Reem Acra was spot on the fashion radar, showcasing a delectable collection of plunging necklines on yards of sheer fabric that's almost ethereal; creating a classy balance of skin and cover with crystal beads and embroidered lace in the palest shades of nude and dove grey.
To own this daring style with poise and panache, one of the pre-requisite is to have a blemish free neck and décolletage. To boost your confidence to slip on a Reem Acra number, turn to Fraxel Restore for dermal perfection. With its state of the art laser technology, Fraxel offers nothing short of total skin rebirth, erasing stubborn dark spots and restoring the youthfulness of skin damaged by age and sun exposure. If you have the number of your aesthetics physician on speed-dial, you too can turn red carpet looks and runway dreams to reality!
Versus by Anthony Vaccarello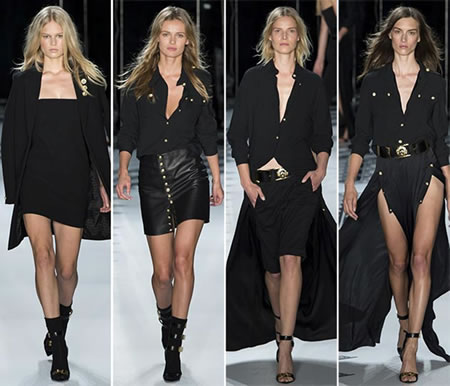 The whole fashion world was ramrod straight with anticipation ever since design mogul Donatella Versace handpicked and named a relatively unknown to be the new designer for Versus. Belgian designer Anthony Vaccarello definitely did not disappoint with his maiden collection, churning out a rock royalty-worthy wardrobe that was clearly influenced and hold true to the design essence of the great Gianni. Oozing with glamour and decadence that's dripping with blatant sexual innuendos, the predominantly dominatrix collection in black was treated with the classic Vaccarello's twist; with Medusa medallion buttons opening up thigh slits that come dangerously close to putting the wearer's nether region on full display.
While everyone is second guessing on undies, make sure your gams are slinky smooth and flawless to begin with. Answer all your hairy woes with the Removal & Restoration Program specially put together by hair specialists from The Sloane Clinic. Besides zapping away all unwanted fuzz with the latest laser hair removal technique, complete your body transformation by restoring your underlying skin with a series of skin brightening laser therapies in tandem with professional chemical peels, to ensure that your mile long legs are not only fuzz free, but gorgeously presented to drive men crazy, and ladies green with envy!
You might also like: