[By Sally James]
From clothing, shoes and accessories to eye makeup, designers are coming up with ever more inventive tricks to showcase a heavy dose of metallic which is going to run rampant this fall. And what better choice than gold, the precious metal that spells luxury and decadence, favoured by gods, rockstars, rapping moguls and true blue royalties? If sparkling lamé fails to excite you, what about beauty products infused with real gold? In my opinion, they are certainly interesting to say the very least. So here lies our list of beauty treasures treated with the Midas' touch. Along with their purported benefits, you can decide for yourself if they are worth the hype and their weight in gold!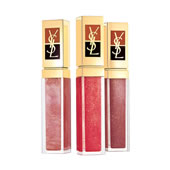 Yves Saint Laurent golden gloss
For a special date night or the single girl out on a prowl, this gorgeous gloss dresses lips in a sophisticated, high-shine shimmer that's truly irresistible.
Armed with 0.2% of sparkling 24 carat real gold flecks, this luxurious puckers' helper creates a mirror-like effect for guaranteed glamour that you don't come across with most lip glosses. With a complex blend of nourishing oils, it protects and hydrates for optimal comfort while working its fairy dust magic. Scented with a subtle hint of Mango, that's an unbeatable top note that makes it utterly divine.
Damage: $30usd at Nordstrom or online @ www.yslbeautyus.com
Ed's note: Seems like a shame to use lip gloss that has real gold flecks since it's not going to last that long, but it sure looks gorgeous and made me feel like a "million dollar baby"!
Guerlain L'or Radiance Concentrate with pure gold makeup base
Many industry heavyweights swear by Guerlain L'Or Makeup Base being a product that is literally worth its weight in gold. The 24-carat gold-infused cooling gel sinks magically into dehydrated and tired looking skin, retaining moisture and evens out blotchy and red skin tone. When applied to bare skin, this skin enhancer doubles as a makeup primer to smooth out wrinkles and fine lines and firms up facial features at the same time. There's no noticeable shimmer, providing an even finish under your makeup without the need to worry about looking like a shiny disco ball straight off the set of "Xanadu".
Damage: $73usd at Sephora or online @ www.guerlain.com
Ed's note: Like the most luxurious jewellery pieces, the precious flakes of gold were crafted into ultra-sparkling and ultra-reflective particles, then dispersed in a hydrating smoothing gel. Skin feels soft, smooth and satiny, providing an excellent base for perfect makeup on any given day.
La Prairie Cellular Radiance Concentrate pure gold
La Prairie is well known for its top of the range anti-aging serums and creams, and joining hands with the hugely popular caviar line is the equally exorbitant gold range serving "youth in a tiny bottle", with a hefty price tag to pay.
This beauty product which is truly meant for those with deep pockets or supported by an unlimited trust fund, claims to fill out lines, help speed up exfoliation, fade age spots and boost you skin's oxygen uptake for total peau-transforming rejuvenation.
Damage: $630usd at Saks Fifth Ave. or online @ www.laprairieswitzerland.com
Ed's note: As much as I'm aware that La Prairie makes some of the most awesome skincare products out there, I would feel extremely guilty to splurge this ridiculous amount of money on a face serum.  This line is meant to reflect light back, making the skin appear light and "glowing", achieved through the massive amount of reflective particles of colloidal gold and quartz crystals. Miracle skincare messiah or an overpriced moisturiser who's effect can be replicated with the clever use of shimmer powder and bronzer? Smells funky too though thankfully that does not linger.
Sloane Inc. 24K gold primer S9.3
Skincare experts believe that gold has powerful anti-inflammatory and anti-aging benefits as well as protection against skin discolorations and fine lines that are not to be missed out on. Suitable for all skin types including oily ones, Sloane Inc. 24K gold primer touts itself as an age-defying treatment that combines the essence of pure 24-carat gold with the prowess of antioxidants and natural botanicals to enhance our skin's elasticity, firmness & smoothness.  By improving circulation and decreasing skin inflammation, pure gold helps to rejuvenate our skin from inside out, boosting its natural radiance and luminescence. Can be used alone as a lightweight moisturiser or worn under makeup as a base for a polished finish.
Damage: $132usd at The Sloane Clinic or online @ sloaneshop.com
Ed's note: I've got the worst of the lot with combination skin and this godsend gem was love at first pump! I'm stoked with its silky texture and the way it glides on my skin without being overtly greasy. It actually leaves a matte finish on the skin and allows my makeup to look fab right through the day. The subtle gold specks in the gel is simply amazing, don't know what it does but my skin definitely feel softer after every use. Completely sold!
Tatcha Aburatorigami beauty papers
Trust the Japanese to come up with the most innovative beauty aids! In this case, it comes in the form of blotting sheets permeated with gold flakes along with abaca leaf, which mops up excess oil to reduce shine, and helps set makeup to leave your skin feeling fresh and pampered without disturbing your urban war paint.
Damage: $12usd at Sephora or online @ www.tatcha.com
Ed's note: Powder free, fragrance free and pulp free, it promises not to steal moisture from the skin or lighten your makeup. Truly one of the most affordable beauty products that contains real gold with an "oh-so-glam-till-it-hurts" attitude when you are caught fishing one out from your dainty clutch as and when required!
You might also like: