[By Tania Hui]
As the leaves of Maple and Oak start changing colours with the approach of fall, wouldn't it be nice if our complexions can follow suit and transform for the better? Many of us would not mind a better complexion but we either do not know how to achieve that or are unwilling to change skincare products and habits that we are familiar with. In reality, there are simple habits that can be easily cultivated for peau-changing transformation, and none of them are all too complicated to begin with. If you can trade in your sandals and sundress for some boots and a lovely knit, why not adopt these 5 healthy tips to help revamp your complexion this fall?

Tea-time stories
It's hard to believe something as nice smelling and refreshing as a cup of tea is good for you, but it's true. You couldn't pack all the benefits into one tiny bag if you tried, and this hot beverage is a godsend once the September wind starts to blow. We all know the importance of hydration, how water moisturizes our skin from the inside out. But drinking tea, especially green tea is one up since tea not only replaces fluids but also contains the highest levels of powerful antioxidants known as polyphenols. Polyphenols perform heavy skin-saving duties, being some of the best weapons around to help fight free radical damage, slow down aging and increase the body's overall antioxidant activity. For youthful living, why not boost your complexion while staying trim throughout fall with Sloane Inc. Detox Tea? An invigorating mix of antioxidant-rich green tea, white tea, guarana and ginseng, plus two proprietary vitamin, herb and mineral blends, this sugar-free, low-cal, all-natural drink amps up metabolism for faster calorie- and fat-burning while helping to flush out toxins to maintain clearer complexions. An easy way to keep warm and beautify, let's all drink up with a cuppa tea!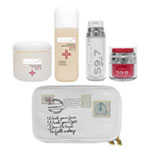 The matching game
Many women experience complexion woes especially in fall simply because they are using the wrong skincare formula that do not match up to the seasonal changes associated with their skins. For some skin-saving solutions, you could talk to your doctor or even someone trained in skincare, such as a good sales associate at the drugstore or beauty counter of a department store. Carrying on with products meant for oily skin that nail it like a dream in the hotter months of summer might not work in your best interest if your skin is drying up on its own when the temperature dips in fall. Similarly, if you are sticking to formula meant for dry skin when you actually have combination skin, you might be adding too much richness to your skin which will make you more prone to breakouts. Catering to such niche needs, skincare specialists behind The Sloane Shop piece together three thoughtfully selected sets of handy helpers, acting as 'skin-solvers' all ready to tackle differing skin woes.
The aptly named Matte In Heaven is an oil-foiling set that aims to close pores, zap shine and mattify your skin, for a complexion that stays fresh and clear as a cloudless summer sky right through fall. If dry, troubled skin is your fall nemesis, prayers are answered with Whole-ly Water, a moisture replenishing skincare set that will infuse the dermis with much needed aqua while breathing life into dull, dehydrated complexions, giving rise to skin softness reminiscent of the warmth from the autumn sun. To complete the trinity of skin saviours, Firm Believer lends a steady hand to help rejuvenate mature and lackluster skin, shouldering you through your winter years by laying the foundation of graceful aging— minimizing fine lines and imparting a glow that will make you the envy of your peers.

Stop the itch
Skin allergies can certainly affect and contribute to your complexion issues in fall. Hives and eczema can lead to or exacerbate skin dryness, leasding to skin thickening and disfiguring lichenification. It is not unusal for dark eye circles to worsen and become recalcitrant to the best of your peepers pampering efforts . Possibly the best way to get round this is to avoid known allergens, keeping your skin well hydrated and adequately moisturised as the temperature dips. Choose from fragrance and parabens free formulations such as The Sloane Clinic In-The-Nude Body Milk, an excellent body hydrator that serves as a pronto panacea for parched, punished peau. Containing nourishing botanical oils, natural butters and vitamins, it sinks in deep and instantaneously, to lock in much wanted moisture without the feeling of grease. Remember that emotional upheavals and mood swings are possible triggers as well, so don't let the seasonal affective disorder gets to you to steer clear of dreadful winter depression.

Sweat it out
Just because swimsuit season is over and done with, it does not give you reason to slack and eat your way to a blimp. Only animals hibernate and hot summer bods are reflective of how much hard work went in during the preceding cold months. One should remain physically active through fall as besides sculpting your dream figure for NEXT summer, living healthy is a very important part of transforming your complexion for the better.
If you stick to a clean and wholesome diet, engage in a regular exercise regime and clock in enough hours of sleep night after night, it will show on your face. Likewise, don't expect to look stellar bare-face if you are partying like a pre-Motherhood Snooki from Jersey Shore, as if it's 1984 all over again. A little party never killed nobody only if you do it in moderation and know when to stop! Cigarette smoking and binge drinking are vices to be banished to Siberia if you are keen to see positive changes to your complexion this fall.

Seek professional advice
If you aren't seeing enough results or satisfactory changes despite your best skincare efforts and lifestyle changes, perhaps it's time to seek advice from certified professionals who can work with you to address your specific skin needs. Whether the issues are acne, rosacea, pigmentation or a desire to up the quality of your skin by a few notches, trained physicians are equipped with the knowledge, skills and tools to handle them and treat you in a comprehensive manner. With revolutionary techniques such as the Mixto Light laser treatment headlining the Sparkling Skin Program from The Sloane Clinic, one is given the chance to harvest the deep dermal, peau-transforming benefits of fractional CO2 laser without the tell-tale downtime, a truly "skin-deep" transformation of radical proportions, brought closer with each small step one takes.
Are you game to embrace some skin transforming changes this fall?
* Selected as Article of the Month Oct 2014*
You might also like: