[By Alicia Liu]
There has been a lot of discussion of late relating to Vitamin D insufficiency and its related diseases, and some had put the blame on inadequate exposure to sun light, especially since winter is fast approaching! It has been suggested that sunlight may be the most effective way of obtaining Vitamin D, yet we have all heard about the horrors of excessive sun exposure to the skin, and there's certainly a lot of truth to this!According to experts, unprotected exposure to the Ultraviolet or UV rays from sunlight for prolonged periods of time not only significantly increased our risk of skin cancer, but also affects our immune system adversely, causes photo-aging to our skin, and is even linked to eye damage such as cataracts. It is therefore a wise move to avoid intentional exposure to natural sunlight or artificial UV radiation such as tanning beds, be it for vanity's sake or as a means of obtaining vitamin D. We can instead obtain our source of Vitamin D from food such as omega-3 rich fish, milk, eggs, or perhaps discuss with your local doctor regarding oral health supplements. As for sun protection, this isdefinitely an absolute must-do, be it at the height of summer orthrough the grey, wintry days of December.
Tip #1: Shun the sun
Is that even entirely possible even in the throes of winter? What about the crisp fresh air, walking your beloved family pet or navigating the Alpine slopes? We can still do all that but just make sure to stay indoors during times when the sun-rays are at its strongest! Between 10am to 4pm, that's when you should try to avoid sun exposure.
For those who simply have to stay outdoors, stand under a big tree (not when it's about to rain, of course) or seek refuge from canopies with a wide berth. Carry a dainty parasol, wear a wide brimmed hat and "get shady" with HUGE Jackie 'O' sunglasses that will give any Hollywood starlet a run for her money!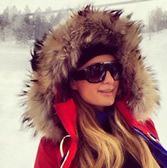 Tip #2: Dressing right
When you are hitting the ski slopes, you are inevitably inching closer to the sun! Choose to wear clothes made out of tightly woven material which not only shield you from the wind and cold, but serve to ward offthe penetration of harmful UV rays. Long-sleeved options, full length patalons or leggings will definitely serve you better as far as sun protection is concern.
But if the weather is heating up or the current fashion trend simply dictates one to flaunt a glimpse of well-toned arms or legs, then make sure you keep tip #3 in mind!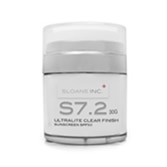 Tip #3: Say yes to sunscreen
Execute sun protection DAILY, be it clear or cloudy, and apply a sunscreen with a sun protection factor (SPF) of at least 30. The SPF reading is a guide that indicates protection against UVB, the component of sunlight that leads to sunburn and sun damage associated with skin cancer.  However, this is an imperfect measure of skin damage as "invisible assault" and photo-aging comes with UVA. Hence, be sure to apply liberal amounts of sunscreen that comes with dual protection against both UVB and UVA; making sure not to miss out on "blind zones" such as the lips, ears, around the eyes, neck and décolletage. Other sun exposed areas such as the arms, back of hands, legs and dorsum of feet should be cared for as well.
My recommendation is to go for either Sloane Inc.Sunblock SPF 70 or Sloane Inc.Ultralite Clear Finish Sunscreen SPF 50, both conveniently available online or over the counter at any of the 6 branches of The Sloane Clinic.
The SPF 70 version is a powerful pure physical blocker that offers top notched "rays-ban" with its UVA-shielding ingredients which include Titanium Dioxide and Zinc Oxide. Being 100% chemical-free and fragrance-free, this is suitable for children, pregnant women and even those with sensitive skin. The perfect offering for those looking for maximal protection while enjoying a spot of comforting winter sunshine, its sweat proof formulationeven protects up to 240 minutes in water, just in case you are participating in some skinny dipping even in December!
For those with oily and acne-prone skin, pick up a tub of Ultralite SPF 50 instead. A scientifically formulated super lightweight product of chemical blockers, this soleil-warder does not clog up pores like how other sunscreens might. Instead, it provides a breathable shield against harmful UV irradiation and allows you to look and feel confident without the need to worry about that oily sheen or white-cast that comes with physical blockers.
Tip #4: Smart moves
It is well known that glass effectively blocks off UVB, and most front windshields of vehicles are treated to block off UVA as well. However the same does not hold true for side and rear windows, which only guard against UVB but still allow penetration of UVA. So engage in a game of musical chairs when you are riding in a vehicle in broad daylight and choose your seat appropriately. Another way to get round this is simply to opt for the fool-proof way of applying sunscreen religiously, and do you fellow commuters a favour by passing that around before everyone hit the slopes for a smashingly fun afternoon under the sun.
You might also like: