[By Tania Hui]
History often repeats itself and this saying definitely holds true in the merry-go-round world of fashion. Following several seasons dominated by trends heavily influenced by elements drawn from the 70s and 80s, it's about right that the 90s is taking centre-stage, harking back to a time dominated by the likes of Jil Sander, Helmut Lang and Calvin Klein. With hot ticket designers, Alexander Wang and ThakoonPanichgul taking the lead, body conscious sportswear inspired threads are all the rage again, looking as appropriate on the slopes of Whistler as they are down the streets and avenues of New York City. While not everyone is blessed with theglamazonian curves of 90s catwalk queens Linda, Claudia, Christy or Naomi, there are certainly tricks to help pull off thatbodycon dress and make you the belle ofthe ball.
Choice pickings
Rule #1 of dressing right— always pick an outfit that flaunts your assets and hides your flaws. There are plenty of options to choose from and if the one dress you're eyeing seems like only a size zero model surviving on minimal calories can carry it off, ditch that thought and move on to plan B. You don't need to saran wrapped yourself in dresses that  are 2 sizes too smallto feel and look sexy. Choose a cut that skims and flatters your natural curves in a fabric that doesn't cling too much, so that you can at least nibble and not have to hold your breath in throughout the whole evening! If you don't feel confident with arms that aren't exactly likeMichelle Obama's, go for some sleeves. In my opinion, a tad of cover-up lends a touch of sophistication to anybodycon dress, which at times treads precariously between class and crass. Zoom in on strategically placed cut-outs to show off just a glimpse of skin, which definitely triumphs over plunging necklines baring way too much cleavage for comfort. Think 5th avenue chic, not rave party hoochie.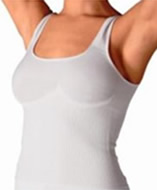 Curves boosters
Having scored the perfect bodycon dress is at best half the battle won. Pairing it smartly with the right undergarment or shapewear is perhaps equally if not more important, to bring out the best of what you got to offer. Body contouring under-amour that goes beneath those designers' threads forms part of the red carpet "must-haves" for any Hollywood celeb worthy of a Just Jared coverage or Fashion Police mention, in the right way, of course!  Even the slimmest of stars fed on a staple of organic quinoa and signed up for a lifetime worth of personal training will benefit from a little pinch and push to mould her into THE perfect shape. Unlike your run of the mill Spanx, the line from Farmacell do more than just giving one some temporary curves to be diva for the night. For instance, the Farmacell Shape Shorts in soft micro-fibre comes with a micro-massaging and "push-up" effect, created by graduated-pressure bands incorporated into the lining for an anti-cellulite effect apart from its usual butt contouring job. A delightful fashion fast-forward pass for those prone to water retention, this medical grade compression garment is known to improve lymph and blood return, providing sound medical therapy while helping to 'shape things up'.
Read More: Beauty Decoded – 4 Things you Never Knew Men Find Sexy
Slim eating
You need not be obsessed over each calorie consumed, but having a food diary certainly helps to put things into better perspective.Several studies have shown that weight watchers who kept food journals are more likely to be successful in losing pounds and keeping them off. In fact, a published article in the American Journal of Preventive Medicine involving a six-month study of dieters who kept recordsshow that those who did it six days a week lost about twice as much weight as those who tracked sporadically a day a week or less.
"A food diary increases your awareness of what you eat and tells you how much you consumed and why you are eating," explains Dr. Jinly Wong, medical consultant with The Sloane Clinic. "This helps with intervention and encourages one to cut down excessive calories from snacking, empty calories from alcohol binge as well as identify and thus avoid triggers such as stress eating and mindless munching while watching late night tv."
Sweat machine
There is no running away (pun intended) from exercising if one wants to look good while stepping out in a bodycon dress. All exercises burn fat but some do it better than others. Doing hundreds of punishing sit ups alone is not going to cut it because weigh loss is controlled by the calories used, and spending the bulk of your workout time lying down while exercising will not expend much energy. The best way to whip your body into a frenzy of sweat is to spend 30-45 minutes doing some form of cardiovascular exercises. Got a bodycon dress to squeeze in with too little time to spare? Look to the body beautiful stars for fitness tips such as TABATA.
Also known as the 4-minute workout (yes, four little minutes is all that you need!), TABATA is an advanced form of High Intensity Interval Training(HIIT) that counts fashion moghul Elle Macperson and Superman Henry Cavill as die-hard fans. It is basically 20 seconds of intense cardiovascular exercise bursts followed by ten seconds of rest, repeated eight times in total. The high-intensity bit can range from swimming, cycling, rowing, walking or running to core strength training such as planks and push-ups.
"All exercise will raise your resting metabolic rate (RMR), but the intense 'supra-maximal' high intensity training in Tabata will continue the calorie-burning effect for a full 12 hours after you've left the exercise class," says the official spokesperson on www.tabataofficial.com, putting the missing puzzle to why TABATA cuts above the rest when it comes to fat combustion.
If you are looking to drop a dress size or two to sizzle things up this party season, grit your teeth and push through those torturous 4 minutes at least 4 times a week on these last few weeks of crunch time!
Body contouring
While liposuction at the eleventh hour is not feasible as desperate as one may be to slip into that drop dead gorgeous bodycon party dress, non-surgical body contouring procedures such as the FDA approved CoolSculpting by Zeltig can certainly pare away some unwanted post Thanksgiving blubber to give you a nice boost of confidence. A procedure also known as cryolipolysis, CoolSculpting essentially freezes unwanted fat stores beneath the skin, making use of a targeted cooling process that breaks up the membranes of fat cells and hence led to their destruction by literally freezing them to the point of elimination. Your body will subsequently excrete these destroyed adipose tissues via its own metabolic processes over a period of 4-8 weeks. Consequently, this little trick you pulled will bring about a body transformation that will continue to improve right through the twelve days of Christmas, allowing you to look smashing in as many figure hugging bodycon dresses as Santa's stocking can possibly fill….
Read More: 5 Celebrity Endorsed Beauty Secrets to Look 30 at 50
You might also like: