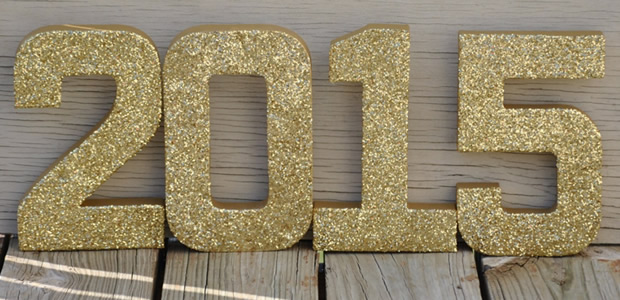 [By Tania Hui]
I always start off the year full of good intentions and a long list of resolutions but by the end of February, half of them are given up or long forgotten. Last year, I was going to drop my dress size from 8 to 4, stop living my life governed by quotes from Sex & The City, go running every morning before work etc, etc. All I can say is that it can be totally un-motivating when you realised that it's rather impossible to meet your targets! So this year, I vow to keep things short and realistic, so there's really no excuse for me not to keep up with it. With 2015 just round the corner, here are my top 5 New Year's beauty resolutions. Like they always say, small changes often lead to big results so step on it and start your engine now, to cruise ahead for a better ride in 2015!
Protect your skin
If you aren't already aware of this fact, the sun with its harmful UV rays is the single most important factor that contributes to the much dreaded skin issues of aging such as, wrinkles, pigmentation, broken capillaries and dehydration. Remember it's not just our faces that need protection. More often than not, it's our neck that is often neglected and gives away our actual age. Working your sunscreen, serums and moisturisers down south beyond your jawline and towards your décolletage will go a long way in enhancing the efficacy of your anti-aging skincare regime. Don't forget to include a lip balm that comes with SPF and throw on a quirky pair of humongous shades, to protect your peepers and the delicate skin under your eyes while throwing some shade at the style quotient of the fashion brat pack in La-La-land!
Proper hair care
It is hard to part with your all time favourite hot curling wand or stop the dye jobs and highlights, but you gotta pay penance for the stress you subject your tresses to. Get regular trims to manage split ends, do weekly deep-conditioning treatments or hair masks to breathe new life into your lacklustre locks, and give your hair a much needed break from hairspray, other pomade products and blow dryer whenever possible. Hair loss in women is something that is often overlooked until it's fairly advanced and significant. According to the American Academy of Dermatology, 40% of women have visible hair loss by the age of 40 and more than 50% will notice it by the time they reach their 5th to 6th decade of life. There is nothing sexy about peek-a-boo scalp so stop procrastinating and get on with cultivating a lusher, fuller head of hair with the Hair Maximizer Program specially put together by the hair specialists from The Sloane Clinic Hair Care & Restoration Centre. Weakened hair roots are strengthened and thinning scalps rejuvenated with the FDA approved Revage 670 laser, proven to stimulate the growth phase of hair follicles. This is paired with Revitascalp, a holistic 'hair-cial' to support healthy hair growth with vitamin B3 (niacin), vitamin E and a hefty shot of Minoxidil to restore your crown to its former glory.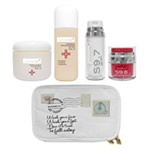 Stock-take & Update
Have you used the same facial cleanser for years so much so that you tend to bulk order on Amazon for fear that the product might be discontinued? Do you have your favourite moisturizer on auto-ship and almost had a meltdown when you couldn't locate it on the shelves due to change in packaging? Chances are, your skin has changed such that a formula that whipped up miracles in years past might somewhat lost its magic touch with the passage of time. Besides the usual suspects of cleanser, toner and moisturiser, set aside some time to figure out what you should be doing at your age, and look into the beauty arsenal of serums, eye creams, neck creams and whatnot, before putting your plan of actions into motion.
"Besides age, our skins will change with seasons and product rotation should be employed to make sure you use different sets of skincare that are complimentary to such alterations throughout the year." Advises Dr Tan Wang Theng, medical consultant of The Sloane Clinic. "This will help to keep your skin in tip-top condition, as it does not allow the development of tolerance to any particular skincare ingredient in question."
Age-proofing regime
We don't mind being a year wiser but we certainly don't care much about looking a year (or even a day!) older. With the latest advances in science and medical technology, slowing down your aging clock is not only possible but a reality for many in the know. Looking at both celebrities in the East and West, it's not hard to notice that many of the superstars from a bygone era from Brigitte Lin Ching Hsia to Christie Brinkley, actually look as good now as they were in their heydays.Botox, fillers and essentially any beauty enhancing procedures are akin to the makeup tools of an aesthetics doctor— too much of that will create a Bride of Frankenstein but in the correct hands, they are nothing short of miraculous age-defying feats.
Minimally invasive treatments such as the Silhouette Soft® Threadlift is fast gaining momentum in the popularity vote as unlike traditional facelifts, it does not require incisions or stitches and therefore have appreciably less downtime. The lifting effect is visible immediately while collagen is stimulated over the subsequent months for a more prolonged smoothing and firming effect that follows the contours and molds naturally towards the direction of lift.
Beauty sleep
Getting enough quality eye shut is an important part of looking and feeling our best, so make sure you don't neglect this is 2015. Restless nights can wreak havoc on your health and appearance especially if they are ruled by heavy partying, alcohol binge drinking or overloaded work stress. In addition, our fat burning hormones are at optimal levels between 10pm and 6am so unless you are asleep during these hours, you won't be reaping any of their benefits. These hormones also contribute to appetite and without a good night's sleep, lower hormone production can make you feel hungrier the following day when in actual fact you're not! So work towards being consistent with your sleep schedule this coming year, for brighter eyes, more radiant skin, slimmer silhouette and essentially, a brand new you….
For further information on The Sloane Clinic, please go to www.sloaneclinic.com
You might also like: