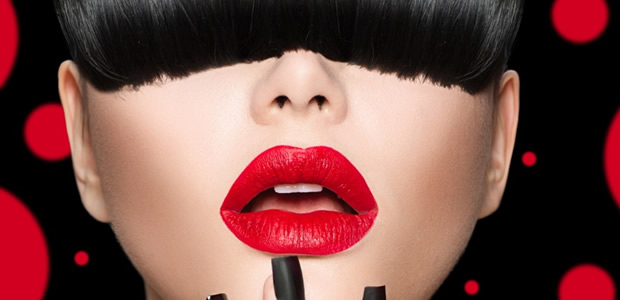 [By Alicia Liu]
Valentine's Day is just around the corner and I bet everyone's frantically looking for ways to look absolutely divine for the night. We're probably getting ready to amped up the sexy vibes by a few notches, from getting our hair and nails done, to practicing the perfect smoky eyes to complete THE look. Not to mention crash dieting to fit into those itsy-bitsy-teenie-weenie bits of ridiculously priced La Perla lingerie! Although I would consider bold steps such as a new haircut or a new dress style a 'Do' on some occasions, exaggerating too much on this romantic day may sometimes seem a little too trying or desperate for attention. Save some of that vivacity for another day while still being alluring with these 3 tips to bring out the Venus in you this V-Day!
Don't Over-scrub
Yes, exfoliating your skin is definitely one of the most important step to keeping your complexion dewy fresh and glowing, and that's definitely the skin we want on our Valentine's date. However, too much of a good thing may not be wise. Your skin need time to renew its cells and exfoliating once too often could backfire as you end up over-stripping the upper layers of the skin, leaving it raw and sensitive. Consequently, those prone to break outs would definitely flare up as the skin tries to over-compensate by producing more sebum or oil. Give your skin time to heal, and as a rule of thumb, exfoliate no more than once or twice a week.
Remedy: Come packaged in a conveniently sized pen with a roller ball tip, Sloane Inc. HEAL is a pharmaceutical grade skin saviour to your accidental dermal assault. Containing high quality 100% organic Argan oil that's jam-packed with vitamin E, potent antioxidants and essential fatty acids, this lightweight miracle elixir helps repair "over-scrubbed" peaus and nursed skin back to a healthy glow. The exceptional healing and soothing elements in HEAL work equally well on sunburned and post-peel skin. For best results, roll over desired areas such as under eye, lips and anywhere with flakes, fine lines and dryness to the touch. Lightly massage in with fingertips and apply sunscreen and foundation as you usually would.
If you lack the time required for a proper scrub or peel, make a switch and treat your skin with Sloane Inc. Oxygen Boost Energizing Masque, a fuss free wipe-off beauty treat which promised to recharge and reinvigorate tired-looking skin in less than 10 short minutes. This pure stabilised oxygen complex allows deep penetration of its accompanying vitamins, antioxidants, vital peptides and proteins to revitalise the skin with a powerful boost. Recommended to be applied after a shower on skin that is slightly damp to allow the masque to foam up with the release of oxygen bubbles. Slap on a nourishing moisturiser after use to allow maximum penetration of the product for optimal skin healing and renewal.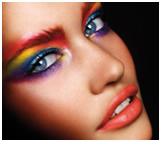 Don't go colour crazy
While I'm all for experimenting with wild colours, balance is definitely key here. Unless your aim is to look like a character out of the Hunger Games, I would definitely put a restrain order on Cyndi Lauper's take on eye make-up. Keep things classic and one can never go wrong with a simple smoky eye, defining the windows of thy soul with eye-liner and mascara to make them pop. In fact, keep the rest of your face light and minimum colour-wise and go for an au naturel look by sculpting your mien with a skin-tone blush, bronzer and contouring powder.
Remedy: If a world of colours is your cup of tea, bank on the lips to add a dash of it. Skins with cool undertones (those who look better in cool colours such as blue and green) look good with pink or burgundy lips, while those with warm undertones (those who look better in crimson, orange or yellow) suit colours like peach or cherry red. To transform your puckers from drab to fab, invest in Revitalift Lips, a deeply hydrating lip treatment with minimal to no downtime.
"During Revitalift Lips, an ultra-fine, small particle hyaluronic acid filler is introduced into your lips via a series of microinjections," explains Dr. Kenneth Lee, medical consultant with The Sloane Clinic. "The aim is to revitalize and rejuvenate dull, chapped and lined lips without overtly increasing their volume or size for an exceedingly natural look that's a better, improved version of yourself."
Don't leave your grooming needs to the last minute

It's a no brainer that the majority of us would prefer to be fuzz free on an important date (and I don't only mean over the bikini area!). You managed to find the perfect evening dress and who wouldn't want to accompany it with smooth, flawless limbs? Waxing, epilating, and shaving are effective ways of removing unwanted hair but they may also come with immediate problems such as pain, swelling and irritation from trauma to the skin, especially for first-timers. Done repeatedly, beauty banes such as ingrown hairs and pigmented scars are not uncommon.
Remedy: If you're looking to remove unwanted facial and body hair coupled with a smooth and blemish-free skin thereafter, opt for a more permanent solution with the Removal & Restoration Program specially put together by the hair specialists from The Sloane Clinic to address your hairy woes. Besides zapping away all unwanted hair follicles with the latest Laser Hair Removal technology, complete your beauty transformation by restoring the underlying skin with a series of gentle yet restorative, pigment lightening, skin brightening laser therapies in tandem with dead cell-exfoliating peels. You can now wave good bye to those pesky fur and say hello to smooth, flawless skin for any hot date on Valentine's Day and beyond….
Happy Valentine's Day!
You might also like: