[By Kendall Gan]
As awards season climaxed with the 87th Academy Awards a couple of days ago, all eyes were not only on the recipients of the coveted little gold man, but also on who's wearing what for each and every celebrity that had the chance to walk the red carpet leading to Dolby Theatre. As we staged our own version of "Fashion Police", squabbling and fighting one another off in ReadySetBeauty's office, here are the top contenders who made it to our coveted list. We might not shine as bright as these gorgeous stars, but if we were to tweak their outstanding style and beauty trends and make them our very own, I'm certain we too can twinkle in our own special way!
OOAK— one of a kind creation
Long overdue Best Actress winner, Julianne Moore was no doubt the biggest winner of the night both on and off the Oscars' podium. Joining the exclusive club of a handful of ladies lucky enough to be dressed by the Kaiser, Karl Lagerfeld himself, the "Still Alice" actress was a vision of sublime perfection in a strapless bespoke Chanel gown, heavily embellished with flowers and intricate beading that took 987 hours of work and 27 people to complete! Taking her styling in a direction completely different from what we've previously seen this awards season, Julianne's makeup was kept minimal with the slightest hint of blush and berry stained lips, with her signature fiery red mane casually pulled back into a side-parted chignon. Très elegante, timeless and classic parisienne chic!
Beauty tip: Besides being an acclaimed actress, it is a little known fact that Julianne is also a published author behind the children's book series, "Freckleface Strawberry", based loosely on her own childhood experiences. Freckles and rosacea are two common skin conditions that often affect redheads. While one might get away with the awkward teasing early in life, if left untreated, freckles and rosacea can be frustrating, and often embarrassing to live with.To remove the pigmented spots of freckles or the visible blood vessels and extensive redness associated with rosacea, light and laser therapies are by far the safest and most reliable.
Commonly touted as a "photo-facial", Intense Pulsed Light or IPL is an effective therapy that employs light energies at a particular wavelength to zap off pesky spots of freckles for a blemish-free complexion with nary any downtime. As for rosacea, the VBeam Perfecta Laser remains the gold standard treatment of choice and works by delivering an intense yet gentle burst of yellow light to targeted areas of the skin. This light is absorbed by the aberrant blood vessels and the heat causes them to collapse or shrink without collateral damage to surrounding healthy skin. In addition, the laser energy can also help stimulate new collagen formation, resulting in a certain degree of skin 'remodelling' with anti-aging benefits!
That 70's vibe
Hollywood IT girl of the moment Margot Robbie paid homage to Jerry Hall, Debbie Harry and Bianca Jagger, those ultra-chic glamazons who inhabit Studio 54 nightly in the salacious seventies. Forget about "The 50 Shades of Grey". Clad in ablack long sleeved Saint Laurent number with a plunging V-neckline accessorized with an antique Van Cleef & Arpels statement necklace studded with diamonds and sapphires, Margot was resonating pure 70's vibes of decadence and debauchery, dripping with insane sexual innuendo with every single step she took and movement made.
Beauty Tip: To avoid being stuck in a time warp, ditch those classic 70's Farrah Fawcett's curls and update your look with sleek, straightened hair or an asymmetrical bob. Dare to go strong with makeup colours like Margot's choice of bright red lips, or play up your eyes with en trend metallics. If you opt for a similar dress style that will without a doubt draw eyes to your neck and décolletage, make sure you prep your treasure chest to make it worth the stares received. The Ultherapy Décolletage is the latest non-invasive FDA approved treatment to improve lines and wrinkles on the neck and cleavage by employing focal ultrasonic energy to stimulate the natural formation of collagen and elastin within the skin's foundation. A single treatment will give appreciable results in about 3 to 6 months' time, spoiling you with unlimited choices of flattering necklines to flaunt your newly improved neck and décolletage with reinstated confidence!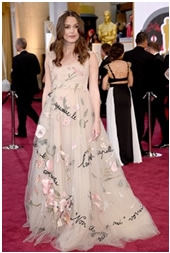 Lyrical Graffiti
Pregnancy seems to suit waifish English rose, Keira Knightley just fine. With an extra few pounds packed on her painfully lithe frame, she was probably looking the best that we have ever witnessed! Dressed in an empire waist embroidered tulle Valentino floor length gown, Keira maintained her usual bohemian red carpet style with whimsical lyrical graffiti spun between the pastel spring blooms, in Italian, no less, serving poetic justice at it's absolute best.
Beauty Tip: While Kiera is definitely basking in the so called, "pregnancy glow", not all women with a bun in the oven are lucky enough to experience skin of unparalleled luminosity. Pregnancy can throw one's hormones into a schizoid frenzy, causing your skin to breakout like a re-enactment of puberty. "Common anti-acne products to avoid during pregnancy include retinoids, salicylic acid and benzoyl peroxide," advises Dr. Toby Hui, senior medical consultant with The Sloane Clinic. "Topical antibiotic preparations such as the clindamycin and aloe vera containing Sloane Inc. Clarifying Gel is an excellent product to keep pesky spots at bay, while more severe cases recalcitrant to topical medications, can be safely tackled with the Smoothbeam Laser treatment to combat unsightly eruption that adds up to the usual emotional upheavals experienced by pregnant mothers."
You might also like: