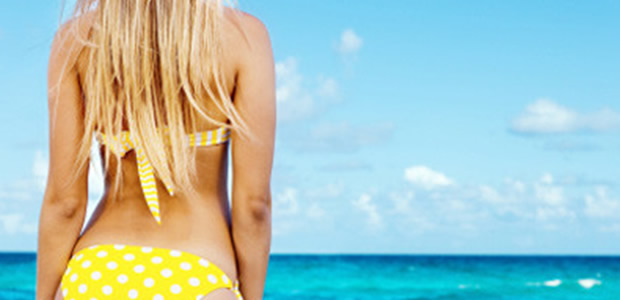 [By Lynette Krauss]
As the temperature starts climbing by the day, it won't be long before bikini season is launched. Some of you are probably well into your preparation for a seaside adventure, while others are just beginning a crash-diet plan. I hope those embarking on the latter path totally ditch the idea as there's a right and wrong way to see results, and crash-dieting comes with its own set of unwanted side effects. (One should only aim to lose a safe amount of 1 to 2 pounds of body fat a week.) With the help of these 4 tips, rest assured that you will begin to feel more confident by the time swimsuit season is in full motion!
Set Realistic Goals
It all starts in the mind, and while we you may make smart changes in four weeks, setting a goal that is too difficult to attain will only set you up for failure. It helps if you first determine which area you would like to improve on and ask yourself a few questions such as how much weight would you want to lose? Are you happy with your current weight but prefer to tone up?
The answers to these questions will help you then focus on what needs to be done. Weigh and make measurements of yourself to help track your progress. Muscle weighs more than fat and if your aim is to tone up or add bulk up your muscles, overall weight gain may in fact mean your plan is working. In this case, focus more on measurements rather than that number on the scale. It could also help if you hang that Bikini you just bought in your room as a constant reminder to what you're aiming for!
Healthy Diet, Healthy Exercise, Healthy Lifestyle
It's a no brainer to reduce caloric intake. Make simple swaps such as opting for a glass of water with a slice of lemon instead of a fizzy drink, and using whole-wheat pita instead of whole wheat bread to make your lunch, or even choosing red wine over vodka tonic at happy hour. These simple exchanges to lower calorie options if done throughout the day ensure you're not absolutely deprived while still allowing you to drop pounds and keep healthy. If you're aiming to lose slightly more, speak to your gym instructor or personal trainer about bumping up more cardio activity. For those who aim to tone certain areas, I would say to make your belly and your butt top priorities! We all know that the real key to looking fabulous in a bathing suit lies in a flat tummy and a hot as*. Give both these areas added attention by this one simple exercise:
Lie on your back with your knees bent and both feet flat to the ground. Lift your hips off the floor so that your body forms a straight line from your shoulders to your knees. Maintaining this straight line, lift one knee upwards to that your foot comes off the ground. Then return it to the starting position and alternate with the other knee, as if marching in place. Keep your butt contracted the whole time for a total of 10 reps each leg. Perform this 3-4 times a week, and you'll definitely have better tone to these areas by the time you're ready to flaunt your body!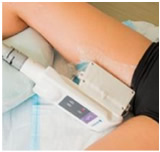 Blast away the Stubborn Flab
So you know you're fit and healthy and somewhat in a good shape, but we all know that annoying fatty flab which simply are resistant to our diet and exercise. If you're looking for a no downtime, non-surgical approach to remove that unwanted fatty tissue, you will find that your answer lies with CoolSculpting PLUS which can be done at The Sloane Clinic. At the clinic, they go the extra mile to combine CoolSculpting which is an FDA-approved, gold-standard Zeltiq technology that acts to diminish fat cells in the body with skin regenerating with lymphatic drainage therapy to further enhance and improve fat-busting results! Even after one session, you can expect to see a reduction of fat in the treated area by about 20 to 22%.
Plus, since it's non-invasive and has no downtime, it's perfect timing to have it done now to banish those nagging pouches before summer comes round!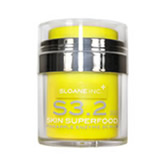 Scrub to Smooth Skin
While you're aiming for your target weight and shape, never forget that you'll definitely compliment your summer beach look with smooth skin! Once or twice a week while you're in the shower, use a brush or loofah to exfoliate your skin with upward strokes. Or for a more nourishing option, try The Sloane Inc. Skin Superfood Pineapple Enzyme Scrub. This scrub is gentle for the whole body, including the face, but is effective in removing dead skin cells, re-texturing and refining the skin. The formulation combines the action of Bromelain or papaya enzyme which helps to gently exfoliate the skin, with Jojoba beads which dissolved to release nourishing Jojoba oil into the skin. Hence they work synergistically to reveal brighter skin, while providing a supple and smooth feel that bound to entice a summer lover's touch!
Follow these tips, and keep your eyes on that goal. Be ready to wow others with your healthy svelte bikini-body in time….
* Selected as Article of the Month May 2015*
You might also like: