[By Cara Solis]
With Memorial Day well behind us, it's a matter of weeks before we dive straight into the throes of summer, coming with it a string of pool party invites that's equal part anticipation and nerve. Even if you've literally been putting in extra crunch time at the gym all the way from Boxing Day, it's understable why the annual official debut of your bikini bod remains unexplainably daunting. The unspoken golden rule of pool party is that one should always look as good, if not better than last summer! As someone in the PR industry who needs to be ready to stand tall and mingle to make valuable connections at the most coveted summer social gatherings at a moment's notice, I've learned a few tricks to guarantee that I look and feel my best. If you do not want to miss out on the fun in the sun, it's time to kick butt with these 5 easy tips on how to work it till it rocks!

Choose the right armour
Swimwear is mandatory for pool parties but the invites usually do not enforce a 2- piece bikini dress code. Picking the right bathing suit got to be one of life's most vexing sartorial dilemmas that can be downright intimidating. Be aware of your body shape and choose a style that will flaunt your assets and hide your flaws. It is generally agreed upon by experts that the one-piece bathing suit with an en trend retro vibe is a classic style that flatters every body type. If you got more generous curves or simply not comfy with showing off too much skin in a teeny weeny bikini, opt for more modest variants in the form of tankinis and camkinis— water friendly tank tops and camisoles made of lycra/spandex and paired with a bikini bottom. If you can totally pull off the celebrity inspired pool look without coming across as a wannabe who's trying too hard, by all means strap on your 5 inch Loubies to complete the glamour girl ensemble. If you think you might be doing it wrong, play it safe and go with fancy flats which can be cute and feminine, without the risk of looking like a hot mess.
Safeguard your skin
Any savvy lady shouldn't need to be reminded about the importance of sun protection in summer. The beauty of a golden tan is at best fleeting while the repercussions of unprotected UV exposure stay with you forever. Before you head outdoors, apply liberally on all exposed areas a sunscreen with a SPF of at least 30. If you have fair skin and from past experience is prone to sunburn, opt for SPF 50 or more. To avoid leaving undesirable opaque white streaks on your sun-kissed peau, try a chemical blocker such as the Sloane Inc. Ultralite Clear Finish Sunscreen SPF50. This super lightweight formula forms a breathable shield to safeguard vulnerable complexions from both burn-causing UVB beams and wrinkle-inducing UVA rays with a multi-filter chemical sunscreen complex, while additional natural botanicals and potent plant-extracts provide extra perks to help smoothen and brighten skin along with excellent sun protection. Get creative with sunhats and shades too as they are de rigueur poolside accessories that give you added sun protection while making an undeniable fashion statement that can take you anywhere from coy to sexy.
The Midas touch
If you aren't naturally brown and is all pasty and dull from winter hibernation, getting a touch of colour to be pool party ready doesn't necessarily entail checking yourself into a tanning salon. There are many ways to get a healthy glow before you step into the sun but airbrush tanning is my favorite simply because it's completely safe and gives natural looking results that can look fresh for an entire week! For extra bronzing to channel your inner 'Sports Illustrated' girl, go for Maui Babe Browning Lotion. This brown sugar based product leaves your skin feeling moisturised, and looking positively golden brown. Take note that it's not meant to be a sunscreen so don't skip your usual SPF and wear it on top of that.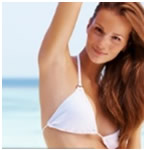 Tame the fuzz
You might have slacked in grooming all covered up in sweaters and leggings during the colder months, but there's simply no excuse for any proper lady to assault the eyes of those around with stray hairs on exposed skin. If shaving and waxing and the whole host of problems that tag along is all too tedious to bear, enjoy year round smooth and even-toned skin with the Removal and Restoration Program. This comprehensive, problem orientated approach to grooming combines permanent laser hair reduction therapy with a series of gentle yet restorative depigmentation lasers to not only ensure your skin is fuzz-free, but also brighter and smoother. It isn't hard to see why this can lead to a restored or new found confidence that's ready to impress not just at any poolside soirees, but just about anywhere, anytime!
Sculpt to perfection
Let's face it— Pool parties are all about having the right curves in all the right places in our increasingly body concious society. As evident from the recent red carpet influx of barely there transparent dresses, "The Emperor's New Clothes" is poised to become the latest trend to hit Hollywood and embraced by A-listers the likes of Beyonce and Jennifer Lopez. 'Skin' is the hot new fabric to be seen in , with the perfect body owning it designed and sculpted to perfection not unlike meticulous couture tailoring. In addition to a sound diet and regular exercise regime, tackle your unwanted fat deposits for a bespoke silhouette with CoolSculpting PLUS offered by The Sloane Clinic. This is an almost painless and non-invasive treatment which combine CoolSculpting by Zeltig, an FDA-approved fat freezing technology that acts to diminish fat cells in the body; with skin regenerating and lymphatic drainage therapy to further enhance and improve fat-busting results. Targeted at common problematic spots such as the love handles and inner thighs, one can expect a reduction of fat in the treated area by 20 to 22%, which translates into inches loss, after just one single session. With these handy tips in hands to prep you way in advance, sit back and enjoy your reign as a bronzed goddess to be adored throughout summer and more….
You might also like: