[By Alicia Liu]
Summer is descending upon us in no time and one main feature is definitely shorter hemlines! Out with the skinny jeans and tights, and in with the mini-skirts and tushie grazing shorts! To some, it's time to show off their well-toned legs, but for those who are more timid, it may also mean the panic of having to expose what they successfully hid over the past months. Fret not ladies for here are some last minute tips to help you make the most of what you have to look their absolute best. Some may call it cheating but all I can say is "fake it till you make it"!
The big E
No doubt, legs automatically look more desirable when they appear smooth. And exfoliation has been repeated countless times over the years as it is still truly an effective method of getting rid of dullness to reveal cleaner, brighter and smoother skin. Back in my school girl days when I used to devour info from SEVENTEEN magazines like a Health and Beauty bible, I've tried various suggested home-made scrubs with stuff pinched from the kitchen.Oat and honey, sometimes lemons, at times throwing in an egg white or two. More often than not, they were fool-proof recipes for disaster, leaving my legs and beddings in quite a sticky mess! For guaranteed results, go for cosmeceuticals such as the Sloane Inc Crystal Clear Scrub. This lovely product smells just like a spa and is formulated with ultra-refining bamboo micro crystals, conditioning Vitamin E as well as soothing aloe. You only need a very small amount of the product and with some water to achieve a good spread for thorough deep exfoliation. What's more, you can use it for other parts of the body and also on your face as well.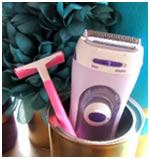 "Spring Cleaning"
Okay, admittedly, I'm one of those who "hibernates" during the colder months and when it comes to personal grooming, even the DH is shocked with how little effort I put in—including slacking off from hair care, and of course I mean the ones on the legs. With the sun beating upon us and naked legs dangling out in the open, there's definitely no hiding now. While many turn to shaving and waxing as they may be the more convenient and least costly methods around, the effects are temporary and not without their own set of side effects. Razor burns or accidental cuts is a common downside of shaving, and having red and inflamed legs is certainly not part of the summer's game plan. Waxing may also cause a similar issue of skin irritation and like shaving, ingrown hair is another extremely annoying skin condition that one got to deal with. To avoid the hassle for year round smooth, hairless legs, invest in the Removal and Restoration Program put together by the hair specialist from The Sloane Clinic. This comprehensive, problem orientated approach to grooming combines permanent laser hair reduction therapy with a series of gentle yet restorative depigmentation lasers to not only ensure your skin is fuzz-free, but also brighter and smoother. By selecting the appropriate lasers to suit your skin type, both lighter and darker toned ladies can now be treated effectively for a pair of eye-catching gams that'll bound to sizzle when she trots!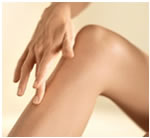 Slap on the cream
After all that exfoliating and hair-removing, it's definitely imperative to moisturise. I certainly don't mean that you just slap on any lotion and call it a day. One of the most effective ways of making sure your skin is properly moisturised is ensuring you apply at the right time. Just as we understand (hopefully, some of us) the need to use toner on our skin to prepare our face for skin-enriching moisturising products, the same concept applies for the rest of our body. It needs to be prepared to absorb the moisture. And because there aren't many body toners, one effective way of ensuring you gain maximum hydration from your body lotion is by applying it right after you pat dry yourself after a shower. The Sloane Clinic In-The-Nude Body Milk is an insider's fave and its non-sticky formulation makes it extremely user-friendly even at the height of summer. With a blend of botanical oils, natural butters and vitamins, it sinks in to deeply hydrate your skin with nary a trace of greasiness or an oily sheen!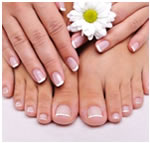 Pretty up those toes
Now that you have your skin settled, it's time to add a little colour to those toes! A spa pedicure definitely won't hurt too as you relax while an expert executes a perfect paint job which you make take hours to complete. If you're asking me, I would definitely opt Neon, only because it's summer. But if you're thinking more long term, you may want to choose a colour that may work with multiple looks such as the classic red. As nail polish on your toes lasts a lot longer than your hands, sometimes you end up forgetting about them. Unless you're working at Google, I am not sure what the boss may think about Neon Yellow or Neon Green toes!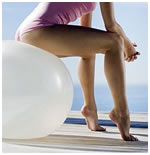 Pump & Tone
Notice I haven't yet mentioned a thing about a work out? While I'm all for exercise, it's definitely more difficult to achieve results if done last minute. No harm trying out a simple calf exercise though, something which can even be done at the office. Sit on a stable chair and place both feet flat on the ground. If you do have a dumbbell, place it on top of the leg you're going to work. Otherwise you may use a 1-2kg book instead. Raise your Heel off the ground, while contracting your calf muscles. Then lower it back down. Do about 10-15 reps each leg to help tone your calves.
Sticking true to my last minute tips; wear pumps! In fact, wear any pair of heels. High heels will help sculpt your calves in a way to enhance what you already have. It gives your legs a toned appearance, and even helps to provide your butt some lift, certainly a win-win situation to bring sexy back this summer….
* Selected as Editor's Choice Jun 2015*
You might also like: