[By Alannah Hughes]
While some trending social media dares like last year's "Ice Bucket Challenge" though gimmicky managed to do a whole lot of good by raising awareness and much needed funds towards ALS research work, others such as the recent "Kylie Jenner Challenge" which encourages teens to blow their lips up to epic proportions using suction cups or shot glasses are downright silly. But one thing it did prove, voluptuous lips are the holy grail of beauty and they are definitely here to stay. While not everyone are blessed with puckers that rival famous ones like Angelina Jolie's or Monica Bellucci's, we have a trick or two to help transform them from drab to fab, with tailored moves to cater to your specific pouty needs!
Create an illusion
If you can fake a sharper nose, slimmer face or even bigger breasts with makeup, you can certainly use makeup tricks to enhance your lips. Prep your lips with Sloane Inc Lip Fabulosity Scrub to exfoliate dull, dry or chapped lips for a beautifully smooth finish that can actually help your lipstick magic last longer.  To create the illusion of pillow lips, start by using a flesh coloured primer to block out the natural shade of your lips and highlight above the cupid's bow with a matte or pearlized pencil. Next, draw slightly over your natural lip line with a deeper lip-liner and blend slightly inwards. Dab a light to medium tone lipstick on the entire lips and apply the lightest version of your lipstick shade or a dab of gloss directly in the center to create a pout. Finish off with a paler shade of glossy peach, nude or pink instead of deep red or plum as darker colours tend to make your lips appear narrower. Voila Scarlet J, eat your heart out and I'm ready for my close-up!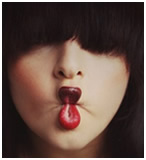 Boost the hydration
Think of your lips as a pair of sponge cos that's exactly how they behave. If you want siren lips that are plump, full and supple, you got to go an extra mile to ensure that they are well hydrated. Lips do not possess sweat glands and lack sebaceous or oil glands needed to produce naturally hydrating oils, making them super susceptible to dehydration. As such, pampering them once or twice daily with a slick of organic oils such as Sloane Inc HEAL containing 100% Organic Argan Oil with geranium or Sloane Inc YOUTH made of 100% Organic Rosehip Oil infused with Lavender,is a superb way to heal and condition uninspired lips. Dehydration, cigarette smoking and normal aging leads to dullness and appearance of peri-oral lines which can cause unsightly bleeds of lipsticks applied. Not only is collagen necessary to keep your lips well padded and kissable, it also prevents cracks and fine lines from forming.
If hydration not volume is what you seriously need to glamourise your lips, bestow upon them some much needed TLC in the form of Revitalift Lips. With a series of microinjections of an ultra-fine, natural hyaluronic acid, this deeply replenishing, lip-nourishing treatment is a one way ticket to transform dull, lackluster and lined numbers into red carpet-worthy kissies overnight. Revitalift's main benefits are its intensely hydrating and line-minimizing effects, accomplished without any risk of looking unnatural or cartoonish with overtly amplified puckers of gargantuan shape and size.
Restore the shape
One of the most endearing features of a youthful face is a subtle hint of a smile or the playful tilt of an upturned lip. Unfortunately, this is something that gets lost with age when little by little, the collagen that props up the corners of our lips disappears, and the hyperactivity of opposing muscles lead to them looking downturned and droopy, much like the perpetual scowl of the grinch who stole Christmas! A touch of muscle relaxing Botox microinjections around your lips can actually do wonders for those who have found their pout anything less than alluring, while micro-droplets placed judiciously at the hillocks around pinchedlips can also minimize lip lines and furrows to restore youthfulness and avoid fustrating lip colour bleeds.
Sculpt to perfection
Whether you're born with a pout that's less than perfect, have serious Kylie Jenner envy or if age has been unkind and robbed the volume and vitality out of your once beautiful lips, you don't have to grit your teeth and bear with it. Lip Augmentation with Natural Fillers is a safe and simple procedure that in the correct hands, can allow one to sculpt her puckers to perfection, "up-grading" them from 'A-size' to 'A-lister' proportions and glam quotient.
"Lip Augmentation should not be treated with a 'one size fits all' approach as the essence of creating a pair of lips that appear naturally gifted is to individualised them by respecting one's overall facial harmony." Explains, Dr. Toby Hui, senior medical consultant with The Sloane Clinic. "On top of maintaining good lip proportions and shape, a beautifully enhanced pair should not only be congrurent with the rest of the facial features, they should also reflect the bearer's own unique style and personality."
You might also like: