[By Nora. S]
We are at the end of the Islamic holy month of Ramadan, and all who are celebrating the festival of Eid or known in this region as Hari Raya Aidilfitri, are preparing for the joyous gathering of fellowship, food and worship. But as you're visiting your friends and family in this hot and humid weather, one thing that's almost certain to run is your makeup! Here are some handy tips to keep both your skin and your makeup looking fresh while you're spend time with your loved ones and indulging in all those scrumptious meals and treats together.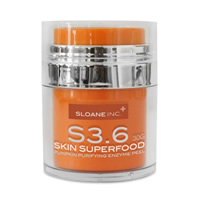 Prep with Pumpkins
Makeup glides on smoother and stays for longer if it is applied on a clean-canvas skin. Imagine if you had dull and flaky skin, make up will not cover those well, in fact you may look worse! This means we must not miss the ONE important step of Exfoliation! There are many products available to help exfoliate the skin of dead skin cells, but my personal favourite is definitely The Sloane Inc Skin Superfood Pumpkin Purifying Peel. Bursting with natural enzymes and vitamins, this product works gently but is effective to slough off grime and rid clogged complexions. With powerful antioxidants, it goes a step further to reduce fine lines and pore size, as well as improving tone and texture. Best thing is, it doesn't leave the skin irritated or dry, as with some peels. It should be used after your daily cleanser, and prepares your skin for your toner and moisturiser. All very important steps to make sure your makeup looks perfect!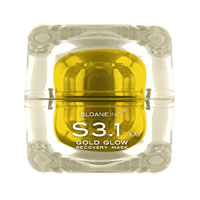 Glow with Gold
With a month of fasting, your skin is definitely more parched than it should be. Not to worry, The Sloane Inc has recently added a product to its line-up which helps your skin recover in no time! Their Gold Glow Recovery Mask does what its name suggest succinctly. Rich in multivitamins and antioxidants, this luxurious mask contains Sea Buckthorn Berry and Pure Gold flakes which helps boost moisture levels of the skin while increasing oxygen uptake and promoting a healthy glow. Just apply a layer of the product after you cleanse and exfoliate your skin and let it rest for 20 minutes as you breathe in the calming aroma. Once you wash off, your skin will feel instantly refreshed, and you're definitely ready for some heavy duty makeup to survive all that house-hopping!
Block with BB Cream
Makeup primers may seem futile, but is actually a vital step in helping to achieve a flawless makeup look that will last the whole day. But if you're like me, and wondering how well it's going to sit on your skin; on top of the moisturiser, then the sunblock, only then the primer? Look no further with The Sloane Inc Anti Pigment BB Cream. This BB Cream can be applied after your daily moisturiser and provides a translucent nude-tinted coverage. Not only that, this matte-finish makeup primer also protects against those harmful sun-rays with an SPF 25 protection and contains Vitamin C and Arbutin to help brighten and lighten skin blemishes. It really does a lot with one simple convenient step, and all that without clogging pores!
Set with Sprays
I recently had my makeup done by a makeup artist and was speaking to her to gain some tips as well. And indeed, I learned a little trick. After you've applied your makeup, simply set it in with a little spray. Any moisturising spray would do the trick, but I personally alternate between the Avene Thermal Spring Water and the Epicuren Colostrum Hydrating Mist. While the Avene Thermal Spring Water works efficiently to set my makeup, I find that the Epicuren Colostrum Hydrating Mist which contains colostrum and other moisture-boosting exhilarating complexes helps to also quench and refresh the skin. Simply spray evenly from about 10-15 cm from your face. Let it rest for about 5-10 seconds, then using a soft facial tissue, gently pat the excess water off. You're now almost ready!
Dew-up those Lips
Lest we forget our lips, especially after a month of fasting, I'm sure some may have dry and chapped lips! Trying to hide with lip colour may again make your dry lips look even worse as the lipstick bleeds. Lipstick always looks and stays better on moistened, supple lips. So remember to prep up your lips too with The Sloane Inc Lip Fabulosity Serum. It's rich in natural anti-ageing ingredients which help to instantly rehydrate and smoothen out the rough surface of the lips, while guarding the lips area from environmental stressors such as air pollution and smoke. A small drop is all it takes to keep the lips dewy for a whole day! Then apply your lipstick over it and be sure to blot so that it won't bleed after. But who am I kidding, you're definitely going to eat up some of those lipstick too as you go around to your mom's to feast!
Selamat Hari Raya Aidilfitri and Happy Holidays!
You might also like: