[By Sandra Hill]
Some of my friends and colleagues at work had been raging about tea-detoxing or 'teatox' since last year. While some of them seemed to have noticeable results, there were others who ended up ditching the whole tea drinking practice. I started researching a little more and I figured that although many of my friends were doing it for weight loss, a teatox is NOT supposed to be a miraculous fat-losing regime at all. In fact, if done the wrong way, it may even be harmful to the body! I learned that exclusively drinking tea, or any detox tea preparations on its own would not promote good health. Instead, detox teas are supposed to help detoxify your body by supplementing a well-balanced diet with high quality teas that is rich in anti-oxidants, which reduce free radicals in the body and thereby enhancing overall health. Basically a Teatox, together with a good eating and exercising habits, boosts your existing weight loss rate as it aids digestion and improves bowel movements. All that boring science aside, I put myself and my body to the test with these Detox Teas. Read on to find out what's my verdict!
Skinny Mint TeaTox
This was the first detox tea I tried. I read a few reviews which sounded almost too good to be true, so I just had to try it out myself. I purchased the Starter Pack online for about $30usd, which is their 14 day starter teatox kit. There is also a 28 Day Ultimate Teatox kit, but I figured I'd be trying a few teas, so I'm going to be a little conservative. The Starter Pack comprised of 14 Morning Boost teabags and 7 Night Cleanse teabags.
Morning Boost contains green tea, yerba mate, nettle leaves, dandelion, guarana fruit, grapefruit leaves, strawberries and pineapples. You can choose to have it before or during breakfast, and is said to be able to replace the usual morning coffee or black tea.
The Night Cleanse contains ginger root, orange leaves, lemongrass, senna leaves, peppermint, licorice root, hawthorn berries, psyllium husk; and is advised to be taken every alternate night before bed.
Overall verdict: 3/5
I took a bag of Morning Boost every morning, in place of my usual coffee, with breakfast before I headed to work. I enjoyed the fruity taste, and I find that it does help to boost my energy during the day. But it didn't suppress my hunger, and I was still eating my usual amounts. What I didn't enjoy so much was the Night Cleanse. It is said to reduce bloating and purify the body, but probably due to its laxative effect, I was suffering from colic and cramps which woke me up sometimes, and I had to sit in the toilet (not always 'productive') in the wee hours of the morning, and occasionally the cramps lasts throughout the day! I was almost glad after I completed the 14day program. The morning tea gets top marks from me but probably the night cleanse may be more suitable for people who are usually more constipated.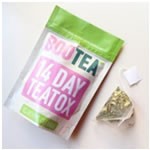 Bootea Teatox
I gave my bowels a rest for 2 weeks between different teas, just so that they may 'reset'. I guess my body needed some rest and also I was hoping to give a fair review. My next trial was with Bootea Teatox. I also only got the 14 Day kit, for about $30usd as well.
The Daytime Detox (14 teabags) contains Chinese oolong tea, mate leaves, ginger root, fennel seeds, lemongrass, dandelion leaf, ginseng root, gotu kola leaves and nettle leaves. It's advised to take it in the morning as it does contain caffeine and other natural stimulants to help boost metabolism.
The Bedtime Cleanse (7 teabags) contains senna leaves, peppermint leaves, fenugreek seeds, liquorice root, burdock root, hawthorn leaves, valerian root, psyllium seeds, and is also meant to be taken on alternate nights.
Overall verdict: 2/5
I took the tea as advised, and again I replaced my usual morning coffee with the Daytime Detox. I have to say although it's not as fruity as Skinny Mint's morning tea, it does have a pleasant green-tea-liked taste, with a hint of lemongrass. It freshens up my mornings, but by mid-afternoon I already tend to feel a little sleepy, and on certain days I had to have a cup of coffee just to stay bright during a meeting. Also, I was definitely feeling extra thirsty during my 2 week stint with this teatox.
The Bedtime Cleanse had a calming peppermint taste which was nice, but when I saw that it also contains Senna, I was prepared for what's to follow. Although the cramps that followed were less frequent at night, I was going to the toilet quite often and even had diarrhoea some days! Also I read on their website that for those who are on contraceptive pills that the tea may affect the accuracy of the pill. Hence probably best to be extra careful with family planning if you're going to give this tea a try. If it weren't for the runs, I may have given this tea a 4/5, but I think it was just a tad too much trouble as I had to constantly be on the lookout for a washroom!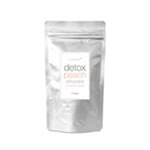 The Sloane Inc Detox Tea
After my first 2 teatoxes, I was getting a little worried that maybe my body is not that cut out for detox teas. Not sure whether it's because I naturally had quite a good system going, or that I was having too much toxins and that's why the teas seemed to be trying to purge my body of them?
Anyway, I gave myself another 2 week break before trying this teatox. I got it as a gift from one of my colleagues; she said that like me, she started taking this detox tea to maintain good health and encourage regular bowel movements, and not mainly for weight loss. Okay, sounding good so far. They are normally priced at $40usd available online or over the counter at any branches of The Sloane Clinic for a packet of 10 teabags, and comes two flavours.
The one I had was Detox Tea (Lemon) and contains candle bush, uva tea, stevia, orange peel, rosehip, honeysuckle flower, chamomile, peppermint and mash mallow root.
Overall verdict: 4/5
For me, this was a much easier regime to follow than the first two. It's advised that you can take up to 2 bags a day, but I stuck with one a day. Like my first two teatoxes, I took this tea in place of my usual coffee. I was a little skeptical about what it would taste like, as I'm not a big fan of very sour foods. But I was pleasantly surprised that it was just the perfect blend of herbal taste and natural sweetness. For the 10 days, I felt quite refreshed and energetic, and it lasted until about 5pm, which is just nice. I was happy that there was no senna this time and I only had mild cramping for the first 2 days. Subsequently I did have quite an efficient and very regular 'toilet-time'. Without going into the gory details, my daily 'clearance' was quite a satisfying one and I certainly felt less bloated than I would be occasionally in the past. So although on the slightly more pricey side, this tea was definitely my fave Detox tea thus far. At the end of my 2 weeks' trial, this was the only one out of the 4 which garnered compliments that I'm looking trim with a brighter and healthier looking complexion to boot!
Pure Tea Australia Detox Tea
As you can probably tell by now, I'm a little phobic of laxatives. So this is another detox tea without senna. While Pure Tea Australia had other teas regimes like Rapid Cleanse and Weight Loss, their Detox tea was free of senna, but has another natural laxative, rhubarb. Of the teas I've tried, it comes as the most affordable price of $25usd for a 14 day program, and contains 28 teabags.
This Detox tea contains green tea, dandelion, burdock, lemon peel, lemon verbena, liquorice root, calendula, rhubarb, stinging nettle root, milk thistle and red clover. You're meant to take one bag in the morning and one more in the evening.
Overall verdict: 3/5
This tea has a soothing minty taste and had an easy regime to follow with no strict timing of when to consume the tea. That being said, it did help pump up my energy, so I couldn't take my second cup after 5pm as it did mess up my sleeping time the first 2 days. It didn't do too much for my bowel habits though. I had occasional mild cramps for the first 2 days, but there was no increased in frequency of having to visit the toilet for Number Two. I did feel slightly less bloated in the evenings so I guess overall, it was an alright experience with no major upsets.
In summary, I want to stress again that these are my experiences and it may differ from person to person. Having said that, after 4 months of trying different Teatoxes, my first advice is to read the ingredients first before purchasing. While they may still use natural herbs and fruit, some of them are natural laxatives which may not suit everyone. Another tip is that a teatox is meant to enhance your health with an already moderate dietary and lifestyle practice. For me, all 4 teatoxes certainly helped me feel invigorated, to different extents. My appetite remained unchanged, but I think I do already have quite a balance diet, so I'm not too fussed up about that. All 4 teas definitely made my system feel cleaner and less bloated too (although sometimes the getting there part was not too pleasant!)
I guess I would say I am already at a healthy weight, but throughout the 4 months, I did lose 1.5kg. Yup, the 0.5kg, is definitely worth a mention!
You might also like: