[By Cecilia Tan]
Do you ever experienced waking up one fine morning and didn't like what's staring back at you in the bathroom mirror? I'm not talking about those hangover mornings after a crazy girls' night out about town. It's more like— "Yesterday I'm looking alright but today, without a better word for it, I look like sh*t." It's one of those unexplainable 'WTF moments' in life which strikes you when you least expect. Or perhaps turning 40 in less than a month is indeed a huge milestone in a woman's life, capable of churning up physical degeneration and self-deprecation of catastrophic proportions? Not that I need plastic surgery for a major overhaul, but an aesthetics makeover 'to shake things up' is definitely in order.
So one fine day I finally gathered up enough courage and consulted with Dr. Chua Han Boon, senior physician with The Sloane Clinic. His name was passed on to me following a pantry tête-à-tête with a senior auditor in the office, looking annoyingly well-maintained at 50, and guaranteed to give young interns half her age some stiff competition if I were to plonk her back into the dating pool. Dr. Chua did a detailed skin analysis for me and largely divided my needs into two major categories. Firstly, I can do with some textural improvement for my uneven skin tone and smattering of sun spots accumulated from years of unprotected sun exposure during my teenage track & field days. Secondly, the architectural structure of my skin would benefit from some form of procedures that lend support to improve its overall tone and symmetry and Dr. Chua went on to give me three options to achieve this.
Option one is machine-assisted skin tightening treatments such as their in house special, the 3D Facelift Program. Option two is minimally invasive Silhouette Soft® Threadlift while Option three offers facial sculpting with Natural Fillers. Fillers for lifting? Yes, that was my initial reaction too as I thought fillers are only good for giving one fuller cheeks or Kylie Jenner's pumped up pout. Apparently, when they are placed correctly, fillers can provide support at anchor points to "lift" loose skin. After going through the pros and cons of each treatment with Dr. Chua, I decided to go ahead with filler injection as a sort of 'starter kit' to initiate me into this secret world of beautification! Frankly, I was sold on two major points— that it gives almost instantaneous results with minimal to no downtime, and in the event that I really do not like the alterations, they are totally reversible with time or correctible with an injectable enzyme preparation.
Read more: Forget Brows: Women Are Now 'Thread'-Lifting Their Faces
And so here I was looking like a worried cat which on hindsight, was totally uncalled for! (LOL).  I was prepped by the nurse with a strong topical anaesthetic cream 10 minutes before treatment and frankly, I could not feel much of my face once the effect kicked in. Dr. Chua proceeded to make some markings on my skin, measuring my face with the precision of an engineer reconstructing an old mansion that was on the verge of falling apart! Following that, he informed me that he would be injecting some local anaesthesia to the entry points that he would made( a total of 4 or 6 which I lost count) and this was mildly uncomfortable, at the very most. It is through these points which he would later introduced the Hyaluronic Acid or HA fillers via a blunt and narrow instrument known as a cannula. Not only is this an exceedingly safe and effective way to introduce the exact amount of fillers into the exact target areas we want them to be, it is super bearable for the patient once the local anaesthesia work its magic. With his deft fingers, Dr. Chua gently massaged and moulded my face to correct its flaws.
Read more: I Tried It! – How Fillers Took 10 Years Off My Face In 30 Minutes
Here's a quick selfie I grabbed after having the right side of my face treated. Noticed how it's now narrower with smoother contours and a better defined jawline compared to the untreated side? I was totally stoked!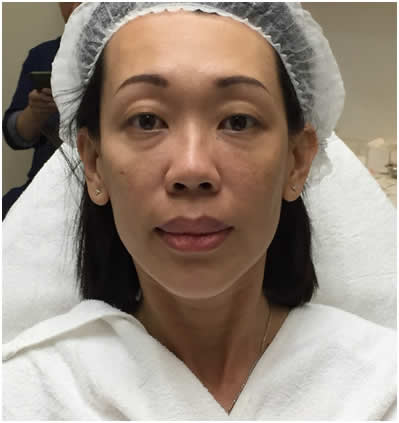 Half face treated, half face untreated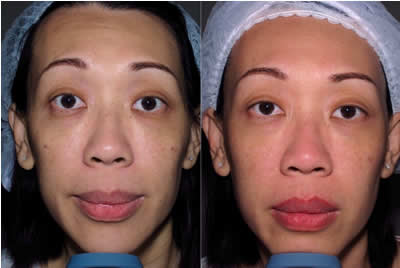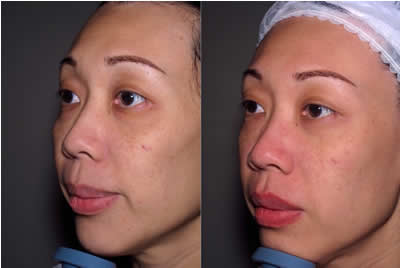 Before                                      Immediately after
Are the results visible instantaneously as promised? Yes. There were subtle but definite improvements which made a huge difference to me. Very natural, nothing too drastic with me looking like a new, improved 'version' of my previous self. What's the verdict? I am truly pleased with the results, a fresher look achieved without the need to undergo elaborate treatments and surgery in less than an hour. At least when I next look into the mirror, I'm not put off by what I see in it!
Treatment done: Voluma High-Definition Lift @ The Sloane Clinic (ION branch)
Price: $2996 (inclusive of 7% GST)
More info Voluma High-Definition Lift, Natural Fillers
If you have a first-hand experience of a beauty treatment that you have undergone and would like to share it with us here, please send your article with photographs to info@readysetbeauty.com.
Published articles will receive a free skincare hamper worth SGD$100.
You might also like: