[By Jacintha Liew]
"Men age like fine wine, women age like milk"
Although many would champion their feminist rights and choose to challenge this age-old adage, but the truth be told, there's no deny that this a fact of life that left us women short-changed in the dating game. Throw in a pregnancy or two and the expectation to multi-task and juggle between work, family and social life, it is little wonder that tell-tales of aging are plastered all over a woman's face and body, especially when she crosses over to the wrong side of 40. So when I was asked by my colleague to join her for a Women's Well-being & Aesthetics Forum organized by The Sloane Clinic last Saturday on 12th September, I was more than delighted to sit in and soak up some pointers for even if I don't need them now, will certainly come in handy someday!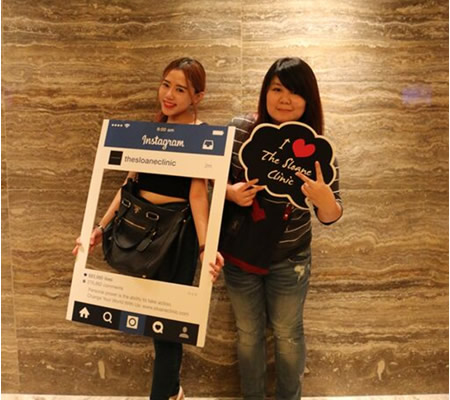 Monkeying around before the talk started.
The Women's Well-being & Aesthetics Forum consist of a series of informative talks by a panel of medical specialists who are experts in their respective fields. It started off with guest speaker Dr. Tan Yah Yuen, a distinguished looking lady consultant breast surgeon from Mount Elizabeth Hospital, sharing with us "Ways to Keep Our Breasts Healthy". This is a topic close at heart to all women as breast cancer is the single most common cancer diagnosed and has the highest death toll! Fortunately, statistics show that more women are surviving it because of early detection and treatment. I really shouldn't slack and pay more attention to Self-Breast Examination, which should be carried out monthly just as your period ends, or at the same time each month if you do not have periods. Dr. Tan reiterated that after age 40, one should've a Clinical Breast Examination done by a trained physician yearly, and a Mammogram too. If there's a family history of cancer, you might need to do so earlier.
Consultant Breast Surgeon Dr. Tan Yah Yuen sharing with us the hard facts about breast cancer
It is interesting to note that silicone breast implants actually do not cause cancer nor interfere with cancer detection, a common fear amongst many. I also learned that I was totally misinformed previously, and that women with breast implants can actually breastfeed successfully without a glitch!
The next presenter was Dr. Low Chai Ling, medical director of The Sloane Clinic. She was aptly dressed in virginal white, touching on the taboo topic of "Vaginal Rejuvenation & Restoration without Surgery." Drawing examples from Hollywood where there are no shortage of male to female autumn-spring pairings, there were silent nods all round when Dr. Low pointed out that generally, women are short-changed in the dating game. The truth is, not only do women aged faster, they also outlived men as far as statistics show. In other words, we will end up ugly and lonely! Shudders. The modern day Venus had since tasked herself to seek out ways to defy aging, with her lady bits added on to that ever-growing list.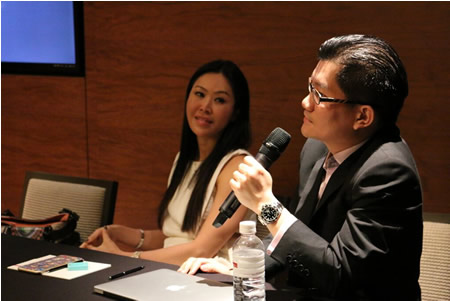 That's Dr. Low Chai Ling in the gorgeous white dress. Looks like a BCBG to me. Should've taken a better pic! The guy speaking is Dr. Tan Ying Chien, consultant plastic surgeon with The Sloane Clinic.
I learned that vaginal laxity is a very real concern, and not only affect those who had popped a baby or two. Normal aging with loss of collagen and elastin in the vaginal walls can lead to true laxity which no amount of Kegel's exercises will correct even if you do them religiously, 24/7.  While previously surgery is the only route to go, tightness, intimacy and confidence can now be restored with the Intima Touch treatment.By using patented radio frequency (RF) technology which is the same as that for Thermage, vaginal tissue is stimulated by the RF waves delivered to produce healthy, resilient new collagen and elastin. These changes occur at the cellular level so there are no visible marks nor tell-tale signs left on the vaginal tissue after treatment. Dr. Low explained that pain is a major concern and her patients who underwent the procedure likened the sensation to the introduction of the tip of a tampon into the vagina opening— which as we know, is literally painless. Being pain free and without downtime, one can resume normal activities immediately thereafter and is advised to abstain from penetrative sex for a week, though nothing is set in stone. Guffaws and giggles resonated when Dr. Low "congratulated" those who can't even stay celibate for a week! LOL. With just one treatment, the regenerative process is initiated, but the full effect will build gradually over time with more sessions.
For the final segment of the talk, we had Dr Tan Ying Chien, Consultant Plastic Surgeon with The Sloane Clinic who filled us in on how to bring out the best of our "bosom buddies". With globalization and the benchmark of beauty merged between East & West, a full bosom is definitely a golden ticket to attention. And it's not necessary vanity alone that drives a girl to consider breast surgery. Aging and breastfeeding are two big issues that can leave one 'deflated' with low hangers, and corrective breast surgery restoring one's femininity can lead to a better outlook in life.Over the years, surgeons and consumers alike have come to realise that bigger is not necessary better when it comes to Breast Augmentation Surgery. The bespoke Dream-Lift technique pioneered by The Sloane Clinic goes beyond plain enlargement, focusing on breast enhancement using sophisticated surgical techniques and the latest technology. It addresses several issues such as size, shape, pre-existing asymmetry and compatibility to one's frame and posture, to tailor the right fit for each individual's needs. It's interesting to note that pre-op assessment of Dream-Lift includes VECTRA 3D Imaging, Dr. Tan's clinic @Novena Medical Centre being the only place in Singapore to offer this. This awesome imaging device is able to map out a precise replica of your body structure, producing a series of 3D visuals to show you how exactly you would look like with your "upgraded BFFs" with more than a 95% accuracy rate! You can even choose to view yourself in different clothing items such as a bikini top or white t-shirt. How clever can that be?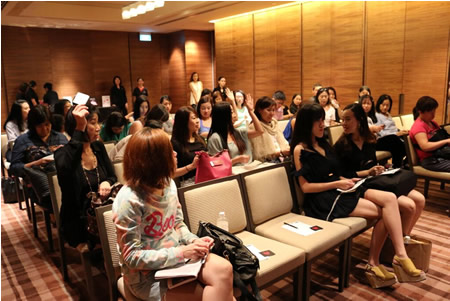 The crowd was super engaging, possibly because it was a Women-Only event for added privacy in view of the intimate nature of the topics presented?
As with all forum, it ended with a Q&A session to address further queries from the audience and some lucky ones (including myself, yay!) were able to walk home with a mystery gift! We then adjourned for high tea, a delectable spread of Indian-fusion hot treats and delightfully sinful desserts. The flavoursome crabmeat balls and the raspberry macaroon sandwich with Chantilly cream were simply divine. Although I didn't approach them myself, I spied from the corner of my eye that the speakers were engaging in a lively banter with some of the attendees, who were probably too shy to voice their queries publicly.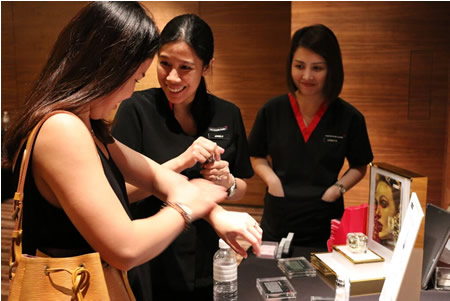 They had a little set-up displaying exclusive Sloane Inc products, with friendly staff around to dispense skincare tips (and we were given some rad samples in the goodies bag— I'm a total hoarding junkie, Yikes!)
Aren't these pretty? They taste as good as they look! Yums…
Overall, this Women's Well-being & Aesthetics Forum was a well organised event, an afternoon well spent, with many useful take home messages that I'll definitely share with my girlfriends when we meet for our usual Girls' Night Out next weekend!
You might also like: