[By Anna Laurie]
Fall is easily the best loved season for many and it's not difficult to see why. The weather is great for dressing up and one can never have a cuppa too many of pumpkin splice latte! However, it's also a time when the change in weather might affect your skin adversely. It's not just your closet that gets an overhaul when the weather changes, your beauty routine needs a revamp too. The trick is to anticipate what to expect and figure out how best to deal with them, so that you don't fall prey to these skin woes this fall.
Dry spell
When the weather changes and the temperature dips, one of the first signs you might notice is drier and flakier skin. This is often worsened when central heating comes on 24/7 in your workplace or at home. An easy way to get round this is to switch out your moisturiser to a richer formulation, slather on a generous layer to lock in moisture to ensure that your skin stays well hydrated throughout the day.
Sometimes, switching to a milky cleanser also helps to alleviate dryness, even if you only use it a few times a week.
Autumn flare-up
While the cooler fall days may encourage outdoor activities, your skin retains less moisture because of the drier air. The same happens indoors as the heat goes on and up. Chronic skin conditions such as Eczema and Seborrheic Dermatitis tend to flare up with such extreme temperatures that come with the change of seasons. If your skin becomes dry and sensitive, an excellent way to restore its glow and vibrance is with natural oils. Many botanical oils such as Argan, Rosehip, Jojoba, Avocado and Sunflower Seed have always been used for their healing properties. Sloane Inc HEAL contains 100% organic Argan Oil with Geranium and is a choice candidate to combat dry, flaky skins. It's surprisingly delightful to know that although it's an oil, the way it's formulated keeps it lightweight and suitable for all skin types. Perfect as an all-over face hydrator to foil the dermal marks of autumn flare-ups, it can also be used on delicate skin areas such as the under-eyes and lips to prevent chapping, making it possible to stay glowing and fresh till spring.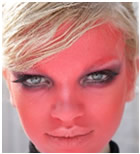 Rosacea rising
Studies have shown that the alternating extremes of temperature that your skin is subjected to during fall— from the chilly outside to the heated indoors, can trigger a quiescent case of Roasacea. To counteract the possibility of an acute flare or control the issue, you must be diligent with sunscreen even when the summer's sun is long gone. Rosacea-prone skin is usually fairly sensitive and can get very irritated from unprotected sun exposure. To sun-proof your skin from harmful ultraviolet rays, use a broadspectrum UVA/UVB sunscreen that is physical or mineral based as such products avoid additional irritation that chemical sunscreens may cause on Rosacea-prone skin.
"Redness and flushing, which are probably the most prominent and annoying features of Rosacea, are, in my opinion, best treated with lasers." Says Dr. Chua Han Boon, senior medical consultant with The Sloane Clinic. "Most patients see a significant improvement in their symptoms following one session of VBeam perfecta  laser treatment and up to 80% who chose this option for tackling Rosacea said they would do it again either for clearance or maintenance purposes."
Bummer about bumps
Keratosis pilaris is a common, benign skin condition that causes rough patches and small bumps, usually on the arms, thighs, cheeks and buttocks. These bumps are usually white, sometimes red, and generally don't hurt or itch but lend the skin an unsightly "chicken skin" appearance. It can be frustrating because of its cosmetics impact and is notoriously difficult to eradicate. Although the ailment is present during the whole year, the observable presence of tiny red bumps tends to be more apparent in the colder season of fall and winter when moisture quantities within the air are much less. In addition, the extra layer of clothings piled on tend to worsen the condition. Avoid wearing wool and choose breathable fabrics to help stop this skin woe from rearing its head in fall. Regular exfoliation proved to be useful as well. Choose an oil based exfoliator such as Sloane Inc Skin Superfood Pineapple Enzyme Scrub, which is gentle for the whole body, including the face. With regular use, it effectively removes dead skin cells and is able to re-texturise and refine the skin. Its unique formulation combines the action of Bromelain enzyme obtained from pineapples which helps to gently exfoliate, with Jojoba beads which dissolved during use to release nourishing Jojoba oil into the skin. A match made in skincare heaven, this synergistic duo boosts skin texture and leaves it with a "silk & satin" glow and touch, even when kept under wraps in fall!
Blotches and spots
As the summer tan fades with the days of fall, you might start to notice brown spots or skin pigmentation left behind. To reverse damages from summer's indiscretion, you can use products with retinol every night. They improve fine lines and skin texture, lighten dark spots and even out skin discoloration. Sloane Inc Age Defy is a premium offering blostered with hyaluronic acid, to ensure optimal hydration such that the skin doesn't get dry and is therefore less likely to flake, a common side effect of this vitamin A derivative. For stubborn pigmentation like melasma and lentigenes that don't seem to respond to creams, there's no better timing than fall to renew and rejuvenate with a variety of safe and effective laser treatments. Pigment lasers such as the Q switched Nd Yag, are not only good for treating pigmentation, they are also useful in improving the overall skin tone and colour. Resurfacing modalities the likes of Fraxel Restore Laser also delivers gratifying results in treating pigmentation, wrinkles, texture, pores and other skin imperfections for a radical overhaul. With all these tips to tackle your pigmentation woes, your skin will go from patchy to perfect before the Easter hols!
* Selected as Article of the Month Oct 2015*
You might also like: