[By Anna Laurie]
With Christmas fast approaching in less than a week, are you still clueless about the perfect holiday getup that'll allow you to shine bright and stand out from the crowd? It doesn't hurt to be outstanding, especially if you are the single gal navigating the party scene! From this season's hottest hairstyle to a refreshing departure from the classic LBD, we went trend-picking from New York to Milan, with 5 great standout looks that are totally 'instagrammable'; guaranteed to leave a lasting impression way pass a snapchat minute!
Bangs that talk
Are you tired of all the Milkmaid braids and Raphaelite Rapunzel locks overflowing from the set of Game of Thrones and Mocking jay? Dare to be different this season and opt for micro bangs that end way above your brows. Not for the faint-hearted, this bold statement hairstyle is simultaneously elegant and badass, like a cross between Audrey Hepburn and The Girl With The Dragon Tattoo. Short bangs open up long cuts, add gamine sexiness to short shapes, and give bobs a fashion-forward twist. Besides a hefty dose of self-confidence, micro bangs works best with an elegantly contoured forehead. Targeted to lift and hydrate tired and lacklustre skin at the same time, the cutting edge Revitalift is a safe and efficient procedure employed to create a full forehead with flattering contours. Thanks to an exclusive patented bio-synthesis process, the pure hyaluronic acid used is highly identical to our own skin's polymer, and hence maintains high bio-compatibility and is readily incorporated for exceedingly natural-looking results. Improvements are apparent even after the first treatment with close to zero downtime, and optimal outcome is achieved after 3 to 6 sessions done at monthly interval.
Everlasting summer glow
If you want that perfect healthy summer glow despite the sub zero temperature outside, forget about tedious contouring that goes on forever on youtube tutorials which you simply couldn't master despite a thousand replay. Even Kendall Jenner is moving away from this makeup technique made famous by her elder sib Kim. The latest beauty craze to hit tinseltown is 'Strobing', a brilliant new face-sculpting hack for the time conscious aka lazy girl. Forget everything you learned about contouring, strobing in a nutshell is extra highlighting on the highest points of your face that reflect light naturally, to give you a dewy and shimmery glow. To avoid looking like Frosty the Snowman, make sure the highlighter you're using complements your skin tone for a subtle sheen. Use it only in spots that catch light— on your cheekbones, along your temples, down the bridge of your nose, below your brow bone, in the corners of your eyes, and above your cupid's bow. Use light strokes for strobing and remember not to spread the product all over your face, or else your glow will turn into a greasy hot mess.
Red carpet-worthy looks are by no means 'natural', pure luck nor accidents. Baby Drop Fillers is the latest darling of A-listers looking for a skin booster without the obvious telltale signs of a nip tuck.A special, ultra tiny needle delivers minute amount of natural hyaluronic acid to give that subtle extra pick-me-up to enhance your facial features long after the effects of strobing melted into oblivion. Popular areas include the Cupid's bow to give an instant sensual pout to rival that of Gigi Hadid's, or cheeks that inch you closer to the beauty benchmark set by Chrissy Teigen and Karlie Kloss!
Binge on Bijoux
If like moi you're tired of getting a special holiday outfit which is unlikely to get much mileage for wear the rest of the year, pick one basic frock from your wardrobe and spiced it up with some serious bling to make a splash. Making a statement wearing a powerful necklace is big for the fall and winter seasons and runway shows all round gave us enough appealing options for us to fall in love with. To work this style with panache, keep the neckline of your outfit simple, to accentuate your priced baubles against a flawless swan neck devoid of lines and blemishes.
Double chin, prominent platysmal bands and deeply etched horizontal lines all contribute to the repulsive but aptly named "Turkey Neck Syndrome". Tiny microinjections of neurotoxin into the neck muscles can smoothen out them out. As for the horizontal neck lines, they are best addressed with hyaluronic acid natural fillers combined with skin tightening Thermage to boost collagen regeneration and remodelling, 'ironing out' thin, creepy neck skin to youthful silkiness.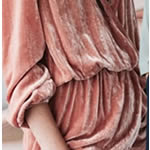 Move away from the LBD
Your trusty LBD might be the perfect security blanket but life is about taking risks, and the payoff can be extremely rewarding! Dare to depart from this traditional classic and dress to impress in an androgynous Le Smoking inspired getup or a slouchy jumpsuit given the holiday update in a luxe fabric such as plush velvet. Give black a miss just because white seems right and dusky pink might be the lucky colour to herald in a new budding romance in 2016? Watch out boys for who's all chic and poised, beneath the misteltoe when the clock strikes at 12 midnight!
All about Attitude
You can be all dolled-up and beautiful at the year end parties, but please don't allow yourself to be a shrinking wallflower. Parties are supposed to be fun, not scary although trying to start a conversation in a room full of total strangers can be harrowing. You don't have to be the livewire lighting up the best whole Christmas tree, but listening and engaging in light banter will often break the ice and set the right tone for the night. At the end of the day, your own unique personality might be the best standout look for the party season….
* Selected as Editor's Choice Dec 2015*
You might also like: