[By Candice Lam]
Chinese New Year is barely 3 weeks away and any household celebrating the occasion should be busy spring cleaning at the moment, trying to spruce things up before the big day arrives. Likewise, are you feeling flustered and unprepared as your complexion seem a little dull and lackluster lately? Fret not for here are 5 skin brightening tips to the rescue, to help you go from 'blah to ta-da', for radiant skin that signifies good fortune and prosperity!

Exfoliate the dullness away
Like the mucky kitchen wall tiles in need of a good scrub, pave the way for immaculate skin this Lunar New Year and leave no pores un-preened with the Sloane Inc Crystal Clear Scrub, a brilliant home care product that aims to uncover your skin's true inner brilliance in a quick, efficient way. This cosmeceutical gem is formulated with skin-smoothing, ultra-refining bamboo micro-crystals, conditioning vitamin E and soothing aloe, to leave no pore untouched for a refreshing complexion overhaul. Wave good-bye to tired, dull-looking skin and say 你好!(Ni Hao) to a fresher, silky-smooth feel, just in time for the first blooms of springtime daffodils.
Get crystal clear
We're often envious of the smooth, glowing skin of celebrities and socialites, wondering to ourselves how they maintain such flawless complexions at any given age.  While most of us don't have the money nor access to their glam squad of makeup maestro, hair wizard, fitness trainer and personal chef waiting upon them 24/7, there are many skin care tricks and treatments they enjoy that are well within our reach. One such skin treat is Microdermabrasion, a highly effective and non-invasive approach for polishing away the dullness of skin grease, grit and grime, to reveal a new you just in time for the New Year.
Microdermabrasion is a physical method of exfoliation that propels a fine stream of inert microscopic crystals against the skin to gently exfoliate the epidermal layer and promote a thicker healthier dermis while smoothing and refreshing the skin. The use of a vacuum within the system helps to increase circulation in the area, thus smoothly removes dead skin, promotes healthy cell turnover, and stimulates the creation of collagen.  This pain-free procedure immediately leaves the skin clearer and brighter and is also extremely convenient and doesn't come with a hefty price tag. There's also no downtime, making it possible to squeeze in one at the eleventh hour if your schedule is extremely tight with cleaning, baking and shopping in the lead up to CNY.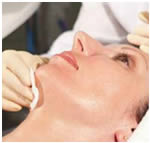 Peel to seal the deal
Chemical peels remain a tried and tested age-old staple for instant skin brightening for those in the know. By removing the damaged outer layers of your skin with the application of fruit acids, chemical peeling allows the healthier skin cells beneath to come through, improving its texture and allowing your skin to glow with absolute radiance. Book an appointment with your trusted physician for a Professional Chemical Peel at least 10 to 14 days in advance, to usher in the New Year looking cheery and bright. Customised individually to suit your particular skin type, colour and needs, a singular or blend of AHAs and BHAs can be employed to return your peau to its soft, supple state.You'll begin to see improvements after just one session but a series of treatments will lead to more significant changes to the appearance of your skin. By stimulating collagen renewal, improving fine lines, reducing pore size, lightening superficial acne marks and blending out uneven skin tone, Professional Chemical Peels may be the perfect answer to frills free, low key skincare maintenance for the months that follow too.
Lasers to the rescue
Are you starting to notice the gradual darkening of the smattering of sun spots on your cheeks as the years go by? Is your trusty concealer failing his job at masquerading your melasma adequately even with your best makeup efforts? It's perhaps time to draw the big guns with lasers to the rescue. Although a single session of treatment might not do much to restore clarity in time for Lunar New Year, we got to start somewhere and there's no better time than now. As the Chinese saying goes, "新年新气象"— A brand new year with new beginnings!
With revolutionary techniques in today's medical world such as the SmartX Lite laser treatment headlining the Sparkling Skin Program from The Sloane Clinic, one is given the chance to harvest the deep dermal, peau-transforming benefits of fractional CO2 laser— which include stimulation of skin's natural cell renewal cycle, enhancement of skin texture and elasticity as well as correction of imperfections and fine lines, without the much dreaded downtime. This deceptively simple program leaves your skin bright and sparkling, a truly "skin-deep" transformation of radical proportions brought closer with each small step one takes!
Supplement from within
Eating right is key to getting your skin clear and bright. Vitamin A is one of the most potent naturally occurring anti-oxidant that fights off free radicals and inflammation, keeping our skin vibrant, glowing and blemish free. However, one of the greatest challenges with consuming large amount of orange or red carotenoids is that they tend to change the skin colour to a tan or orangey shade. After a decade of research and development, scientists were able to cultivate a unique breed of non- genetically modified "white tomatoes" that contain a high concentration of colourless carotenoids, phytoene and phytofluene! This led to a revolutionary skin care oral supplement marketed as Crystal Tomato.
"Studies have shown that Crystal Tomato offers skin protection against UV damage while at the same time, it helps to repair skin cells with its anti-oxidant and anti-inflammatory properties." Explains Dr. Toby Hui, senior medical consultant with The Sloane Clinic. "For overall skin brightening including the desire to achieve a fairer complexion, this is a FDA-approved oral health supplement meant to be consumed regularly to give your skin that coveted radiance from within."
You might also like: