[By Alicia Liu]
Valentine's Day is barely a month away and getting that perfect outfit for your special night out got to be one of the highlight. While showing a hint of cleavage might be the quickest answer for subtle seduction, you're treading on a thin fine line between classy and crass once the 'V' plunges too low. Conversely, it's hard to be trashy with a low back number, giving a glimpse of bare skin to garner just the right amount of attention without being unnecessarily overbearing—unless you're pulling a "Bai-Ling's fashion moment", with a back that dips right down to the butt crack sans panties, no less! Before you 'Say Yes To The Dress' for your red hot date, here are 5 tips you won't want to miss, to prep yourself to rock the low back trend without a glitch this Valentine.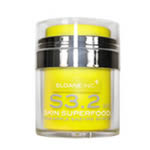 Glow-getter in a jiffy
The simplest way to get your back looking a notch better is to exfoliate with a good scrub to reveal fresh soft skin hidden under all the grub from the cold wintry days. Try Sloane Inc Skin Superfood Pineapple Enzyme Scrub, a sweet-smelling, power-packed concoction for gentle yet effective exfoliation to refine and re-texturize your skin. Pineapple enzyme, Bromelain helps to remove excess surface cells in the stratum corneum of the epidermis while the microspheres of Jojoba oil suspended in beads dissolve and release their nourishing content into the skin. This dual-pronged action helps improve skin texture by exfoliating and moisturising it at the same time, leaving a tender, luminous glow that's silky soft to the touch and a feast for your beau's eyes too!
Glam-up with spa treat
"Bacne" is a term coined to describe the awful condition of back acne or body acne. It tends to form on the upper and lower back, upper arms and even buttocks. Unlike facial acne which can be easily camouflaged with clever make up as a quick fix; bacne is hard to hide except for covering them up with clothing. Needless to say, bacne is the #1 fashion nemesis to the low back trend. Bacne often leaves discolorations or marks that can be persistent, as skin healing tends to be poorer off compared to the face. To fight it right, enlist professional help and get a "back facial" or "bacial" with a reputable spa. Skin polishing Microdermabrasion and skin-conditioning masks are steps engaged to erase dark marks, rough and dull-looking skin, in exchange for an airbrushed finish with an invitingly beautiful sheen. From peek-a-boo cut-outs to a daring backless darling, strut your stuff and grab not only his, but the attention of all onlookers, tall and proud.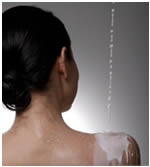 Refining peels & laser
As  bacne tend to be potentially scarring if rampant and left untreated, it is perhaps wise to seek medical attention before it's too late.
"Sometimes we need to prescribe patients with oral medications such as Doxycycline and Roacutane (isotretinoin) to help control severe cases of back acne." says Dr. Toby Hui, senior medical consultant with The Sloane Clinic" They can also be treated with chemical peels and selected lasers, which not only help clear the back acne but are remarkable in lightening PIH or post-inflammatory hyperpigmentation, which are the marks left behind when the bacne heal."
Alpha and beta hydroxy acids are used in Back Peels to slough off stubborn dead cells, reducing bumpiness of the back and smoothening out superficial unevenness of the skin. There can be mild flaking of the skin for a few days post-treatment but it's nary noticeable and definitely worth the trade off for skin of your back looking brighter and smoother after 4 to 6 sessions done at monthly interval. There are several lasers which may be suitable for back blemishes depending on its severity and the skin type of the bearer. This range from simple Pigment Lasers to lighten superficial blemishes to deeper Fraxel Restore Laser treatment for more stubborn marks and even puckered scars.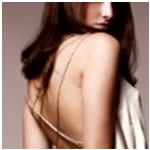 Bye bye back fat
Unsightly gathering of fats that pop out in the most unflattering manner around the back of the bra goes by several monikers such as bra bulge, back boob or back fat. Whatever you want to call it, those overflowing pockets of flesh are anything but cute, tarnishing the goddess image of a lady clad in a backless dress. If for some reasons the results of your diet and regular workout regime fall short, or you are simply on the lookout for an edge to optimise your outcome, the insider's secret to every Hollywood dream bod are body contouring devices designed to sculpt for perfection.
CoolSculpting PLUS, a fuss-free lunchtime procedure has remained steadfast as one of the most popular and effective non-invasive modality for target fat loss in recent years. Also known as cryolipolysis or fat-freezing, as little as a single session of one-off treatment is required to see 20-23% of fat reduction in the area(s) treated. With the development of the CoolFit probe that comes with  a flat opening to latch on better to areas such as the upper back and inner arms, we can now tackle back fat and flabby arms effectively, turning your dream of being a "Backless Beauty" into reality.
Posture is everything
Ever seen an attractive lady saunter into a room exuding charm and confidence, turning heads and dropping jaws? The elusive X-factor apart, the trick simply lies in her posture and gait. If you hold yourself with confidence, be it standing, sitting or in motion, you tend to look more attractive. You don't see Jennifer Lopez or Eva Longoria slouching on the red carpet, do you?Contrary to popular belief, pictures do lie. Most body flaws can be corrected with a good posture especially under the flattering lighting of evening soirees. When standing, always have your chin lifted, chest out and stomach in (Heels are mandatory, please). When seated, keep those legs together and crossed and whenever possible, stretch sideways to elongate your gams. Make sure you aren't tripping someone over while doing so, unless it's your little wicked ploy to act coy while he tumbles close to your flawless back….
* Selected as Article of the Month Jan 2016*
You might also like: