[By Elson Quek]
Is running late the only form of cardio that you do on a regular basis? One of the greatest challenge faced by a 'non-morning person' like me is that I want to look great and immaculate but don't always have the time to pull together a polished, full look. With some time saving tips to cut back prep time, you can get the exact look you've always wanted without compromising on your eye shut time. Check out these fast and furious beauty tips, and soon you'll be well on your way to hashtag "I wake up like this" on every IG upload in perfect timing!
Practice makes perfect
Monday morning isn't exactly a good time to work on those exciting new makeup techniques you picked up from the latest youtube tutorials shared by beauty guru Michelle Phan.
Save them for the weekends or a stay home evening to put in some time trying and retrying the look you're after. Once you've master these new moves over time, you can easily replicate them on even the busiest of mornings without a glitch.
Double Happiness
Instead of having your vanity top or makeup pouch overflowing with products for every single part of your beauty routine, stash products that can do more than one job. You'll be amazed how this is going to simplify your routine and save time from not having to open separate cosmetics and going over the same sequence twice. The Sloane Inc. Anti-Acne BB Cream is an absolute beauty gem specially created for acne prone skin or those plagued with the occasional zit attack. Combining the duo power of Salicylic and Azelaic acid, it helps fight pimples and comedones while lightening marks left behind by inflamed papules. With an oil free formulation that controls shine and sebum production, it comes in a translucent nude base that gives your skin a much needed smooth matte finish that lasts throughout the day. To top it all, there's a sun protection factor (SPF) of 25, to treat, cover and protect all in one go!
Hair tricks to pull
Having limp and greasy hair but there's not enough time for a proper wash? Instead of being stuck like a rat caught in the rain, slap on some dry shampoo designed to soak up oil and leave you with lustrous locks in under a minute. Alternatively, opt for styles such as a high ponytail or top knot which can be done in a jiffy to transform you from crap to chic. Get creative with accessories such as a wide hairband, scarves, turbans and hats. Just because you're hard pressed for time, you shouldn't allow yourself to go through a bad hair day.
Instant lippy
Rihanna had wore them on the red carpet before and Kim Kardashian is a fan too. Save the wild and wacky designs for Halloween, and get the colour you love and crave on your lips with stick-ons.
Unless you can work it like a pro, instead of messing around with liner, lipstick and setting powder, save a ton of time and cheat your way through with stick-ons that are easy to apply and stay fresh and pouty throughout the day!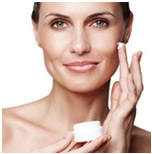 Get ahead
Getting ready is so much easier if you've good skin to start off with. Without the need to conceal zit marks, pigmentation and dark eye rings, you can possibly cut down prep time to half of what it used to be. Revitalift is a revolutionary skin rejuvenating technique favoured by age-defying celebrities whereby small particle natural filler composed of hyaluronic acid is introduced in miniscule amounts via virtually painless microinjections under the skin. Revitalift resuscitates tired, dehydrated and aging skin by restoring its physiological function and optimizing cellular activity. It can be used for target spots such as the undereyes to revitalize lined creepy skin and lighten dark eye circles, or opt for afull face treatment for total luminesce, to restore the glow and suppleness of youthful skin.
* Selected as Article of the Month Mar 2016*
You might also like: